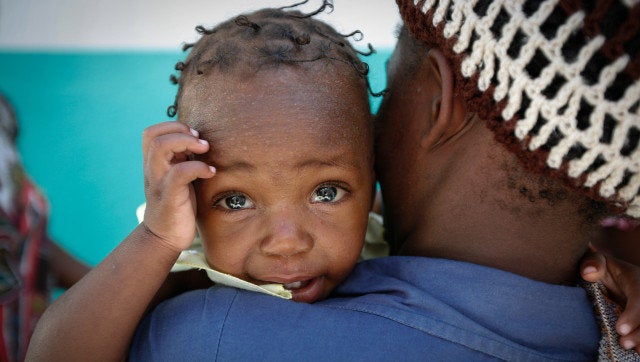 Imagine this... a pregnant mother labors for hours, forced to stay home rather than go to the clinic, because there is no road to allow an ambulance to come and get her. Eventually, her husband rounds up a group of friends, who unhinge the front door and carry the woman aloft to the nearest dirt road where a motorbike can transport her to the clinic. Unable to deal with a complicated childbirth, the clinic calls for help and eventually an ambulance picks her up to take her to a hospital that can do a cesarean section.

It turns out that it's not just the quality of care, but the multiple barriers to getting a mother or her infant to a safe place of care that are the main causes of death in parts of Africa. After such a delay, she may join the three in every 1,000 women in Ghana who die during or after birth. In the United States, it's two in every 10,000, and in Italy it's four in 100,000. Saving mothers' and newborns' lives remains a stubborn problem for Africa. While major progress has been made in reducing mortality for older infants and children -- and for killers like HIV, diarrhea, and pneumonia -- rates of maternal and newborn death have been stuck at high levels for the past decade.

In Assin Fossu, a District capital in central Ghana, a whole community abandons work for a day and comes together to support a radical new approach to dealing with the region's high rates of death for mothers and their newborns. At the local soccer field, a large crowd of a thousand or so people gathers to hear about plans to take on the problem. Before the meeting starts, the school band leads a procession of concerned citizens and health workers through the town's streets, waving placards with slogans like "Exclusive breast feeding for six months!" and "Don't deliver alone!" With the town's elders in the lead, the procession of mothers, politicians, doctors, pharmacists, and midwives is followed by an ambulance flashing its lights.

Recruiting curious townsfolk along the way, the parade winds its way back to the sports field and the "Campaign to Save Mothers and Infants" is launched. In turn, the civic leaders, local chief, local obstetrician, priest, imam, midwife, and civic groups all pledge to support the campaign. In the center of the field, a series of one-act plays graphically reveals the danger of not getting care in time.

The idea for the campaign is simple: get together everyone from the area who has influence, technical ability, or an opinion to solve this problem. We have the knowledge and the resources to make death and complications around childbirth, even in Africa, a vanishingly rare event, but mothers and infants are still dying from causes that are entirely preventable.

At the heart of the problem lies a challenge. The first step in any condition needing medical attention is the decision to seek care, and the next step is to get to a safe place of care in time. The U.S.-based nonprofit Institute for Healthcare Improvement and its partner in Ghana, the National Catholic Health Service, together with the Ghana Health Service, have launched a novel strategy to tackle this challenge; targeting not just the health system, this campaign will simultaneously mobilize multiple layers of the different communities - medical, administrative, and social - in a small region. Together they will channel their ideas and efforts methodically to overcome the multiple barriers to a mother's decision-making and movements.

The day after the campaign's launch, I attended a workshop with many from this diverse group. Stories followed of just how hard and scary the woman's journey is from home to safe care - from a makeshift stretcher, to a motorbike, to a car, and finally to an ambulance to take her to a place with skilled attendants. One story included a firsthand account of the terror of being referred up the chain of care facilities with a certain fear of inevitable (and often deadly) surgery -- but, in this case, with the happy ending of a safe, surgery-free delivery of a healthy baby who was shown off to the assembled community group.

These stories are a point of connection for the assembled collection of nurses, assemblymen (civic representatives), traditional birth attendants, chemical sellers (community pharmacists selling modern and traditional remedies, and advice), ambulance men and women, opinion leaders, mothers, priests, and diviners. The plan will rely on existing resources and the best available evidence-based strategies for improving patient mobility, but it will depend on them for local ingenuity.

Now organized, this collection of leaders, healers, and mothers will tend to broken links in the referral chain to move a mother or infant in need from community to facility, or from facility to better facility. Working and meeting together regularly as a committed group, they will test out their own new ideas to solve these problems and fan out to motivate their peer nurses, birth attendants, and chemical sellers.

A community with precious few material resources is coming together to care for its most vulnerable and treasured members: mothers and newborns. If things go according to plan, campaigns like this will spread to every district in Ghana (and then beyond), each one learning from the lessons of others. If they succeed, these communities will have shown the world a new way of bringing mothers and their newborns quickly to a safe place of care, and Africa will shake off one of its remaining blights.

The author is Senior Vice President of the Institute for Healthcare Improvement (www.ihi.org).