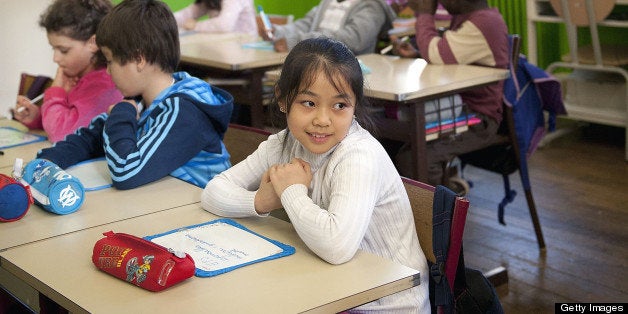 Have you ever considered ​the fact ​that your classroom setup​ ​w​as​ largely the same from when you first entered a classroom as a youngster ​all the way through college? A bunch of rectangular desks all facing a bigger desk in the ​front, the teacher's desk, with white or chalk boards behind it. That's the question at the heart of a new Indiegogo crowd-funding project that aims to modernize the classroom from its out-of-touch 18th-century layout.
Created by a high-school English teacher out of Roswell, Georgia, the project, dubbed "A Revolutionary Classroom," has received $1,965 as of this writing, with the goal of receiving an additional $14,000 in the coming weeks.
Writes the project's founder, Scott Kent, on his Indiegogo page:
Most classrooms are set up for teacher-centered lessons, with most desks arranged to give the students maximum visibility of the teacher. Some rooms mimic college settings with more student-centered elements. An effective classroom needs the ability to achieve either of these options quickly.

Along these lines, the projects aims to, among other things, emulate a conference table environment, essentially combining four desks so that they are facing each other. This leads to groups within the larger classroom group. Much like a real-life creative agency, the setup would, in theory, allow for students to interact more and thus benefit from each other's creative minds.
The setup would also take from creative agencies by having dedicated "informal," beanbag-type areas to further promote creativity.
"These allow for varied learning experiences, student isolation for independent tasks, and a relaxed setting for students who need extra help," says the project.
Further complementing the real-life conference table environment, the classroom would also have several tables attached to the walls with a projector (which the wider class could be exposed to) and partition whiteboards next to them. The tables would be adjustable to fold up for more space if needed.
And similar technology would exist in the classroom as it does in the workplace -- such as a computer, scanner and printer. This allows students to actually complete "real-world assignments" while in the classroom.
In addition, the project would replace the stationary, "confining" chairs with ones with wheels that would allow for free-flowing movements, as certain students work better that way.
Last, the bland gray colors of the classroom would be replaced with more colorful, lively colors. As the project notes, much research finds correlations with colors and student interaction and education.
Indeed, a recent publicized study from Great Britain found that a classroom's physical layout greatly contributes to a student's learning -- accounting for a whopping 73 percent of the student's performance. The year-long study, conducted by the University of Salford and architectural firm Nightingale Associates, experimented with 34 classrooms (751 students) with varied ages and environments.
We've continually updated our classroom textbooks so why not the actual classroom. After all, it's been a couple hundred years now with virtually the same setup.
The counter-argument: ​In still uncertain economic times, t​here are ​many ​schools that don't even ​have updated text books​ to study from​ or enough ​of the simplest items like ​pencils​,​ ​yet​ we're going to devote money to updating the layout of our classrooms.
And ​while ​awesome in theory,​ schools are largely funded in local property taxes, ​so ​it's hard to think that this would become a nationwide ​trend beyond​ private schools and wealthy school districts.
Not to mention the bureaucratic red-tape that it would take to redesign the classrooms at a scalable level. The struggle against "The Man" here was captured best by celebrity chef Jamie Oliver's "Food Revolution" experiment in America, which sought to change the unhealthy, obesity-laden processed foods served in children's school districts. Despite the fact that Jamie was able to offer food choices that were the same cost or cheaper, healthier and just as easy to make in mass quantities, he faced insurmountable challenges by a broken system that is stuck in its ways.
Still, if Kent is able to renovate his classroom to complete his experiment and do so successfully at the grassroots level, and maybe even inspire some other classrooms, then all the power to him. And who knows, it could become a trend and really revolutionize the classroom architecture.​ ​
Calling all HuffPost superfans!
Sign up for membership to become a founding member and help shape HuffPost's next chapter