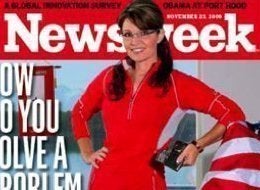 So, have you heard about this Sarah Palin sexy-lady photo from Runner's World magazine that's festooning the new issue of Newsweek and causing Palin to go bonkers on Facebook, because of "the sexism?"
Maybe you have, because the news has been doing a story on it every quarter hour, because of "the ratings!" Well, whether or not you think the cover is intended as an insult or if you buy Newsweek EIC Jon Meacham's serving of incomprehensible word-soup that he proffered instead of an intelligible explanation, there are bigger problems now because, as Jeff Bercovici reports over at Daily Finance, the original photographer may have violated a contract by selling the image to Newsweek:
That photographer, Brian Adams, could not immediately be reached, and his agent, Kelly Price, declined to comment, saying, "I keep all of my clients' business private." But a spokeswoman for Runner's World confirms that Adams's contract contained a clause stipulating that his photos of Palin would be under embargo for a period of one year following publication -- meaning until August 2010. "Runner's World did not provide Newsweek with its cover image," the spokeswoman said. "It was provided to Newsweek by the photographer's stock agency, without Runner's World's knowledge or permission." The spokeswoman declined to say whether Runner's World intends to respond to Adams's breach of contract with legal action.
Bercovici has more on the whole who-knew-what-and-when questions that revolve around this contract matter, so hie thee hence.
Calling all HuffPost superfans!
Sign up for membership to become a founding member and help shape HuffPost's next chapter