When I was a kid, one of my school teachers read from the book Rikki-Tikki-Tavi. I remember it vividly. The entire first grade class sat there on the floor in the classroom, entranced with this woman. Occasionally, she held up the book so we could see all the pictures. We "oohed," we "awed." We dug it. At the time, we had no idea who Rudyard Kipling really was -- he penned Jungle Book, after all, from which this short story came from -- but we did know that we were very invested in the fate of the protagonist, a young mongoose.
The words, the story, the pictures -- they were so vivid in our young minds. "What would it be like to be there?" some of us wondered. And that's what I found myself wondering again recently -- as in, what it would be like to be a kid again hearing this story -- when something caught my attention: news that the classic tale was being developed into iBook exclusively for iPad, iPhone and iPod Touch.
I needed more 411. This had to do with Kipling, after all. Besides, I'd spent the last few years kicking and screaming and moaning and groaning about what I perceived was high-tech's brutal gutting of a once-thriving print publishing industry -- only to later climb aboard the new modern-day high-speed creative beast (oh yes, you're not getting rid of me publishing world ... I'm going to e-publish and self-publish, too, dammit! The allure. The bright lights!).
Yeah, I had to know more.
More arrived. Our dear Rikki-Tikki, I discovered, would be coming to life in a new way in picture book form later this year via VivaBook. The name of the company intrigued me. Away I probed.
Founded by former elementary schoolteacher and visual artist, Ben Hecht, I quickly found myself chucking my "hatred" for things like iPad books. I'm a sucker for "heart." There's a lot of "heart" here. There's also a lot of fun.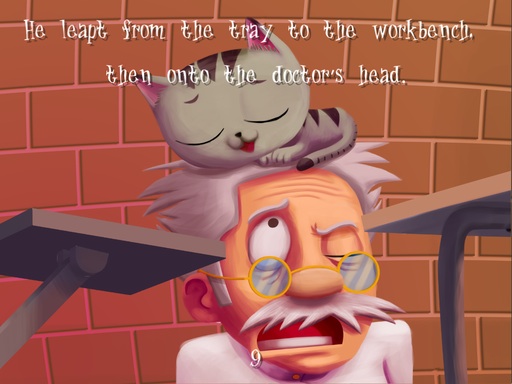 Nickelby Swift (Photo courtesy of Mythos Machine)
The children's stories are created by educational experts and the illustrations are all original. Once the VivaBook App is downloaded onto the iPad et al, you can "touch it, tilt it, shake it." It can read to you/the child. You/the child can read it without narration.
And flipping pages? Yeah. It happens like a real book. (As we've all seen with some other iReaders.) Just touch the lower right hand side of the virtual storybook and the pages turn.
Downloading happened. And then I began swimming through the stories. Nickelby revolves around a spunky kitten and a befuddled scientist having problems with his own inventions. Bottom line: this a spirited tale with savvy interactive features. I can envision a small kid making the most out of shifting objects within the story with his/her fingers. Written by Hecht, it's easy to follow and downright engaging. Illustrations by Matthew Vimislik really pop out but aren't too overwhelming to the eye. A creative modern treat.
Around the World With Lilup really grabbed me. I thought it was because I'm also a sucker for big dogs and this adventurous Great Pyrenees -- modeled after Hecht's dog -- lured me in. I sense it will do the same for children, too, but more so mothers looking for a good bedtime story for their kids. The premise follows Lilup as he floats dreamily around the world meeting a motley crew of creatures on each continent. The movements in the story (partly controlled by the reader) are slow and the music is calming.
Interesting to note is that VivaBook houses a "My Library" interface, which allows readers to record themselves, relatives, or friends as custom narrators. At the moment, no other company has tech that allows such custom voices to also show highlighted annotation, which, Hecht tells me, "is critical to a child's literacy development."
Future VivaBooks include versions of such classics like Robin Hood, Jabberwocky and others. There will also be books specifically geared towards older children, as well as a series of sing-alongs for very young children. Those new areas of VivaBook will most likely be available by the holiday season. Something else I learned was that soon, all the books will be offered in at least eight languages. For now, Around the World with Lilup and Nickelby Swift, Kitten Catastrophe will be out in Spanish, French, German, and Italian in about a month.
Asked one of the reasons why he wanted to bring VivaBooks into the mainstream -- the company is relatively new -- Hecht says: "Children learn to read the best when they feel compelled by the material. These apps do not fundamentally change the reading experience but rather augment how a child can interact with the words on the page and the story being told. There is plenty of research to support increases in reading comprehension and a child's ability to decode the text whenever active interaction with reading is increased."
The word "interactive" kept standing out for me here. Because, I wondered, how "interactive" I was being with the modern developments coming to me -- to all of us -- from the new publishing universe. Originally, I had scoffed at such bold, new developments. But the more I began interacting with them -- as I did with VivaBook -- I came to realize they're not that threatening at all and that my job, as a creative writer/artist, is to know that it's OK to learn how to adapt to these changes; that it doesn't have to threaten my creativity.
(What's the line from Rikki-Tikki-Tavi? "Very few mongooses, however old and wise, care to follow a cobra into its hole. You never know when the hole may open out and give the cobra room to strike." I think it's time I -- some of us -- stop viewing some of today's modern publishing shifts as "cobras".)
That said, I say dive into VivaBook. It's a stellar, monumental, modern gem worthy of our attention. In the meantime, take note of a few slides from the App below.
PHOTO GALLERY
App-solutley Vivid and Interactive
Calling all HuffPost superfans!
Sign up for membership to become a founding member and help shape HuffPost's next chapter