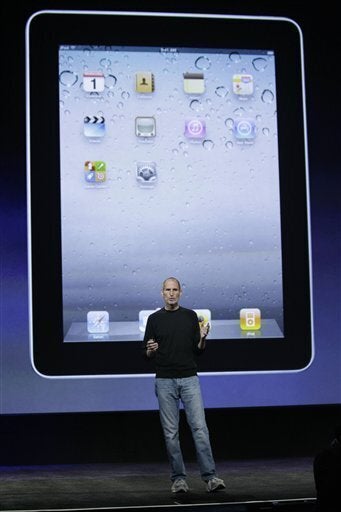 Will you be able to buy the next generation of Apple's iPad--equipped with FaceTime and cameras--in time for the 2010 holiday season?
Apple Insider, citing "a person with proven knowledge of Apple's future product plans," speculates that the iPad is "unlikely to endure the company's traditional 12-month product cycle for iOS device refreshes before seeing its first major enhancements."
"A version of the tablet device with a built-in video camera and support for the new FaceTime video conferencing standard has already progressed to the advanced testing stages," Apple Insider reports. "That person familiar with the company's plans claims that as of last month, there was an ambitious push inside Apple to verify the refresh for a possible launch ahead of this year's holiday shopping season."
Is this rumor to be believed? Here's what tech blogs have to say about speculation that the "iPad 2" could be out by Christmas this year.
CNET: "Typically Apple will release updates to its iPod lineup in September (as we saw last week) and then update its Mac lineup shortly thereafter. Should this latest claim pan out, recent rumors about Apple wanting to ramp iPad production to around 3 million units a month may have actually been misinterpreted and the production increase may have been due to this rumored version."
CrunchGear: The holiday release "makes sense for a number of reasons." CrunchGear cites three: First, "The iPad is limited." Second, "The wolves are (kind of) at the door." Third, "They need FaceTime devices."
Wired: "Today's ridiculous Apple rumor comes from Apple Insider. The claim? That a new FaceTime-equipped iPad will be in stores in time for the holiday season, just six months after the original launch. Bull. [...] I say this rumor is nothing but a rumor. If you want a new camera-toting iPad, wait until April."
PC World: "Aggressive competition could be driving an expedited development and product release cycle for the next-generation iPad. The Samsung Galaxy Tab is expected to launch soon in the United States, rumored to be available from Verizon, AT&T, and Sprint at a subsidized price with a wireless contract a' la smartphones. HTC is also expected to launch a Chrome-based tablet through Verizon on Black Friday to kick off the holiday shopping season."
There has been additional buzz that a new iPad may be released later this year. According to PC World, Taiwan's Economic Daily News, a financial newspaper, reported in August that "Taiwanese companies have won a number of component contracts for the iPad 2."
Calling all HuffPost superfans!
Sign up for membership to become a founding member and help shape HuffPost's next chapter