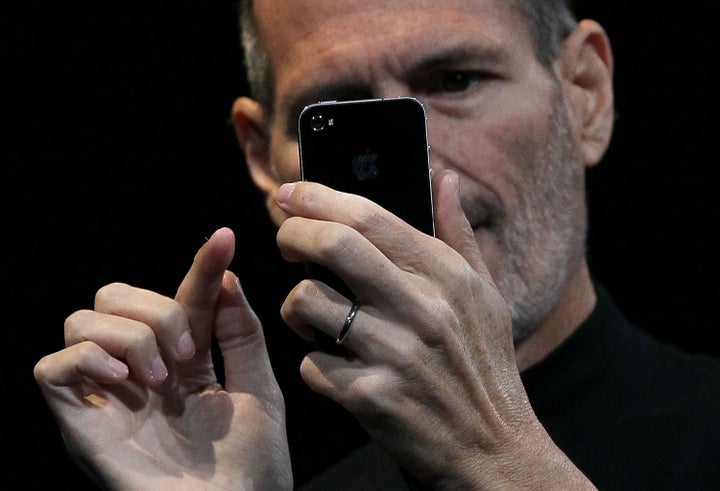 First there were a slew of rumors suggesting Apple was working on a smaller, cheaper version of the iPhone. Now, the rumors are hinting Apple has plans to launch a larger iPhone with a 4-inch screen and, possibly, a keyboard.
Taiwanese newspaper Digitimes cites "upstream component suppliers" in reporting that the next generation of the iPhone could get larger as part of Apple's effort to compete with Android devices:
The component suppliers noted that the production lines for Apple's next generation iPhone have begun testing, and Apple is interesting in expanding the screen size to 4-inches to support the tablet PC market as the vendor only has a 9.7-inch iPad in the market.

In fact, smartphones that adopt the Google Android platform are mainly 4-inch and larger models. Samsung Electronics' Galaxy S and Google's Nexus S adopt 4-inch panels, Sharp adopts 5.5-inch for its smartphone, and Acer plans to launch a 4.8-inch smartphone. With Apple joining the 4-inch and larger market, 4- to 5.5-inch will become the major battlefield for smartphones and further change the industry dynamics for small- to medium-size panels.

Another Taiwanese news outlet, the website tw.apple.pro, suggests Apple may be preparing several different iPhone 5 prototypes, including one with a slide-out keyboard.
Apple Insider writes of the rumor:
The new details come from tw.apple.pro, but are the result of a rough online translation. The site's source claimed that Apple has built three prototype models for its anticipated "iPhone 5," and one of them has a "sliding cover" that conceals a keyboard.

Another prototype reportedly built by Apple looks largely like the iPhone 4, but has improved hardware including longer battery life and superior camera. That version of the handset would not be a major physical change from the previous-generation iPhone 4, and would be akin to the iPhone 3GS replacing the iPhone 3G, the report said.

A report in the Wall Street Journal suggested that Apple was indeed planning on releasing several different versions of the next generation iPhone, but noted only that the company was prepping a cheaper line of phones.
The Journal wrote, "Apple is preparing to roll out a series of lower-priced iPhones to compete with other smartphones on the market. The new models will run about half the cost of existing iPhones."
Popular in the Community