And that's where the trouble comes in. As many Janeites were quick to point out, that quote wasn't sincere. Caroline Bingley, the haughty gentlewoman who competes with Elizabeth Bennet for Mr. Darcy's attentions, makes this announcement in hopes of impressing him. "How much sooner one tires of anything than a book!" Miss Bingley adds. Shortly after saying so, already bored by a quick dip into a book, she throws it aside and tries another gambit to grab his attention.
In short, Austen wrote the line as a satirical comment on how we perform certain admirable qualities to win approval.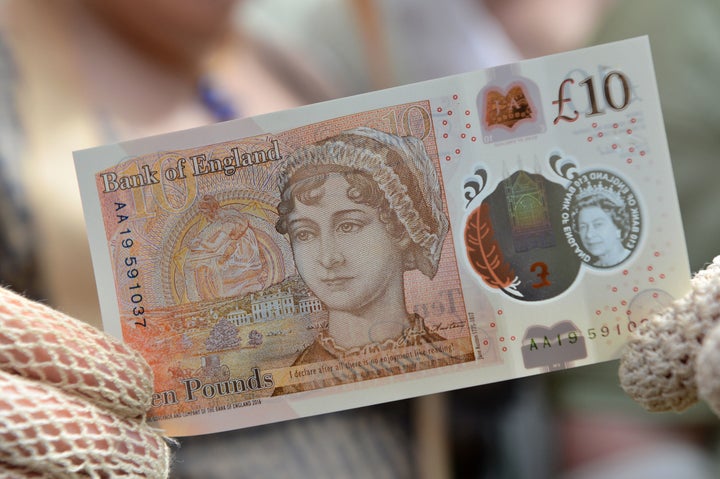 Austen, often portrayed as a prim lady novelist of prim lady romances, actually possessed a wickedly satirical pen, which she wielded mercilessly to lampoon her most self-satisfied characters. So it makes sense that many of her most oft-quoted lines have typically been taken out of context, and used earnestly where the author was being ironic.
"Ah! There is nothing like staying home for real comfort" ― an appealing quote for introverts ― was uttered by a particularly unpleasant lady who intends only to condescend to her countrified acquaintances. "There is no charm equal to tenderness of heart" sounds romantic but is deeply ironic in context; the speaker, Emma Woodhouse, is attempting to convince herself of a depth of admiration for her friend Harriet that she doesn't truly feel.
The quote selected by the Bank of England is a popular one ― after all, as an author Austen surely did love reading, and so do her many fans. When planning the note, they might have plucked the quote from any number of Pinterest memes. In its true context, the line reads quite differently. Ultimately, it's a commentary on the value of presenting oneself genuinely, rather than a straightforward endorsement of literature.
Many on Twitter reacted with frustration, pointing out that the Bank's choice of quote suggests a slapdash approach to putting together the tenner rather than a thoughtful appreciation of an iconic Brit.
Austen is frequently misunderstood, romanticized and misquoted ― but engraving such a misquote onto national currency holds a bit more weight than another Etsy print that ignores context. 
Unfortunately, it seems true Austen fans will be stuck with this irritating error for the foreseeable future. The notes, which are set to be released on September 14, were designed to last five years, significantly longer than the current, less durable bills. And to that, we have just one thing to say: It was badly done, indeed, Bank of England. 
Calling all HuffPost superfans!
Sign up for membership to become a founding member and help shape HuffPost's next chapter
BEFORE YOU GO
PHOTO GALLERY
Women's History Month Quote Cards