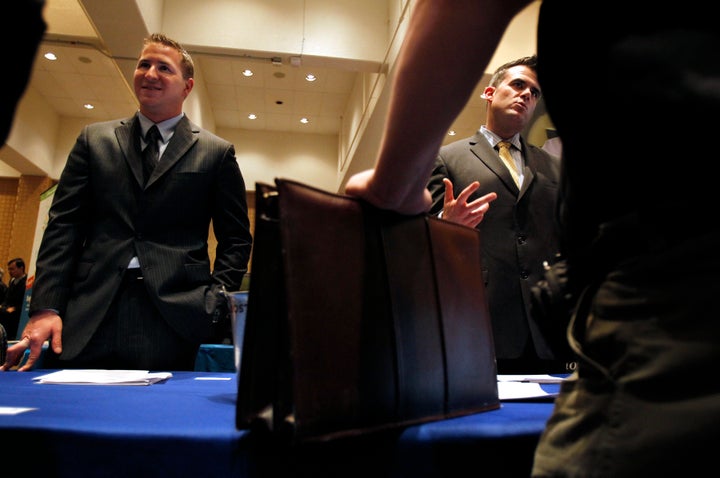 In New Jersey, it is no longer legal for employers to specify in their job ads that unemployed persons will not be considered.
Gov. Chris Christie (R) recently signed a bill that bans overt discrimination against the jobless in print or online -- the first legislation of its kind in the United States. Employers would face a penalty of $1,000 for the first offense and $5,000 for subsequent offenses.
New Jersey state Rep. Celeste Riley (D-Cumberland), a primary sponsor of the bill, said she became aware of the problem of employers discriminating against the jobless when her colleague showed her an actual online job ad that ruled out unemployed candidates.
"My district has one of the highest unemployment rates in the state, and when jobs are few and far between, I don't want somebody saying, 'Just because you're unemployed I'm not gonna hire you,'" she told The Huffington Post. "There's the old theory of 'you need a job to get a job,' but that's absolutely unacceptable. You should be employed based on your skills and what you bring to the table."
Riley said she's not sure to what extent the New Jersey law will actually change employers minds about hiring unemployed people, but she hopes it will at least send them a message.
"You can't control people's behaviors," she said, "but as a state, we can say that we find this practice unacceptable -- especially in these hard economic times."
Rep. Hank Johnson (D-Ga.) introduced similar legislation on a federal level in March that would amend the Civil Rights Act to include unemployed people as a protected group. The Fair Employment Act of 2011 -- a bill which is still in committee -- would make it illegal for employers to refuse to hire or to lower compensation based on employment status.
"I'm hopeful this can be a bipartisan effort," he told HuffPost, "because unemployment knows no demographic difference."
Popular in the Community