Robbinsville, New Jersey may seem like an odd place for a religious pilgrimage, but that is exactly what it may become.
The Bochasanwasi Shri Akshar Purushottam Swaminarayan Sanstha, also known at BAPS, inaugurated what is reported to be one of the largest U.S. Hindu temples in early August, and it is already drawing a crowd to its home in Robbinsville.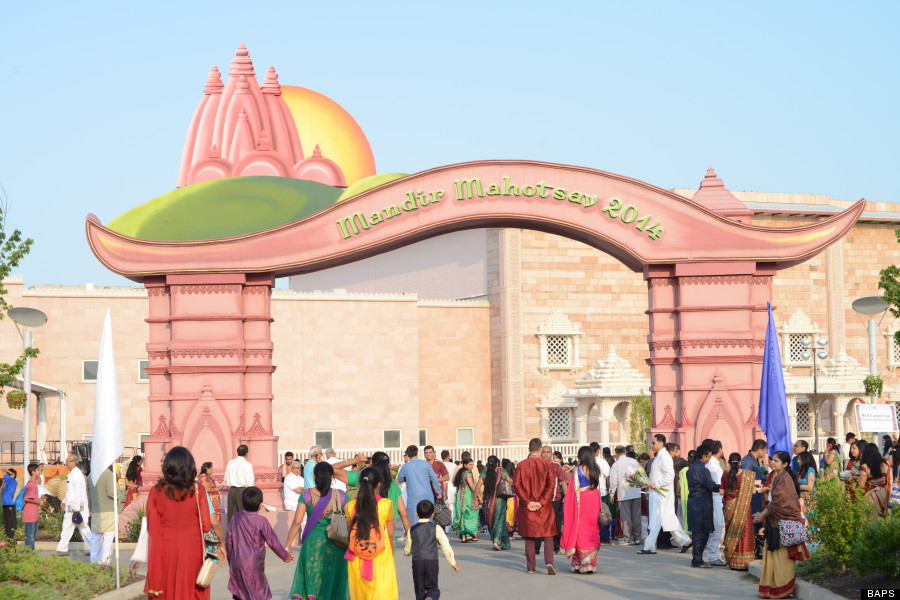 BAPS volunteer Yogi Trivedi, a Ph.D. candidate in religion at Columbia University, said the mandir was initiated to accommodate a growing Hindu population in New Jersey.
"As the community started getting larger," Trivedi told The Huffington Post, "[BAPS] realized they needed their own house of worship."
The BAPS Shri Swaminarayan Mandir covers 160 acres, and the primary mandir, or temple, on the premises measures 133 ft long and 87 ft wide. The Guinness world record holder for largest Hindu temple is the BAPS Swaminarayan Akshardham in New Delhi, which measures 356 ft long and 316 ft wide.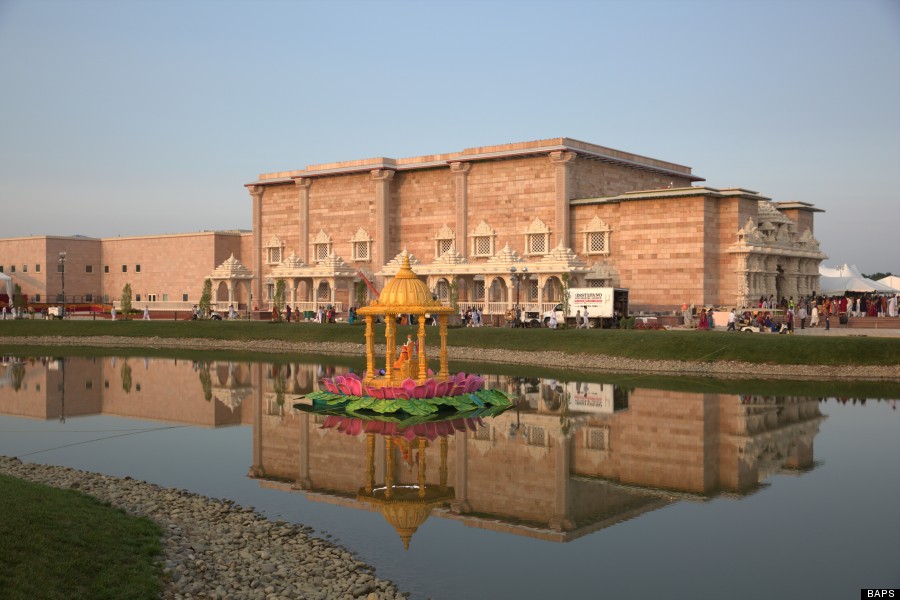 The New Jersey structure is made of Italian marble -- more than 13,000 stones' worth, according to BAPS -- which traveled first from Italy to India where it received traditional carvings from craftsmen before making the journey to New Jersey.
New Jersey winters aren't particularly conducive to preserving marble, though, which is why BAPS built an entire second structure around the temple.
This is something Manav Lalwani, a New Jersey resident and member of the Sadhu Vaswani Mission, said young Hindus find appealing about BAPS -- its ability to bring religious tradition alive while staying conscientious of its surroundings.
"They recognize the value of religion being relevant to its time and place," Lalwani said. "[BAPS is] bringing Hindu culture and tradition to New Jersey but recognizing that it is still within this American environment."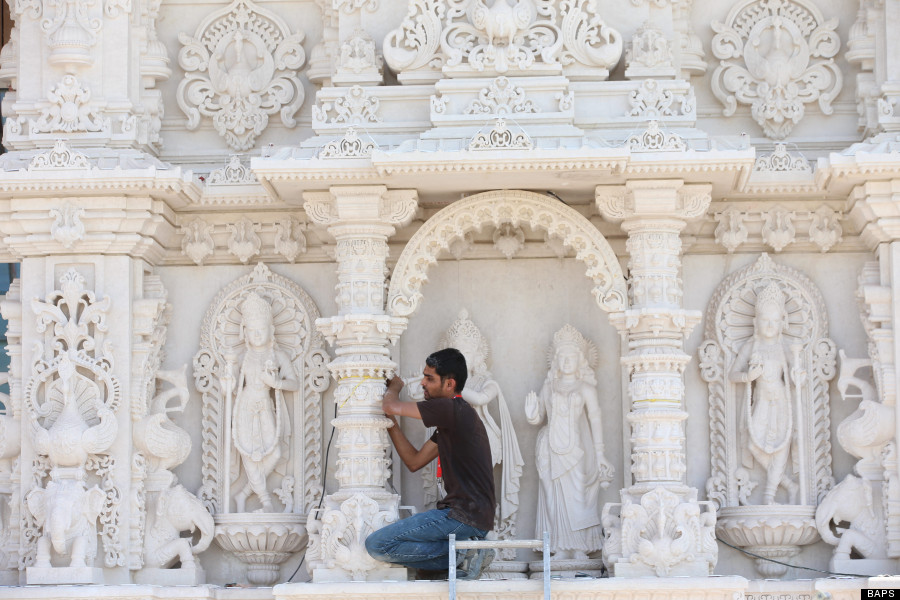 Although there are nearly 80 BAPS temples in North America, the Robbinsville mandir is just the sixth built entirely of stone and according to an ancient Hindu architectural tradition based in the shilpa shastras, the Times of Trenton reported. It took three years, many volunteer hours and roughly $18 million to build.
"At the heart of a Hindu mandir is personal devotion, bhakti, a one-on-one devotion with God," Trivedi told HuffPost. "Primarily it provides a home, and it is not only a house of God but a house for the devotee."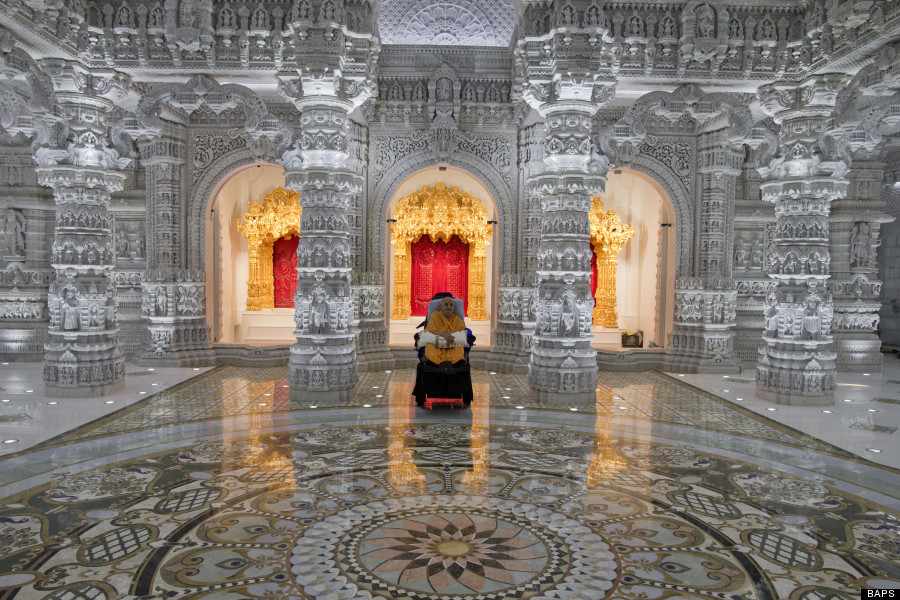 Trivedi said that at the heart of this mandir, in particular, is the spirit of volunteerism. "We're all volunteers here," he said. "Building the mandir is a process. Not only does it help creator complete the physical process but it helps build a mandir inside one's heart. That way God can reside within you."
BAPS inaugurated the complex with a series of public rituals from August 8-10 in the presence of the group's 92-year-old guru, His Holiness Pramukh Swami Maharaj.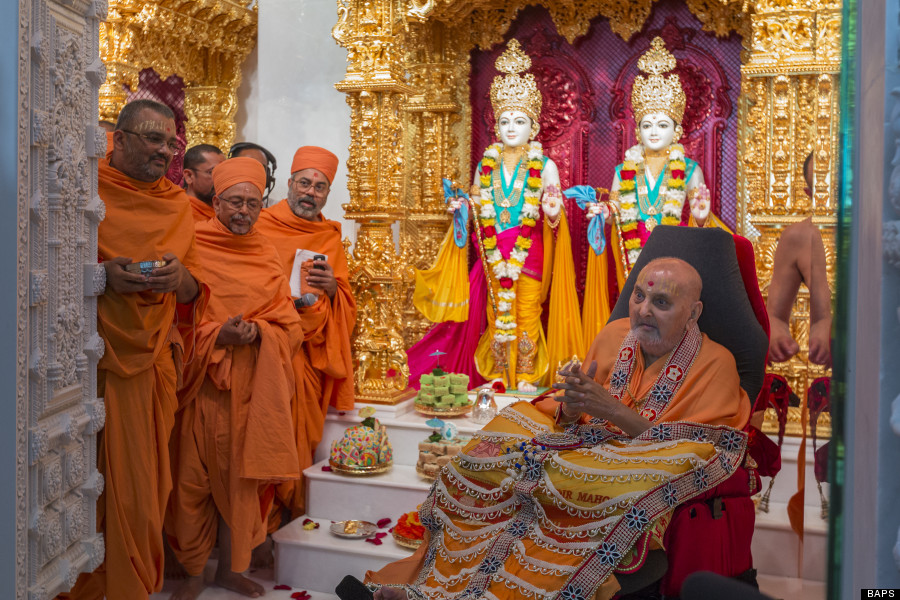 On August 8 BAPS celebrated with a grand yagna, or offering ritual, that included Vedic rituals and prayers for world peace. The ceremonies concluded Sunday with the consecration of sacred images in the temple's central shrine.
Several elected officials attended the opening, as well, including New Jersey Senator Cory Booker and Maryland Rep. Steny Hoyer, Pennsylvania Rep. Mike Fitzpatrick, New Jersey Rep. Frank Pallone, Attorney General of the State of New Jersey, John Jay Hoffman, and Indian Consul General Dnyaneshwar Mulay.
"I am so impressed," Booker said in a BAPS press release. "Indeed, I give reverence to an extraordinary structure which will stand in all of North America as one of the greatest places of faith we have but I am more impressed with the people of this community."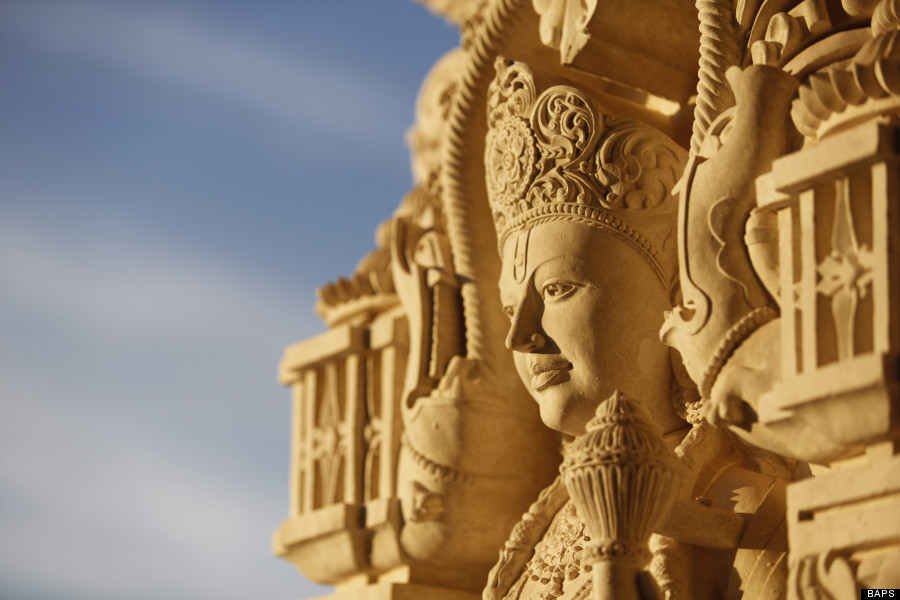 Trivedi said he expected the mandir to build cultural awareness in the community through its many events, activities and services. These will include language classes (like Hindi and Sanskrit), cultural classes, music classes, dance classes, SAT tutoring, spiritual counseling, canned food drives and blood donation. Aarti, or the waving of the sacred lamps, will take place five times a day and is a symbolic reminder of a pre-electricity era in which devotees lit lamps to view the murti, or images of the divine, within the mandir.
"The greatest gift this mandir gives to the community is it changes the social, spiritual and cultural landscape," Trivedi told HuffPost. "It raises cultural tolerance."
Lalwani also said he is thrilled BAPS chose New Jersey as the site for its new temple -- even though he isn't affiliated with their organization.
"Fellow hindus of my age group have been excited about it," Lalwani told HuffPost. "It's something to be proud of, and that goes beyond sects of Hinduism -- across sects people are excited."
Related
Before You Go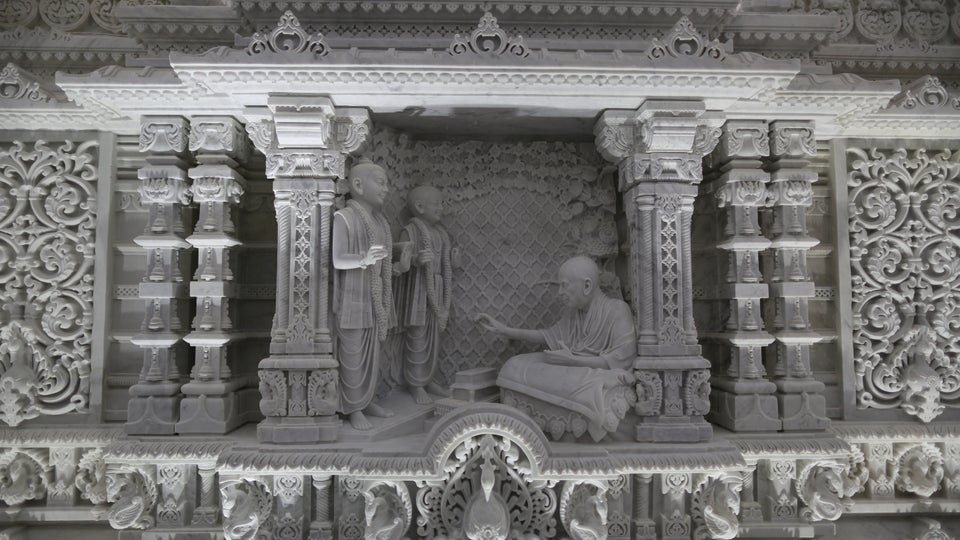 BAPS Shri Swaminarayan Mandir in Robbinsville, NJ
Popular in the Community