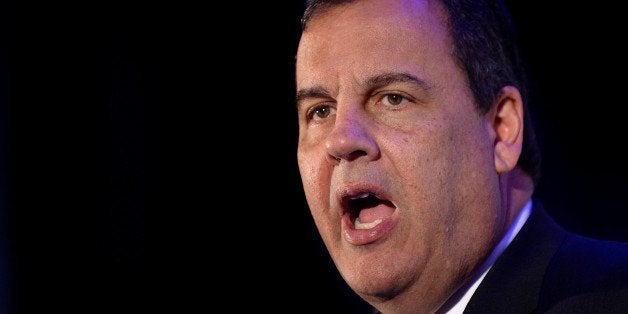 TRENTON, N.J., May 6 (Reuters) - A lawyer for New Jersey Governor Chris Christie's administration was asked on Wednesday by a state Supreme Court justice whether it was doing a "bait and switch" by arguing that a 2011 pension reform law Christie championed was unconstitutional.
The administration and labor unions presented oral arguments to the court in their dispute over whether it was legal for Christie to slash $1.6 billion from the state's 2015 pension contribution. At issue is Christie's opposition to the bipartisan 2011 law he promoted at the time.
"Is that some sort of bait and switch?" Justice Barry Albin asked Assistant Attorney General Jean Reilly, who represented the state.
The seven justices questioned whether the state's debt limitation and appropriation clauses trumped its obligation to make contributions, as argued by Reilly.
The law called for employees to pay more and retire later, and promised that the state would ramp up its own funding over seven years until it reached full required annual contributions, which would have been $4.8 billion in fiscal 2018.
Christie, a possible 2016 Republican presidential candidate, cut the payment last year because of a revenue shortfall. If the justices reject the state's arguments, it could be a blow to Christie's presidential aspirations and the state's finances.
Public sector unions sued the administration, and on Feb. 23, Superior Court Judge Mary Jacobson sided with them, finding that the 2011 law explicitly created a contractual right that the state make its pension contribution. The state appealed to New Jersey's highest court.
With just weeks before the end of the fiscal year on June 30, the fiscally stressed state could have to move money around or use other one-time budgetary measures. Its Democratic Party-led legislature could also try to raise taxes on wealthy residents, a so-called "millionaire's tax" that Christie has repeatedly vetoed.
Even if the state wins, its pension problem persists. By one measure, New Jersey's pensions are 44 percent funded - nearly half the minimum many analysts consider healthy.
A win for the state "helps in the short term budgetary liquidity perspective, but it is just kicking the can," said Carl Thompson, an analyst at Eaton Vance. "The less they fund now, the bigger the liability grows every year."
Christie's office said in a statement on Wednesday that he "is committed to making as large a pension payment as possible while we pursue reforms to fix the pension system once and for all." (Editing by Megan Davies and Grant McCool)
Calling all HuffPost superfans!
Sign up for membership to become a founding member and help shape HuffPost's next chapter
BEFORE YOU GO
PHOTO GALLERY
Chris Christie Is Absolutely Shocked