New Jersey Democrats proposed legislation on Monday that would allow people to vote while they are in prison, a move that could expand the franchise to about 100,000 people in the state.
New Jersey, like several other states, does not allow felons to vote after their conviction, including while they are on parole or probation. If the bill becomes law, New Jersey would join just two other states ― Maine and Vermont ― in allowing any felon, including murderers, to vote while they are in jail and after they have been released.
The bill would allow prisoners to vote by mail-in ballot in the district where they lived prior to being incarcerated.
The measure comes as a handful of other states have been reexamining longstanding laws that disenfranchise felons. In Florida, where more than 1.5 million people can't vote because a felony conviction, voters will choose in November whether to automatically restore voting rights to those who have completed their sentences.
Alabama lawmakers passed a law last year clarifying the specific felony charges that cause someone to lose the right to vote. Former Virginia Gov. Terry McAuliffe (D), unilaterally restored voting rights on a case-by-case basis to over 172,000 former felons before he left office earlier this year, something his successor, Gov. Ralph Northam (D), has pledged to continue. (A court challenge blocked McAuliffe from issuing a blanket order on the matter.)
"At the end of the day, voting is a fundamental right," said Scott Novakowski, associate counsel at the New Jersey Institute for Social Justice, a group pushing for the bill in that state. "The very idea of a fundamental right is that you don't lose your fundamental rights if you're incarcerated or on parole."
The idea of disenfranchising people who commit crimes has roots in ancient Greece and Rome and has existed in the United States since its founding. To some, the laws make sense.
"If you're not willing to follow the law, then you can't demand the right to make the law for everybody else," said Roger Clegg, a former Justice Department official in the administrations of Presidents Ronald Reagan and George H.W. Bush.
State Sen. Gerald Cardinale, the ranking Republican on his chamber's Judiciary Committee, said he hoped the bill went nowhere.
"People who make public policy should be people who are decent people in the community, people not criminals. And if you have the right to vote you have the right to make public policy," he said in an interview. "I do not believe the average person wants to see their vote diluted by the vote of criminals who are still serving a sentence in jail."
Some states in the 19th century began to use criminal disenfranchisement provisions as a way to block black voters from casting a ballot. Critics say those laws have left a legacy that continues to disenfranchise blacks at a disproportionately higher rate than others. According to one estimate, 1 in every 13 voting-age blacks is disenfranchised, a rate more than four times higher than that for non-African Americans.
New Jersey wrote its voting ban for people with criminal convictions into its state constitution in 1844. According to the Institute for Social Justice, five of the state's 21 counties have almost half of the people removed from the rolls because of a felony conviction. Those same five counties have 46 percent of the state's black population.
Democrats control both chambers of the New Jersey legislature and the governor's mansion, and Novakowski said he is optimistic about the voting bill's chances of passing. He noted Gov. Phil Murphy (D), elected in November, campaigned on a platform of aggressively expanding voting rights.
Murphy spokesman Dan Bryan said the governor "believes that we are a better, stronger, and more representative democracy when more New Jerseyans participate. He looks forward to working with the Legislature to pass legislation that expands access to the ballot."
Assemblywoman Shavonda Sumter, one of the Democrats supporting the bill, said New Jersey could serve as a model for other states in expanding the right to vote.
"Every person of voting age should have the ability to cast their ballot without interference and without judgment of their personal history," she said.
This story has been updated with comment from state Sen. Gerald Cardinale (R).
Support HuffPost
The Stakes Have Never Been Higher
Before You Go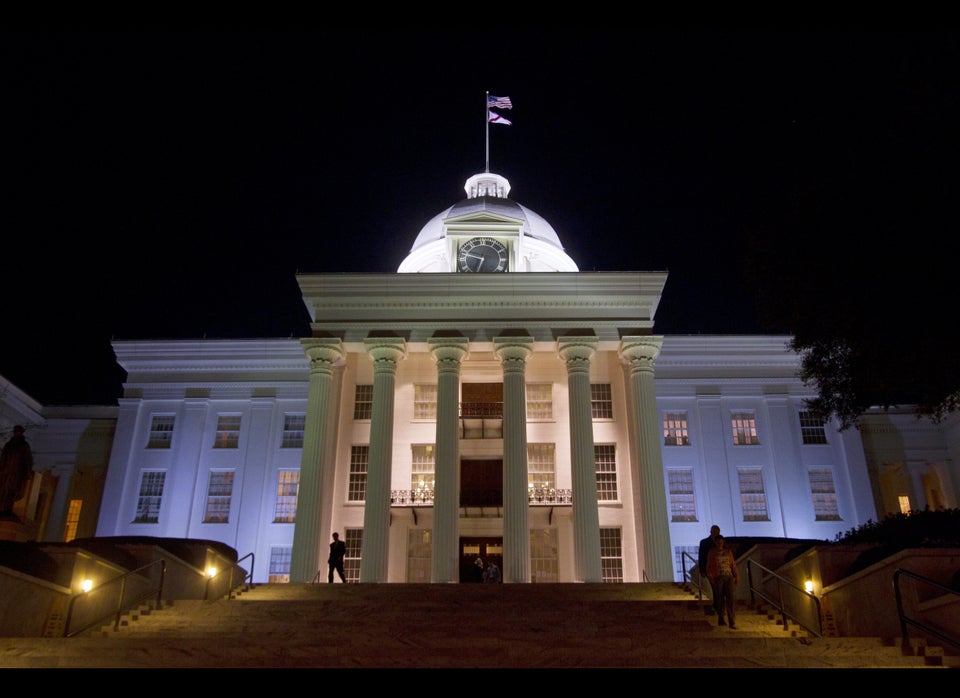 U.S. State Capitol Buildings
Popular in the Community