Students at New Jersey's most resource-starved public schools walk down hallways covered in mold, take tests in asbestos-filled classrooms and trod across floors peppered with rodent droppings. And when these students visit different districts for sports matches or debate club meets, the inequalities are thrown into sharp relief as the students come face-to-face with the basic cleanliness and safety offered by a majority of the state's educational institutions.
Last Wednesday, a powerful photo exhibit stationed in front of the New Jersey State House displayed the ugly truth hiding inside some of the state's most dilapidated schools, many of them located in urban areas. Titled "A Blind Eye: The Immorality Of Inaction" and organized by public school advocates at the New Jersey Healthy Schools Now coalition, the exhibit took place in protest of Republican Gov. Chris Christie's administration, which state education advocates say has displayed a lack of commitment to the area's most vulnerable students.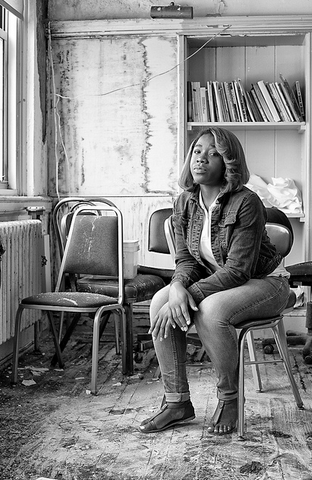 The State Of New Jersey Schools
Spotlighting the effects of years of neglect, the pictures give viewers an intimate look at five broken-down campuses. Three of the schools are trapped in continually delayed demolition or renovation projects. Two are undergoing or waiting to undergo so-called "emergent repair" maintenance work on structures posing an immediate threat to students.
While two of the pictures in the series were taken by New Jersey-based photographer Andrew Wilkinson, Healthy Schools Now says the bulk of them were submitted by individuals who wish to remain anonymous.
The series takes a swipe at the state's School Development Authority, or SDA, a public agency that receives direction from the governor and is charged with financing and developing construction and repair projects for the state's poorest districts. According to Moriah Kinberg, a member of Healthy Schools Now, the SDA has been moving at a snail's pace in recent years, leaving schools' conditions to weaken and kids' educations to suffer.
"Allowing teachers and students to be in this condition is a moral issue," Kinberg told The Huffington Post over the phone. "I've heard from teachers who say [school] conditions are making them physically ill. It's really demoralizing to go to school when you walk into the hallway and there's water running down the hall."
MacLean would not comment on the photo exhibit.
David Sciarra, executive director of the New Jersey Education Law Center, does not believe emergent repair funds ran out. That's a "flat-out lie," he told HuffPost, alleging that the SDA had money but that the "governor [didn't] want to spend it."
In 2011, amid growing criticism, the SDA accepted requests for emergent repairs in its districts. According to a press release from Healthy Schools Now, 716 emergent project requests were submitted. In 2012, the Department of Education and the SDA agreed to honor 68 of these requests. Many of these projects are still in construction.
Since 2010, the SDA has also begun rebuilding dozens of other schools, although Sciarra thinks these projects are not being completed fast enough. He says the pace of the agency's projects represents a larger attitude problem toward urban schools.
"The message is that urban ... district public schools don't matter, they're second class," he said. "And that it's okay to subject them [students in those schools] to conditions that affect their health and safety."
MacLean, on the other hand, says that school districts are also be partially to blame for conditions inside schools.
"Districts are also responsible for the routine and required maintenance of their school facilities," she told HuffPost. "If any of the state's children are unsafe while at school, it is the district's responsibility to take immediate action to rectify the situation."
Support HuffPost
The Stakes Have Never Been Higher
Popular in the Community