Newark Mayor Cory Booker's Democratic U.S. Senate opponents sought to differ themselves from the frontrunner during Monday night's debate.
Education and congressional experience proved flashpoints as Booker's three challengers attempted to score points before the Aug. 13 primary election to nominate a replacement for the late Sen. Frank Lautenberg (D). Reps. Rush Holt and Frank Pallone attacked Booker's support for school vouchers, while Booker sought to show that his leadership of New Jersey's largest city gives him a better perspective than experience in Washington. State Assembly Speaker Sheila Oliver highlighted the need for more women in Congress.
The four are competing for the Democratic nomination in the Oct. 16 special election for the unexpired term of Lautenberg, who died in June. Booker leads in polls by more than 30 percentage points. Two Republicans are vying for the GOP nomination.
Pallone, who stressed his endorsement by the Lautenberg family, was first to throw a punch at Booker during the education debate, taking aim at the voucher issue.
"I don't think vouchers are the answer," Pallone said.
Booker at first steered away from the issue, prompting Holt to jump in, linking Booker to the education policies of Gov. Chris Christie (R). With a Booker aide using Twitter to set the stage, the Newark mayor then compared his support for voucher programs in Newark to a vote Holt cast for a voucher program in District of Columbia schools as part of a budget bill in 2004.
"For poor kids, below the poverty line, I support school programs to give them a lifeline," Booker said. "I find it interesting that Congressman Holt brought up as a criticism of me. He actually voted for the Washington, D.C., schools' program. He voted for a program similar to mine."
Holt shot back that he does not support vouchers and instead wants investment in teachers.
Booker spent parts of the debate seeking to contrast his experience as a mayor and city councilman with Holt and Pallone, who serve in Congress. He called for a new type of leadership in Congress and said he'd be able to fix Washington. Booker said he disagrees with the popular Christie on marriage equality and women's health, but worked with him to benefit Newark.
During a lengthly exchange on foreign policy, the candidates took different approaches to China, Russia and intelligence gathering. Booker, Pallone and Holt spoke about the need to have China play by rules similar to the United States in the economic arena, while Oliver blamed Wall Street for helping fuel the Chinese economy.
In discussing intelligence gathering, Holt and Pallone talked about the need to overhaul the system, including the National Security Agency's domestic snooping. Booker discussed what he said has been his work on counterterrorism in Newark, while Oliver said that intelligence gathering is needed to keep the country safe.
"The idea of vacuum cleaner, wholesale collection of information about Americans is unacceptable," Holt said.
Oliver, who stressed the need to focus on New Jersey issues, also noted that her experience as a government administrator, county freeholder and state legislator was deeper than Booker's.
"I worked in Newark's municipal government when it's mayor was still in high school," Oliver said.
Before You Go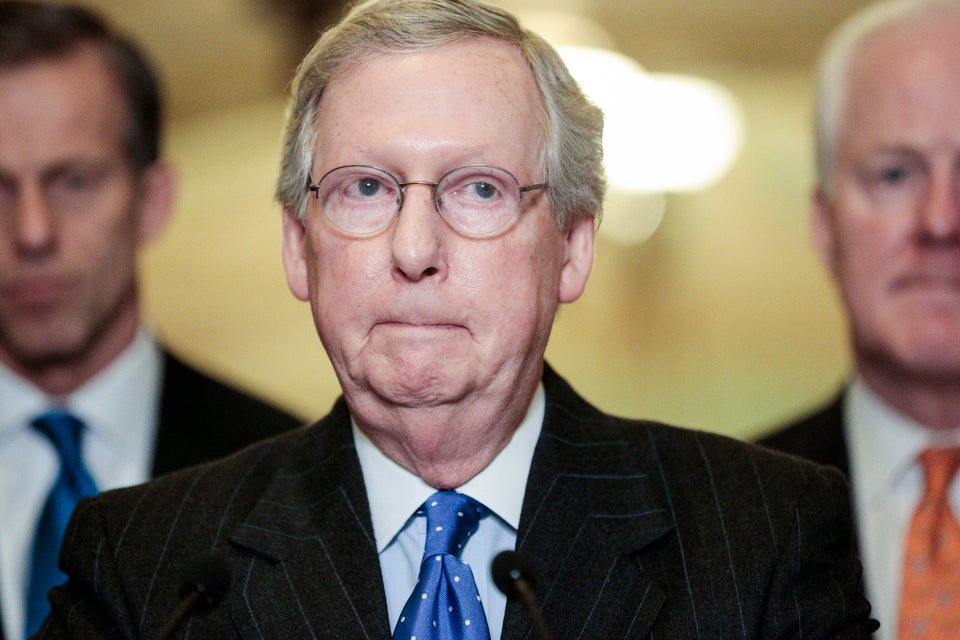 Say Cheese! Mitch McConnell Smiles
Popular in the Community