MIAMI -- The Obama campaign couldn't have planned it better. At the exact moment Air Force One was touching down here to deliver the president to a fundraiser for what The Miami Herald called "imperiled members of his party" (read: Representatives Ileana Ros-Lehtinen and the brothers Lincoln and Mario Diaz-Balart), another much more relevant elected official named Senator Robert Menendez was across town addressing a crowd of Republican Cuban-Americans -- on behalf of Barack Obama.
Even better, not one of those "imperiled" congressional incumbents even bothered to show up for the president, either at the airport, the fundraiser (despite the half million in prize money), or even at Havana Harry's in suburban Coral Gables, Bush's last stop in the hour-long drive-by, each citing "prior commitments."
Republicanos por Obama showed up though, and they showed up in force, filling the entire second floor of a Coconut Grove restaurant called Las Culebrinas for an impassioned get-together with the Democratic Gentleman from New Jersey.
Menendez, who co-chaired Hillary Clinton's campaign for the White House, is, of course, diametrically opposed to the other Cuban American senator currently serving in Washington (Florida's Republican Senator Mel Martinez), so his support for Obama is no surprise. What is surprising is what he sees as an increasing amount of Republicans eagerly joining him.
"I think that just as we see in the polls, many of the [traditionally Republican] Latinos [in Florida] are moving in Barack's direction," said Menendez. "Earlier today we were at a senior citizen's center; this is probably the hard core of the more conservative view, yet overwhelmingly there was support for Obama."
Cuban American Republicans have been tilting toward the Illinois senator for quite a while now, helped along in no small part by Democratic congressional candidate Joe Garcia, once head of both the Miami-Dade Democratic Party as well as the once-archly conservative Cuban American National Foundation. Garcia's run for the seat currently occupied by Mario Diaz-Balart also has seen a significant crossing of the aisle.
Menendez was both "pleased and thrilled with the reception" he's received throughout a whirlwind run around town that included radio and television interviews, a town hall meeting out on the campus of Florida International University and a "Phone Bank Drop By" at the Campaign for Change's office in Kendall, another Miami suburb.
The senator was also incredibly encouraged by both the quantity and the quality of Republicans jumping from McCain's sinking ship, and he was quick to note its importance.
"To leave a roomful of Republicans who are now supporting Obama is, I think, very significant; many of them are community leaders who can influence many others."
And with McCain pledging to continue Bush's restrictions on both travel and remittances to the island nation where many Miamians still have family, it's likely more and more Republicans will be coming over to Obama.
"It's ridiculous," said one of the formerly faithful Republicans. "[Hurricanes] Ike and Gustav nearly wiped out the whole country and we're only allowed to send back $300 every three months? These are our people we're talking about."
Across town though, among the few hard-line exiles that still see Bush as a buddy, the president insisted that he'd ease trade to "this dungeon" 90 miles away "only when the government of Cuba lets the people of Cuba express themselves freely."
"We will change our policy when the people running Cuba free people of conscience from the prisons," Bush continued. "But until then, we won't change."
Since McCain is utterly status quo on the subject, the Republicans for Obama see this as a good reason to stop buying into his campaign.
"The embargo's been in place nearly 50 years," said another member at the Menendez luncheon. "Enough is enough."
And if the mood of the rest of the Republicans for Obama was any indication, it would seem that enough is enough in more respects than just the Cuba policy.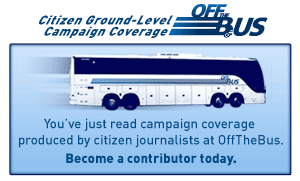 REAL LIFE. REAL NEWS. REAL VOICES.
Help us tell more of the stories that matter from voices that too often remain unheard.