Ahmed Abdelbasit, a New Jersey teacher who faces a death sentence in Egypt for his pro-democracy activism, was detained last week outside his Jersey City apartment by U.S. Immigration and Customs Enforcement. Three days later, a notice came in the mail saying his asylum case had been transferred to an immigration court.
On that Thursday morning, seven plainclothes ICE officers demanded that Abdelbasit get into an unmarked car. Confused, the physics teacher complied, all while frantically texting his friends and co-workers to let them know he would not be in class that day at a private Islamic school in Union City.
HuffPost has learned that Abdelbasit, 33, was taken to a detention center in Elizabeth, New Jersey, where he was forced to turn over his belongings and was given an orange jumpsuit to wear. Abdelbasit has been held there ever since.
ICE confirmed to HuffPost that he is being held at Elizabeth Detention Center on administrative immigration violations. ICE would not elaborate on what those violations were.
It was only after Abdelbasit was detained did his lawyer learn that his asylum case was transferred to immigration court in a notice that arrived three days after Abdelbasit's arrest, HuffPost has learned, leaving the teacher and his lawyer with more questions than answers.
"It's not clear why they would feel the need to detain somebody who has no criminal record in the United States, who has been living a very law-abiding life here and has been doing everything correctly," Anwen Hughes, Abdelbasit's lawyer and the deputy legal director at Human Rights First, told HuffPost. "It's very unclear why this happened. What we're trying to find out at the moment is what the actual basis is for this."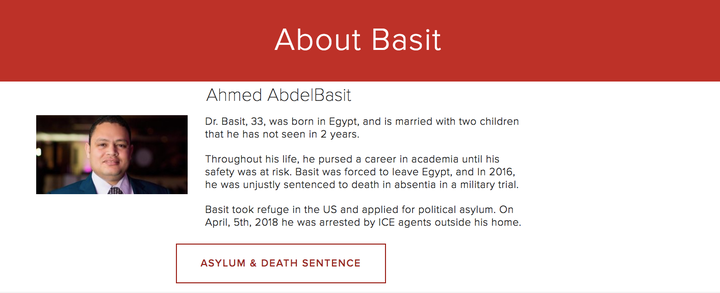 When Abdelbasit didn't show up to school that day, his students were immediately worried. He was not one to take days off.
Mariam Siam and Yusef Haddabah are both students in Abdelbasit's physics class at Rising Star Academy. They spoke at length about their teacher's kindness, often staying late to help them with classwork. Since the school did not have the funds for lab equipment, Abdelbasit appealed to local colleges to teach his students at their facilities. He was always going above and beyond, Siam and Haddabah said.
The moment they found out what happened, they sprang into action. Both students visited Abdelbasit at the detention center. They were concerned about his well-being, and they say they noticed that Abdelbasit had lost weight and were afraid for his physical and emotional health.
Instead, all Abdelbasit wanted to talk about was how his students were doing in physics with their substitute teacher.
"I was expecting a completely different him after what he's going through, like an emotional person. When we started talking, his strength, it didn't fail to amaze me. He was cracking jokes," Haddabah told HuffPost on the phone. "One of the first things that he asked me before I got to ask him how he was doing was who was taking over the physics class and if we liked the teacher."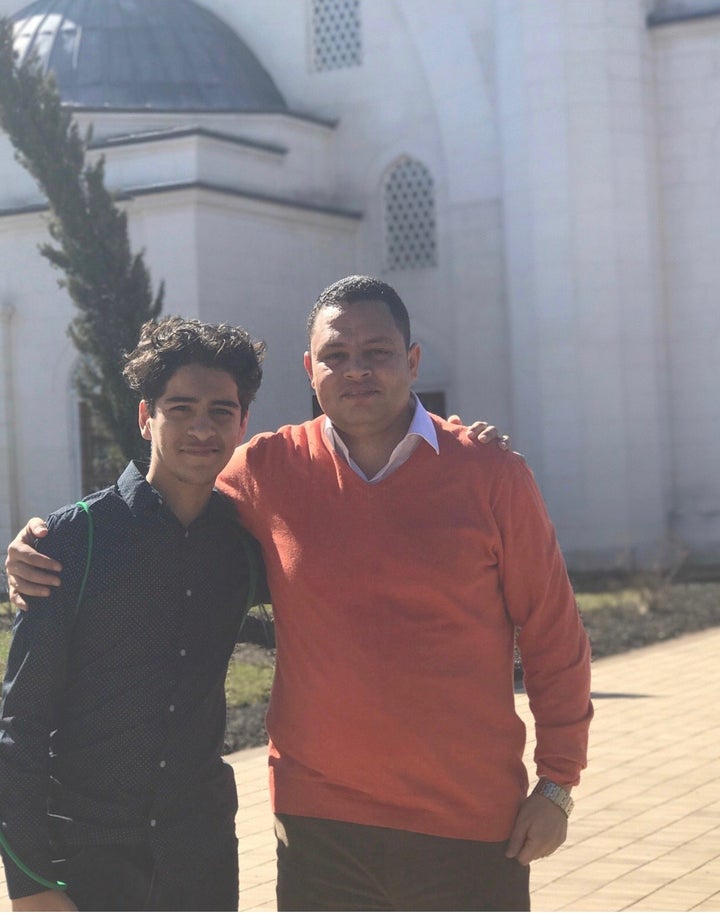 Siam and Haddabah, along with other students, launched an online petition and a social media campaign for their teacher's release. The pair launched a website, called local politicians, tweeted action plans and urged others to do the same.
"We are trying our best to do whatever we can do within our hands to help and support him," Siam told HuffPost. "He is our drive to do what we are doing right now and be student activists and fight for him."
Haddabah agreed. "I look at him as my role model. There are traits and different things about his personality that he holds, I only dream to hold in my future."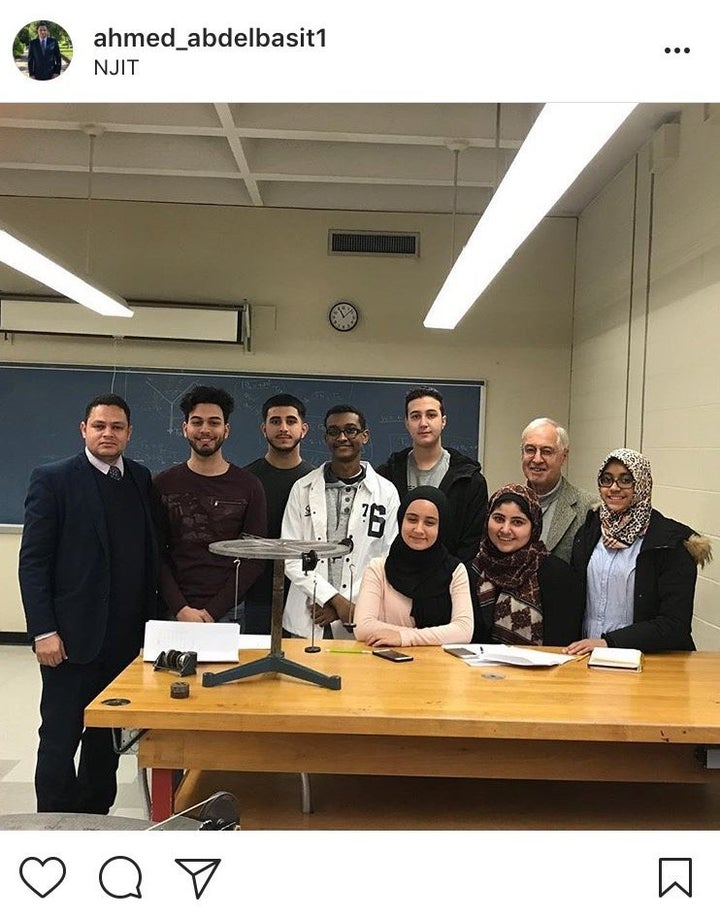 Abdelbasit was a doctoral student, physics professor and activist at Cairo University, where he helped organize peaceful protests against the military's removal of Egypt's first freely elected president, Mohammed Morsi, in July 2013.
His activism, online and on the ground, did not go unnoticed. The university investigated Abdelbasit's activism and expelled him in June 2014. His expulsion was widely criticized by various Egyptian media outlets and human rights organizations for violating his right to a fair hearing. Soon after, Abdelbasit left Egypt to find security and employment elsewhere. Initially he landed a teaching position at Qatar University.
Back in Egypt, the political crackdown and human rights abuses intensified. Abdelbasit was sentenced to death in absentia by a military court in May 2016.
In an interview with HuffPost, Human Rights Watch called the military sentence "completely baseless," noting that the evidence was "almost non-existent."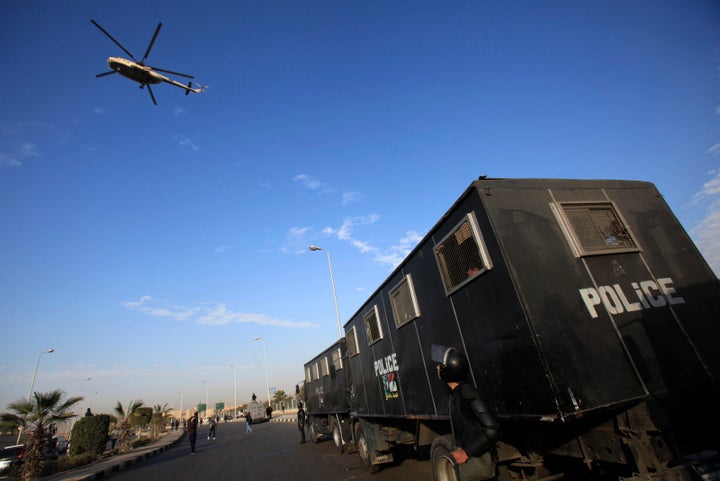 "It is very alarming to see the U.S. administration willing or trying to remove and deport an asylum seeker who might face imminent execution upon return to his country, and perhaps even torture or other things before execution," Amr Magdi, a researcher at HRW's Middle East and North Africa division, told HuffPost. "We call on authorities to release him and give him full judicial recourse, and the opportunity to appeal and object to his case."

Following the sentence, a decision Abdelbasit could not appeal, he immediately sought refuge in the United States, where he hoped he was safe.
He arrived in June 2016 on a visitor visa and applied for asylum two months later Newark. He was given permission to work legally while his case was being processed.
Abdelbasit's visitor visa eventually expired, but he was allowed to continue to work with a pending asylum application. He was interviewed in April 2017 by the asylum office and was told the final decision would arrive in the mail.
Less than two years after arriving, the teacher had just begun to find stability in the United States and had been welcomed into a large Arab and Muslim community in New Jersey.
Now ICE has classified Abdelbasit as "deportable from the United States," according to Hughes. It is unclear why, since the Egyptian immigrant has fulfilled all his application requirements and interviews, as well as repeatedly checking in with immigration officials since his initial arrival, his lawyer said.
ICE has ramped up its deportation efforts under President Donald Trump, increasingly deporting civilians with no criminal records, including business owners, mothers and Army veterans. During Trump's first year in office, in which he signed an executive order that granted ICE immense authority to arrest undocumented immigrants, the U.S. saw a 171% increase of non-criminal individuals arrested in 2017 compared with 2016.
"ICE has been detaining a lot more people from within the United States," Hughes said, "including people who have been here for a fairly significant amount of time and in some cases a very significant time, than was the case two years ago. That's definitely a pattern, and it's been affecting what's actually a fairly diverse collection of people."
"Sometimes it happens in ways that are fairly random," she said. "This obviously wasn't. It's not a random detention when ICE shows up at your house, then waits outside until you leave for work at 7:30 in the morning to arrest you."
Abdelbasit is scheduled to appear at a hearing next month in immigration court. He is worried about what's to come.
"If they send me back to Egypt, I will be hung right away," he told HuffPost by phone from the detention center. "Everything is damaged. Everything."
Popular in the Community