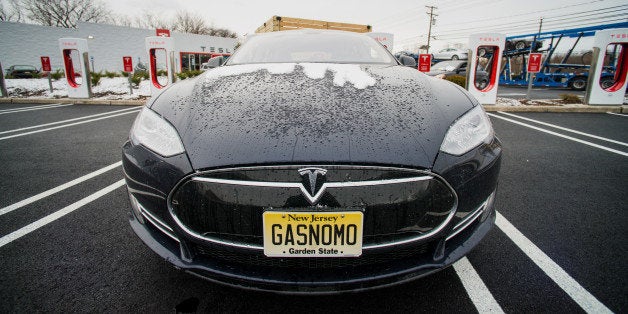 New Jersey gave Tesla Motors the green light on Wednesday to start selling its cars again.
Gov. Chris Christie signed a bill allowing the Palo Alto-based electric carmaker to open four dealerships in the state, which last year banned the company from selling its cars directly to consumers.
"I said last year that if the Legislature changed the law, I would sign new legislation put on my desk and that is exactly what I'm doing today," Christie said in a statement. "We're pleased that manufacturers like Tesla will now have the opportunity to establish direct sales operations for consumers in a manner lawfully in New Jersey."
Tesla did not respond to a request for comment, but posted a tweet recognizing the new law.
Unlike other car companies, Tesla sells its cars directly to buyers and does not use franchised dealerships. This has prompted a state-by-state fight with dealership associations, which have lobbied states to enforce laws that prevent car manufacturers from selling directly to customers. As a result, Tesla is barred from selling its Model S sedan -- for now, its sole offering -- in Texas, Arizona, Michigan and Maryland, all states where it previously operated before the bans were in place.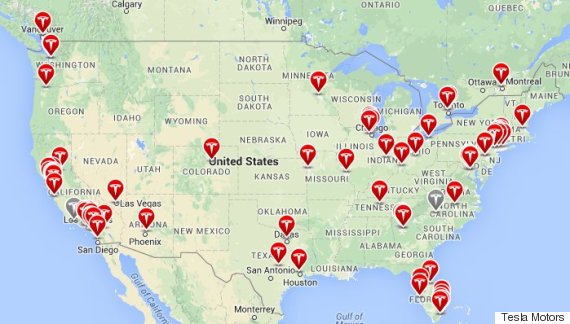 This map shows every current Tesla store throughout North America.
New Jersey's new law allows any automaker that only produces zero-emissions vehicles to operate no more than four dealerships in the state. A similar agreement in New York last year limited Tesla to five dealerships there.
If the company is successful in expanding its business, as it plans to do, the cap on the number of stores in these two states could become a problem.
Earlier this year, CEO Elon Musk vowed to aggressively spend money over the next few years to grow the company. The Model X, its highly anticipated sports utility vehicle, is due out later this year after several delays. Tesla plans to unveil the Model 3 -- which, tentatively priced at $35,000, would be its most affordable vehicle yet -- sometime next year. The company is building a $5 billion "gigafactory" in Nevada to mass-produce the lithium-ion batteries that power its cars.
"This issue is not solved, it's delayed," Karl Brauer, senior analyst at the automotive research firm Kelley Blue Book, told The Huffington Post of New Jersey's new law. "They've basically delayed the longer-term, larger issue."
New Jersey's Tesla ban was mocked last month with a Luddite Award, a prize bestowed by a Washington, D.C., think tank. The term Luddite, which describes a person who opposes new technologies, derives its origins from bands of early 19th-century English textile workers who destroyed new automated milling machinery out of fear that it endangered their jobs.
"This gets them off the Luddite list," Rob Atkinson -- president of the Information Technology & Innovation Foundation, which invented the award -- told HuffPost. Noting the four-store quota, he added, "But it doesn't get them on any pro-innovation list."


Tesla stock rose nearly 3 percent to $200.05 after Christie's office announced the law's passage.
For Tesla's core of devoted fans, who laud the company and its mission to rid the world of carbon-emitting vehicles, the new law is welcome news, said Andrea Giangone, 48, a member of the 50-person fan group Tesla Owners of New Jersey.
"It allows Tesla to expand its sales," Giangone, who owns a blue 2013 Model S, told HuffPost. "It's so exciting, we're all happy."
REAL LIFE. REAL NEWS. REAL VOICES.
Help us tell more of the stories that matter from voices that too often remain unheard.