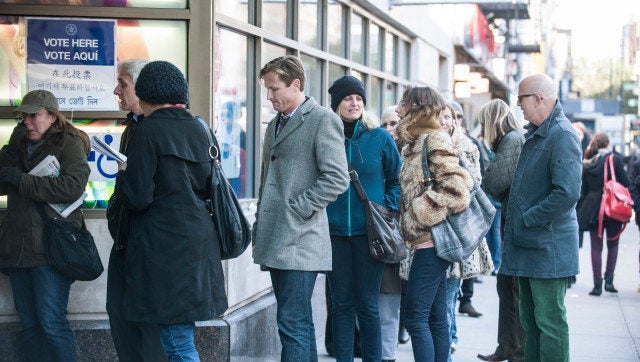 Critics have been quick to pounce on New Jersey's effort to enable residents displaced by Superstorm Sandy to vote. Rebecca Rosen, The Atlantic's associate editor, wrote of "New Jersey's Vote-by-Email Meltdown," BuzzFeed's Ben Smith wrote that "E-Mail Voting Fails Some New Jersey Residents" and NBC's Bob Sullivan focused on how "New Jersey's email voting suffers major glitches."
Let's not forget that this emergency measure was put in place by Governor Chris Christie and Lieutenant Governor Kim Guadagno on Saturday, just five days after one of the worst ever storms hit the state and three days before Election Day. The level of devastation in New Jersey was, and continues to be, catastrophic. On Saturday, 2.4 million of the state's 8.8 million residents were still without power. Today, more than 500,000 homes and business still don't have power. And there is still a major gasoline shortage making travel more difficult. For millions of New Jersey residents, many of whom have been forced to leave the state, voting is extremely difficult if not impossible.
Given the choice between disenfranchising thousands of voters or establishing an emergency measure with the potential to enable many of them to vote, Christie and Guadagno did the right thing.
Of course, it can't be expected that this new capability could be implemented flawlessly with under 72 hours warning. Despite using the existing overseas voting process, voters needed to be informed of the new rules, email addresses and fax numbers for each of the 21 counties needed to be collected and publicized, and the 21 counties' clerks and boards of elections needed to receive and process a large number of ballot applications with almost no turn-around time.
Of course, as Rosen, Smith and Sullivan point out, there were problems. Primarily, there were issues with overflowing inboxes. Many applicants received responses that inboxes were full. Others received no response. Smith wrote of a Rumson resident who is temporarily staying in the D.C. area who submitted a ballot application Monday afternoon but 10 hours later hadn't received a response. (Smith incorrectly wrote that the application deadline was Monday at 5pm -- it was Tuesday at 5pm.) And the Essex County clerk used an unsecured personal Hotmail account to receive applications.
On Tuesday, the state took the proper action to address the concerns. In recognizing that "[i]t has become apparent that County Clerks are receiving applications at a rate that outpaces their capacity to process them without an extension," Guadagno extended the deadline for counties to send ballots to voters to Friday at noon and is allowing voters to return completed ballots by Friday at 8pm.
Other criticisms are hypothetical. Critics have raised a concern about voter fraud. But the overseas voting system has been used by New Jersey for military and others, and there have been no reports of fraud in the past or to date for this emergency measure. There is also confusion about whether voters need to mail in a hard copy of their ballot for it to be legal.
The bottom line is that tens of thousands of New Jersey will be able to vote who wouldn't have been able to otherwise. There were a few glitches but they appear to be minimal and have largely been remedied. Kudos to Governor Christie and Lieutenant Governor Guadagno for acting quickly and taking a risk to protect our democracy.
Calling all HuffPost superfans!
Sign up for membership to become a founding member and help shape HuffPost's next chapter