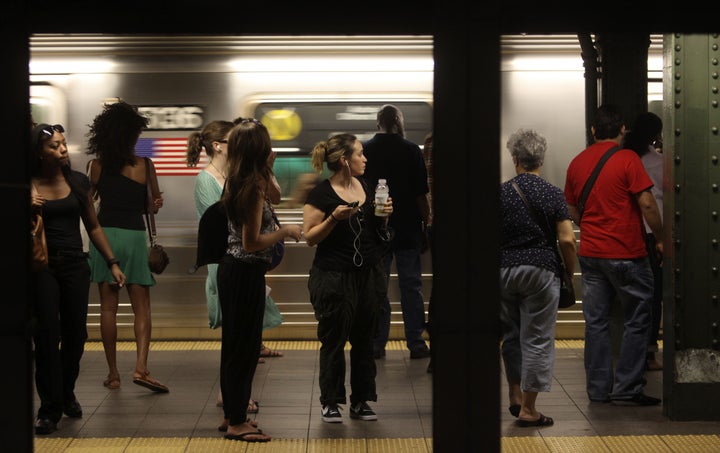 Seeing things through the prism of what it means for Los Angeles, I guess holiday on someone else's misery is the best way to put today's transportation news. After decades of waiting for the train it may be LA Metro commuters who catch a break at New Jersey's expense. Now that New Jersey Governor Chris Christie has decided to nix the construction of a commuter train tunnel between New Jersey and New York, LA Metro should be redoubling its efforts to secure the $3 billion in federal transportation money that this leaves on the table for other transportation projects. Who knew we had such a good friend in Trenton? Regardless, or irregardless as Governor Christie and his New Jersey brethren would say of why he did this, Angelenos should send him a crate of California oranges. Or better yet, when it comes to pass that LA receives the money New Jersey has cast off, Christie should get his own star on the Hollywood Walk of Fame.
Of course if he wants to come to LA to see the star for himself the Governor will have to stay out of the specially made concrete shoes that the soon to be out of work sandhogs and other construction workers are making for him. All told, the tunnel project was estimated at $8.7 billion but Christie's budget office pencil pushers projected that the real cost might be between $11 billion and $14 billion. That's quite a range for a team of crack budget analysts but maybe I am just being snarky. In addition to the federal government's $3 billion toward the total project cost, the Port Authority of New York and New Jersey had pledged a $3 billion match. To date the project has cost $600 million, half of which came from the federal government. Under the conditions of the funding New Jersey will need to repay the feds $300 million.
Christie in his posturing since August and finally this week in announcing his decision said New Jersey could not afford to pay the balance due on the project. The Governor's Tea Party-inspired move, which others are calling boneheaded, kills a project which New York and New Jersey have been planning for 20 years. It would have doubled the capacity of trains between New Jersey and New York and would allegedly ease traffic on New Jersey's turnpikes [Note: It NEVER does but it does give those who ride public transportation a fast, inexpensive alternative]. If you are from New Jersey, you know the drill. "What exit?"
Now that he has done the deed Governor Christie will of course propose that the Port Authority's spend its money on other New Jersey projects. If I were the two state authority I would be sure to answer him with a Bronx cheer.
But that's not our problem. With the 30/10 Initiative crying for help from the federal government, Christie's shortsightedness could be just what Metro ordered. As I wait for the Wilshire subway, I sure hope so.
Popular in the Community