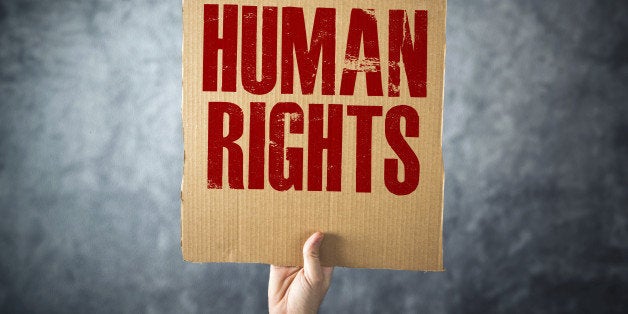 Last week, I moved my family to London. There are lots of reasons why that is exciting - all that unexplored history and cultural exposure for our children, and the chance to revisit my Scottish roots.
But the main reason it's exciting - and the reason why I am doing it - is to begin work as the new Executive Director of Global Witness. There aren't many organizations, if any, that we would uproot our family for. But this feels like the move I have been seeking for a couple of years now; the right opportunity leading the right organization at the right time in its growth.
In lots of ways, the evolution of Global Witness' work mirrors my own. The combination of innovative storytelling and targeted advocacy focused on the overlaps between human rights, environmental issues and organized crime is a blend of areas that I have explored extensively. Most obviously, my work leading WITNESS, where we won several awards for our work tackling human rights thought the power of film, bears a close resemblance to the work I will continue with Global Witness. My passion for the potential of combining investigatory work with policy campaigns grew from my undercover work using video to highlight the Russian mafia's involvement in forced trafficking for prostitution, which gave me a first-hand understanding of how the globalised trade in women actually works, and the networks of facilitators that make it all possible.
I'll be bringing those experiences to bear on my work for Global Witness, as we look to get creative in telling the story behind what we call the "Shadow System", and push for change. The basic idea here is that ill-gotten gains don't disappear from public coffers by themselves. Dictators, warlords, land grabbers and arms dealers need a bank willing to handle money and hide payments without asking questions, or a lawyer to work out how to skirt laws and disguise their identity in a sufficiently secretive jurisdiction. We call these networks - the pinstriped armies who are supposed to be the pillars of our society - the "shadow system". And we know that the grand corruption, conflict and environmental destruction we investigate would not be possible without it.
Today, it feels like this mix of problems is more relevant than ever. The planet is in greater peril than ever before, with vested interests skewing a climate debate that should have finished years ago and pushing consumption beyond the planet's limits in pursuit of profit. Global Witness' work identifying a large spike in the number of people being killed protecting their right to land and environments puts a stark human face on that problem. It highlights the continued role that men with guns and systemic corruption continue to play in bad decisions over resources, but also how globalised agribusiness, mining and oil industries are pushing the planet and those who depend on it most to the breaking point.

I left WITNESS to try and do something about the runaway climate crisis, which I believe to be the great challenge of our time, because I was concerned that the humanitarian dimensions of this problem were not well recognised or addressed. Leading 1Sky, a nationwide field operation in the US that pushed for a cap on carbon in the US Congress, I saw first hand the power of money to corrupt the law makers that depend on it for re-election. In the end, even working in collaboration with an extensive network of organizations nationwide, we were only able to get a compromised bill through the US House of Representatives and were stalled in the Senate by vested interests. 1Sky merged with 350.org shortly thereafter.
The climate change challenge is definitely a place where I hope I can work with Global Witness to advance the conversation to the next level. The organization has achieved some astonishing things in its time. It helped found global movements like the 800-strong Publish What You Pay coalition, which in turn led to the creation of the Extractive Industries Transparency Initiative (EITI), and the Kimberley Process certification scheme to tackle blood diamonds- both of these initiatives have brought business, governments and civil society together to change laws and norms so that natural resources are used fairly and sustainably. Most recently, its efforts to end the abuse of anonymous shell companies by the criminal and corrupt has seen laws passed in the EU and UK, and now we're targeting the US. These are historic achievements, recognised last year by the 2014 TED Prize and Skoll Awards, and prior to that through nominations for Nobel Peace Prize. But there is so much more to do, and I am thrilled to get to it!