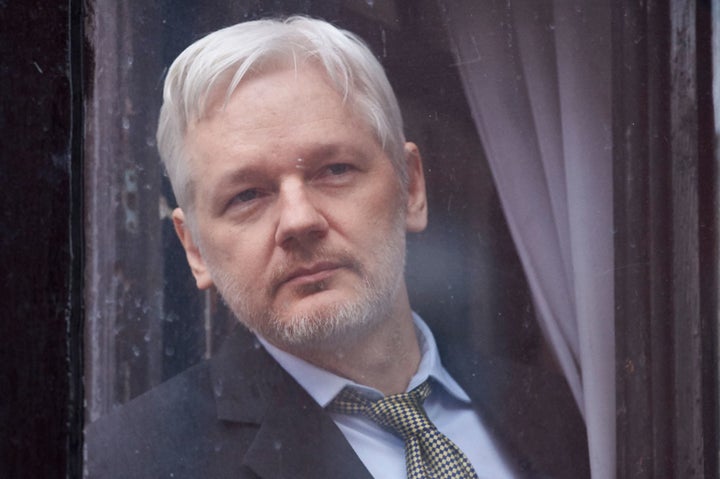 In a scene from Laura Poitras' documentary "Risk," Julian Assange ― already bereft of his signature white hairdo ― is attempting a disguise.
The camera follows the WikiLeaks founder as he inserts colored contact lenses, fits a hat over his newly dyed mane, and inspects an awkward pair of gauge earrings that somehow manage to distract from his otherwise distinguishable features. In that moment, Assange has recently learned that the United Kingdom's Supreme Court ruled that he should be extradited to Sweden to face sexual assault allegations. As he wordlessly bids farewell to his mother, it's clear that the paranoid Australian expat has no plans of acquiescing.
Instead, he's minutes away from hopping on a bike that will eventually lead him to the Ecuadorian embassy in London, where he's lived from 2012 on, in a prison of his own making. Swedish and U.S. authorities have reportedly been after him since 2010 ― the year WikiLeaks rose to prominence atop a wave of disclosures provided by military intelligence analyst Chelsea Manning. Despite a UN panel's decision to characterize Assange's circumstances as "arbitrary detainment," he's continued to seek refuge (or obstruct justice, depending on how you view the situation) there to this day.
Poitras' thrilling film, released two and a half years after her 2014 doc "CitizenFour" centered on Edward Snowden, spans the bulk of these years. It begins in a notably more idealistic time period, when outlets like Amnesty International were praising WikiLeaks as a catalyst for the Arab Spring's string of protests against authoritarian regimes. It opens with Assange and his colleague Sarah Harrison kindly attempting to contact then-Secretary of State Hillary Clinton by phone in order to warn her of an unforeseen breach of WikiLeaks and, subsequently, State Department cables. It swings through the golden days of their push for radical transparency, brushing over the "Iraq War Logs" leaked by Manning, which included footage of an American airstrike that killed two Reuters journalists.
And then, the film takes a turn. "This is not the film I thought I was making," Poitras declares in a voice-over from her production diary. "I thought I could ignore the contradictions," but the contradictions "are becoming the story."
"Risk" has undergone a series of last-minute edits that prolonged the film's release. The doc originally screened at Cannes Film Festival in May of 2016, but substantial events in Assange's timeline thereafter ― former WikiLeaks representative Jacob Appelbaum was accused of sexual assault, while Assange was accused of abetting Trump's election victory by way of Russian-sponsored hackers who leaked emails from the Democratic National Committee ― prompted the filmmaker to shift gears.
The first iteration of the film already addressed the nuances of Assange's own sexual assault allegations, showing a scene in which he wryly suggests to a female legal advisor that the women accusing him of misconduct could be part of a radical feminist conspiracy group attempting to upend WikiLeaks. (The advisor, Helena Kennedy, painstakingly points out the flaws in this logic. Assange dismisses her with a troubling smile.) But upon learning of the case against hacker and free speech advocate Appelbaum, with whom Poitras was briefly involved in a relationship, she realized she needed to go back to her footage to look deeper into what these allegations ― and the attitudes and behaviors behind them ― meant.
"The reason I felt like I needed to address [the allegations] in the film," Poitras explained to HuffPost in an interview that took place at her Praxis office in New York City, "is because obviously it was relevant to the work that I was doing and filming. But I also think it's relevant broadly ― that we need to understand it's not just in the hacker scene, but in newsrooms, in political movements. That excusing behavior just because there's a larger ideological mission or because there's an external threat or because someone has power over you ― all of those things, we should push back [on]."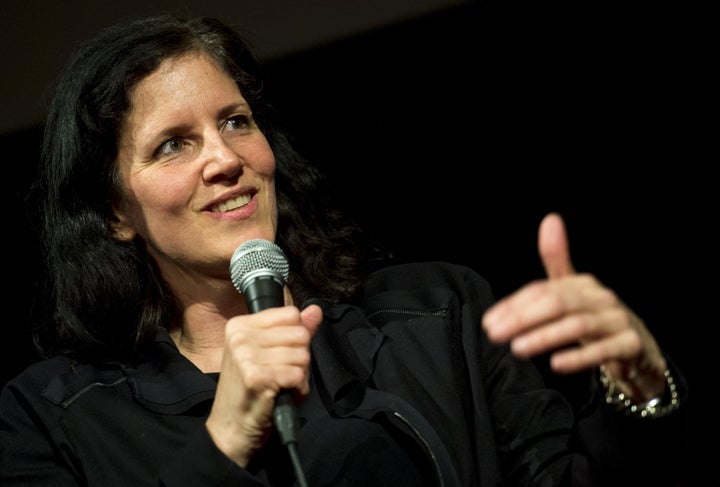 Poitras is rarely explicit about how exactly viewers should assess the contradictions she lays bare in her documentary, whether they have to do with the deeply engrained misogyny that exists in the same space as an obsession with free expression, or the many other inconsistencies she films. In one scene that Poitras describes as "revealing" and humorous, Assange sits down with Lady Gaga in the Ecuadorian embassy to discuss the many, many entities currently investigating him. He seems enthralled with the celebrity before him, and the opportunity to have Gaga propel his story on her specific platform. Unlike the Snowden of "CitizenFour," he seems unafraid of becoming Poitras' or anyone else's story.
Of course, the film has also shifted to include information about the 2016 presidential election. WikiLeaks, once hailed as capable of holding state power accountable, has been accused of becoming a tool for that same state power after it accepted hacked DNC information from a third party purportedly directed by Russian President Vladimir Putin.
"It seems so many things came full circle in this story," Poitras explained. "At the beginning, it's this whistleblower has released information. And now, a state actor has released the massive data sets. Julian has denied that his source is a state actor, but it seems like if an intermediary is used, what does that mean?"
Poitras' film poses a lot of questions about the future of WikiLeaks, what it means to advocate for radical transparency, and how journalism at large will be affected by the persecution of Assange. If the editor-in-chief of WikiLeaks can't accept leaked information about the U.S. government without facing repercussions, what happens to members of the press and their sources?
"It's completely chilling," Poitras said of Pompeo's declaration. "I think [Attorney General Jeff] Sessions was asked about WikiLeaks, but his response was about leakers more broadly, which is declaring war against journalism and leakers. And I think we'd be really foolish to think that includes just Julian Assange and WikiLeaks, but it's targeting the press more broadly. And I say that within the context. I don't want to let anyone forget how horrible the Obama administration was on the press. The Obama administration had more espionage investigations that were targeting leakers and journalists than any president before him, so it's a continuation of that. Trump certainly campaigned on an attack-the-press platform, and he's continued on his promised. I think it's very chilling."
Before You Go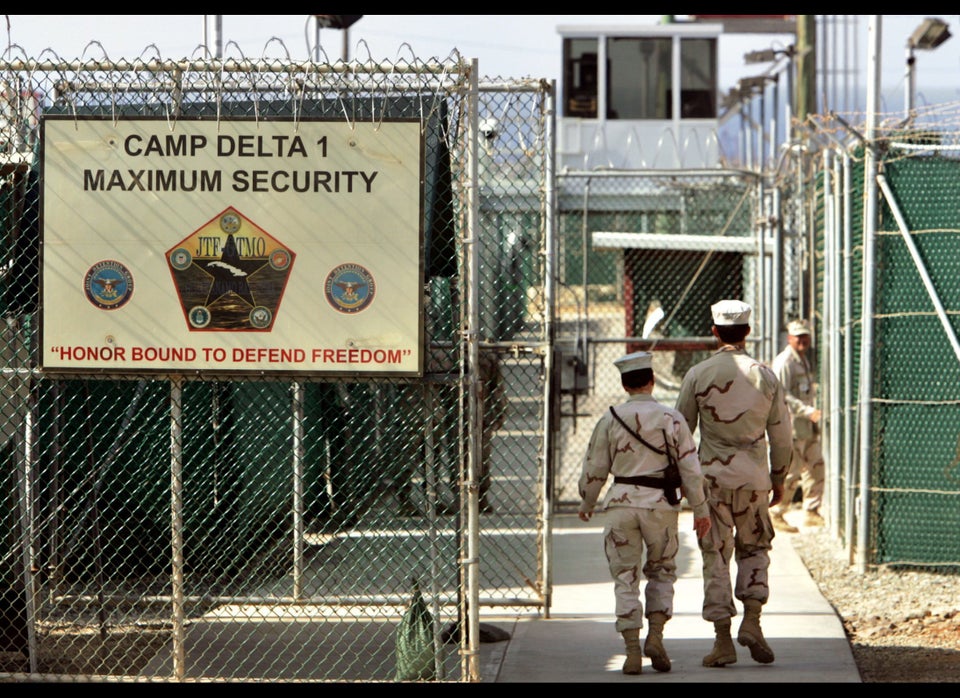 Wikileaks: Biggest Leaks
Popular in the Community