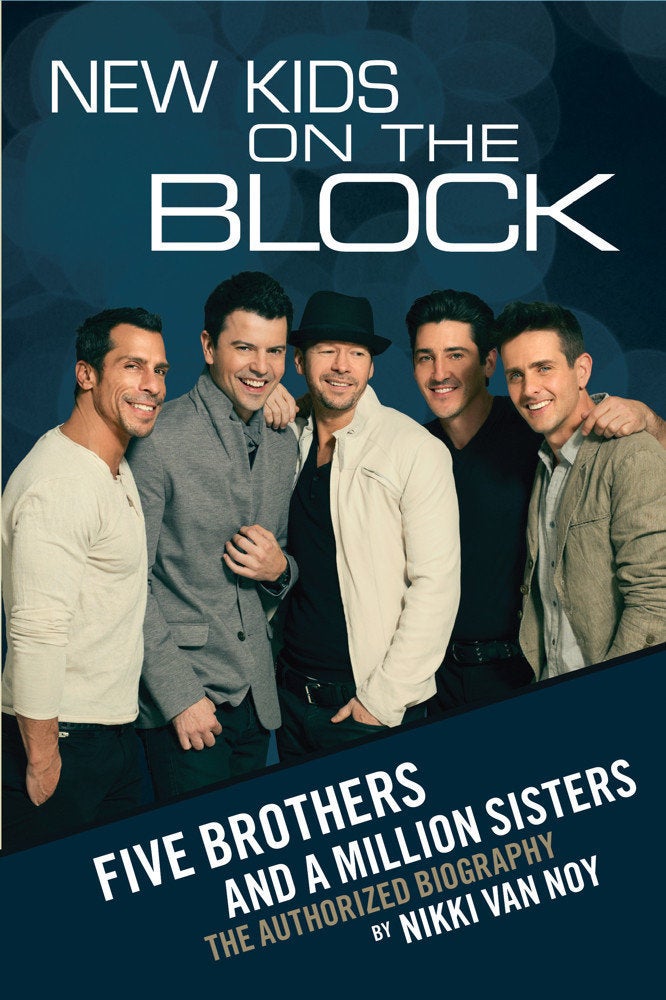 It's been more than 20 years since New Kids on the Block released their seminal eight-times-platinum 1988 album, "Hangin' Tough," and subsequently topped Forbes' highest-paid entertainers list, ranking above Michael Jackson and Madonna. But since reuniting in 2008, the Boston-bred fivesome have seen their website garner 146 million page views, sold out a comeback show at Madison Square Garden in six minutes and earned the No. 2 spot in Time magazine's "Top 10 Comebacks of 2011" list. They also have a paid fan club, Block Nation, with 50,000 members and headline an annual Carnival cruise, which has sold out for four consecutive years thanks to a largely female base of 30-somethings who spent their formative years devoted to Donnie, Danny, Joe, Jordan and Jon.
Music writer Nikki Van Noy witnessed this devotion firsthand while working on "New Kids on the Block: Five Brothers and a Million Sisters," which chronicles NKOTB's meteoric rise in the late '80s, disbanding following the inevitable backlash several years later and recent return to the pop-culture consciousness. As part of her research, Van Noy attended their concert cruise, a seaborne excursion from Miami to the Bahamas that began in 2009.
"I think my jaw was dropped for the first three days," she told HuffPost Celebrity. "I had never seen anything like it. I had heard that the guys were really hands-on, but they're just walking around this boat of 3,000 people, filled with fans. To see that was sort of overwhelming -- there's so much excitment."
Van Noy traces NKOTB's story not only through interviews with the band, but with their legions of fans. The book includes anecdotes from 100-or-so women, but she says she connected with many more.
"What it's always been about is this intangible chemistry that they have with each other, but also with their fans," she says. "I remember that feeling at their concerts and everything being so exciting and so electric, and somehow that's still there today. There's very much always that feeling of very palpable energy at their shows."
Van Noy points out that perhaps one reason the band still resonates for a certain demographic is that NKOTB was the dominant boy band of its era -- unlike a decade later, when a new crop that included the Backstreet Boys, NSync and 98 Degrees shared the spotlight. "For women of my age group, the New Kids were a common experience that most of us had during our adolescence," she says.
And fortunately, the guys were good-natured about reminiscing on cringeworthy moments, such as 1990's Magic Summer tour, which was chock-full of cheesy stunts. "In 1990 I guess it was cool to be flying around the stage on wires, but I'm surprised Donnie agreed to be flying around," Joe McIntyre remembers in the book. "I'm surprised we agreed to bring big playing cards up and do a disappearing act."
Donnie Wahlberg recalls being told by a promotional exec that his daughter no longer wanted to play their music at her parties because "the boys don't think it's cool," and reveals, "That stuck with me and drove me crazy." Van Noy says that even though the band's heyday was long before the age of Twitter rage and cyberbullying, they were nontheless aware of their detractors.
"I think everyone is more exposed to viewpoints now, because of the Internet, but I think there was still an awareness of the backlash," she says. "I think they were aware that there were battles to be fought even when things were at their height."
But ultimately, Van Noy says she was most interested in how the band has affected people's lives. For many, she says, "This was kind of a touchstone of their youth. And this carefree, happy exciting time, to have it come back, 15 or so years later, when a lot of their fan base are married and have kids and full time jobs and are settled down -- there just seems to be this real sort of release where the New Kids are concerned, for them to go back to that younger time of their lives."
Calling all HuffPost superfans!
Sign up for membership to become a founding member and help shape HuffPost's next chapter
BEFORE YOU GO