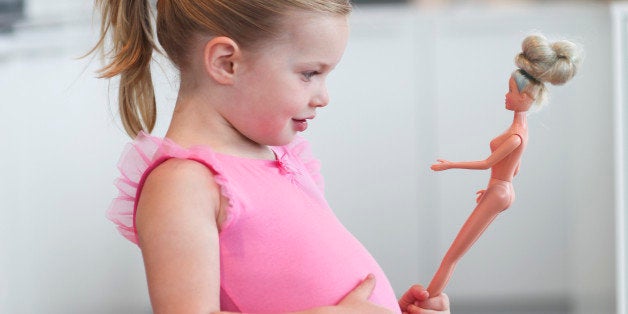 Just in time for Christmas shopping, a new doll is hitting the shelves and mommy bloggers everywhere are rejoicing. The crowd funded Lamilly is here and is making a splash this week on the Internet thanks to her "average" physique. Certainly most of us are glad to see a thicker waistline and imperfections on Barbie's newest opponent. But we shouldn't be cartwheeling over her just yet.
Lamilly was designed using average body measurements provided by the Center for Disease Control. She has a shorter stature, shorter feet, a wider waistline and is a brunette. She comes with acne and cellulite stickers. And if you want your Lamilly to express her artistic side, you can even adorn her body with little tattoos.
All of these things should certainly be applauded. It's about time someone challenges Barbie's tiny, plastic throne. But I'm not sure Lamilly is ready to take on the queen of the plastics. Don't get me wrong, B still needs a lot of work, but it's going to take more than brown hair and a fuller physique to challenge Matel and Barbie's 50-year enterprise.
Lamilly's slogan, the one that along with her impressively larger backside is landing her headlines everywhere is: "Average is Beautiful." Upon first read, it's a pretty solid one. To feminists and moms it says that finally there is a doll that isn't proportioned in a way that would by physically excruciating-not to mention impossible if she were real. But there are still some issues here. Lamilly is all about her appearance. Unlike Barbie who came with life goals, careers and a back story, she doesn't have anything except for her appearance. This is a little backwards for a girl that is supposed to be challenging the notion that we need to obsess over a perfect appearance. Lamilly may not look Barbie-level-perfect but she is still obsessing over her appearance.
The other problem with Lamilly is the fact that she defines average. She tells girls that anything that doesn't look like her isn't average. So girls with non-Caucasian skin and features and who aren't this "average" size are being told they are not average and apparently not beautiful.
Now I'm aware that plastic dolls, whether or not they come with cellulite stickers, aren't going to change the way women are groomed to obsess over their appearance. That issue goes a little bit farther than what doll you got for Christmas when you were 5. However, Lamilly has potential and certainly is sparking great discourse on a topic that really needs to be addressed in today's society. But we shouldn't rush to congratulate doll makers just yet. Brown locks and a higher BMI aren't enough to make little Lamilly the every-girl doll. And I'm sure Barbie doesn't have cause to worry her pretty little head, just yet.
Popular in the Community