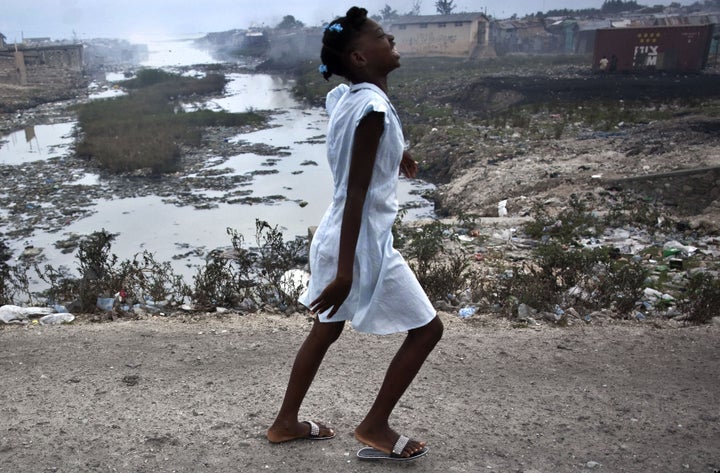 As frustrated Egyptian youth flood the streets in peaceful protest of the country's current leadership, and Hillary Clinton addresses Haiti's uncertain political future, I see the potential of youth to shift the culture of leadership, around the world and in Haiti, from the inside out.

Just two weeks ago, I was sitting on a rickety bench inside a shipping container. It was the converted camp manager's office near the entrance of the Mega-4 Camp in Delmas, Port-au-Prince. A year later, about 6,500 earthquake refugees still call this place their only home. We had just taken a tour of the camp, led by a vibrant young man in a straw hat named Patrick, of late affectionately called "L'Agronome" or "agronomist" in French.
L'Agronome is one of about 270 camp residents whom Nouvelle Vie youth leaders have trained in growing sustainable food gardens. A novice to garden work, l'Agronome now has three large gardens surrounding his tent, overflowing with swiss chard, okra, and beets; and takes it upon himself to voluntarily advise the 218 other camp residents growing their own food using one of Haiti's most abundant resources: garbage. The camp residents compost to create rich soil, save and prepare seeds from their own food, and plant in old tires and discarded rice sacks. L'Agronome is proud of his role and his nickname; and the men, women and children are proud of their gardens, telling me how satisfying it is to eat a meal of fresh vegetables they've grown rather than a food packet handed to them by aid workers.
I head up Nouvelle Vie Haiti, a youth leadership training program of the International Association for Human Values (IAHV). We've spent the last three years developing young Haitian leaders inside Haiti, training them to connect with their own potential first, through meditation and stress management, then to reach into their communities to develop sustainable solutions to meet key needs. My first stop on arrival was to meet with the camp's manager, a pastor, the day before the anniversary of Haiti's earthquake. We discussed hosting a meditation and music event the next evening to help earthquake victims cope with the continuing trauma.
One of our young leaders, Samson, age 20, had arranged with the pastor that a group of men from the camp community would construct a simple shade structure with materials we were borrowing from Grassroots United, another NGO. But as the group of men started measuring the space for the tent, Samson approached me and whispered: "The pastor just told me he wants these men to be paid. When we had talked to him yesterday, they wanted to help us as volunteers. Now that he sees you're here, he wants them to be paid."
The way things work here, money flows into the country from charity -- from remittances of family members sending money from abroad, from international aid programs, from missionaries and other NGOs. The pastor is like most Haitians -- trying to see what he can get for the members of the camp community now that he knows a foreigner is involved. Yet with every smiling face offering to help one moment, then lingering around waiting to be paid the next, I feel a pinch. In fact, in my most honest moments, I even resent it.
On the short flight up north to Cap Haitian to join our 20 top youth in a two and a half month intensive train-the trainer, I reflected on the way it feels to be an American working in Haiti. I have so much more to offer this country than my wallet. Haitians have so much more wisdom and ingenuity to offer the international community than a hand outstretched for charity. This power dynamic we're all locked into has eroded the human values of Haitians and the international community alike. It prevents authentic relationships from developing between Haitians and internationals as equals, and hinders in Haitians the sense of total responsibility for and leadership over Haiti's development.
Many Haitians do not feel they can transform Haiti because we have, together, created a reliance that teaches that someone from the outside is going to come and rescue Haiti, fix the system, create jobs, educate and feed Haitians. Somehow it's expected, from Haitians and from foreigners alike, that real change is going to happen in Haiti when the international community -- the NGOs, the UN, the private investors -- find the silver bullet that is going to solve Haiti's problems. Haiti's challenges, however, must be solved by Haitian leaders.

I'm not saying that Haitians shouldn't get paid for the hard work they do in support of rebuilding efforts sponsored by the international community, as any worker would be paid. Haiti needs work and workers. But Haiti desperately needs leaders. A leader has the capacity to step outside his current paradigm and take total ownership over his serving his own people, whether or not he is recognized or rewarded. This is how all great leaders have been -- Gandhi, Martin Luther King Jr., Mother Theresa. This is what Haiti needs: to shift the mindset of potential leaders, moving them beyond being recipients of aid, beyond waiting for employment, into a space of total responsibility and leadership.
Hours after landing in Cap Haitian, I sat in front of our 20 young Haitian leaders, hand-picked for our Nouvelle Vie Youth Corps to become trained in community empowerment and sustainable community development after up to two years of tireless, volunteer service.
I asked them: "What does the Haiti of your dreams look like in 10 years?" They spoke so fast I couldn't even write down all their ideas. "Total responsibility -- for ourselves and each other." "A healed environment." "Love for each other." "Self-respect." "Abundance." "Sharing -- not just within our families, but with everyone." "Peace -- in our minds and in our communities."
I then asked: "Who is going to create this future?" They all responded, practically in unison: "We are!" Michena then added: "When I say 'we,' I don't just mean the youth of Haiti in general. We hear that all the time -- the children of Haiti are its future. Those are just words, no action. When I say we, I mean us 20, specifically." They all nodded. Wilner added that not a single one of the group can have their own self-interest in mind. If so, the entire group will be affected. He asked them all to look deeply in their hearts and if they have any doubts about their ability to sacrifice for the greater good, to please step out.
Lesly said: "Sometimes, I feel like I'm from another planet when I'm in my community. My family and friends ask me all the time -- now that you're working for an international organization, how much are you getting paid? I tell them that what I'm doing has nothing to do with making money, it's about us building our own future." Lesly and the rest of the Youth Corps are responsible for generating revenue to make the program financially self-sufficient, supported by small stipends to support their basic needs that will, within a year, be covered by their own businesses and contracts.
What makes these youth stand apart is that their service is not motivated from the outside; it is a steady practice of selfless service that helps them develop as human beings. Coupled with meditation and a deeper understanding of human values, the program not only empowers them -- it trains them to empower others. Like the 218 camp refugees growing their own vegetables in the otherwise dire living quarters that is Mega-4 Camp.
Most internationals that come down to Haiti to work are motivated by the sincere desire to help Haitians. But helping without taking responsibility for the effect of how we are helping is dangerous. It's up to us to ensure that our work in Haiti is moving Haitians towards greater confidence, ingenuity and self-reliance. And greater leadership.
REAL LIFE. REAL NEWS. REAL VOICES.
Help us tell more of the stories that matter from voices that too often remain unheard.