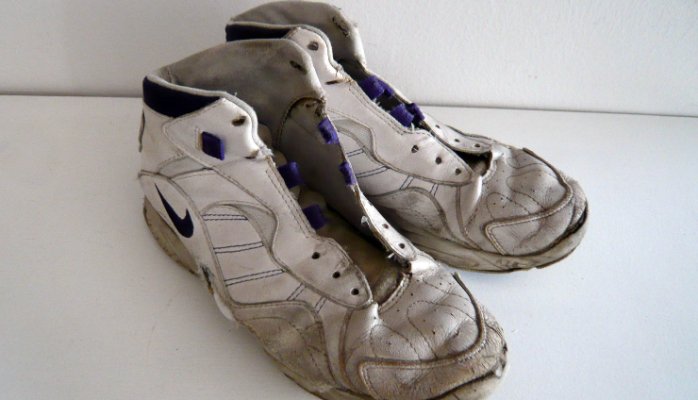 This weekend, I dropped off my 20-year-old Nike trainers to be recycled. It wasn't that easy. On one of the hottest days of the summer, I headed into Midtown Manhattan (none of the stores near my home accept them) only to be told that the store no longer has an official drop-off bin. However, a helpful staff member agreed to take them, so hopefully they're on their way to the recycle centre.
The parting was accompanied by a twinge of sadness: I've had these shoes for more than 20 years. They've seen me through hundreds of gym sessions. I'd got so far with them that I was determined to keep them forever. Then one day one of the soles fell off. It was time to say goodbye. Now, as part of the Nike Grind program, they are off to start a new life -- recycled and turned into a new material, they will become part of the surface for a sports ground.
My interest in recycling started at an early age. I am a child of wartime austerity. No, I didn't actually live through the war. But my mother and grandmother did, and that meant that nothing was wasted. Driven largely by the need to save money, almost everything we possessed presented a recycling opportunity.
Clothes, mended and adapted, would be passed around the family. At Christmas, no one ever tore open their presents but, with a small paper knife, carefully sliced through the tape so that the wrapping could be re-used next year. Stale bread would be crisped up in the oven for Poppy, the family dog. We cleaned tinfoil and saved plastic shopping bags. Chopped up, old nylon stockings served as ties for everything from garbage bags to storage boxes.
Then, as a Financial Times contributor, writing regularly about business and the environment, I've been reporting on companies' efforts to re-use more of their waste. I was particularly impressed with one UK initiative. Its name -- the National Industrial Symbiosis Programme -- is hardly very catchy. But Peter Laybourn, NISP's creator, came up with a smart idea: helping companies turn their industrial waste into valuable raw materials or new sources of energy.
A softly spoken northerner who studied economics and ecology, Laybourn got his idea while working as a sustainability consultant for a division of Shell that was operating a program in the Gulf of Mexico in which the aim was to re-use all waste for other purposes.
Laybourn realized that, while it's one thing to do this within a company, the concept go much further if he could bring together companies of different sizes from different sectors producing different products. Once they got talking, he figured, much of what they wasted could, in the hands of others, become valuable commodities.
In a sort of matchmaking service, NISP runs workshops and networking events where enterprises that might never otherwise meet can discuss how their waste, energy and by-products might be turned into useful resources. "We're trying to break down the barriers to cross-sector activity," Laybourn told me. "And it's incredible when we bring the brains together from different sectors, because it's so creative."
But if NISP is helping make it easier for the industrial sector to recycle, my experience with my old Nike shoes makes me realize that we've still got a long way to go to make it easy for consumers to recycle.
There are some signs of progress. Take electronics. Here in New York City, it's now illegal for to discard electronics in the trash. And for large buildings like mine, there's now an e-cycleNYC program, whereby you can have a bin installed in your basement into which old electronic equipment can be discarded for collection. It's a great idea, if a little slow to take off -- my building applied for a bin last year and it's still on a waiting list.

There's very little in the products we buy that could not ... be used again rather than sent to landfill.

Some companies have moved faster. For instance, mobile operators such as O2 are giving customers incentives to bring in their old handsets by allowing them to upgrade their phones early, with marketing messages that focus not on recycling but on making it easier for people get their hands on the latest technologies.
We need more of this. There's very little in the products we buy that could not -- with the right collection systems, incentives and technologies -- be used again rather than sent to landfill.
But as well as making it easier for people to recycle, maybe we could do something else: capture people's imaginations. I love the idea of my shoes ending up on a basketball court, a running track or an athletic field. I love the idea that the footwear that helped keep me fit all those years will end up being trodden on upon by new generations of athletes. So if the environmental message doesn't quicken everyone's pulse, perhaps stories about what happens to our stuff could inspire people to do more recycling.
Of course, not all stories will be that romantic -- your shirt ending up as an industrial-grade wipe for auto repairers or your plastic water bottle refashioned into a container for household cleaning products. But glass bottles that become the beads marking highways or old plastic bags that become liners for long-distance cargo trucks -- for me at least, those transformations have something of a journey narrative to them that appeals. And most fun are the handbags Elvis & Kresse make out of old fire hose.
We certainly need to make it more convenient to recycle. But for at least some products, could storytelling be one of the tools we use to help cut waste and conserve more of the world's natural resources?
A version of this post originally appeared on LinkedIn.
Popular in the Community