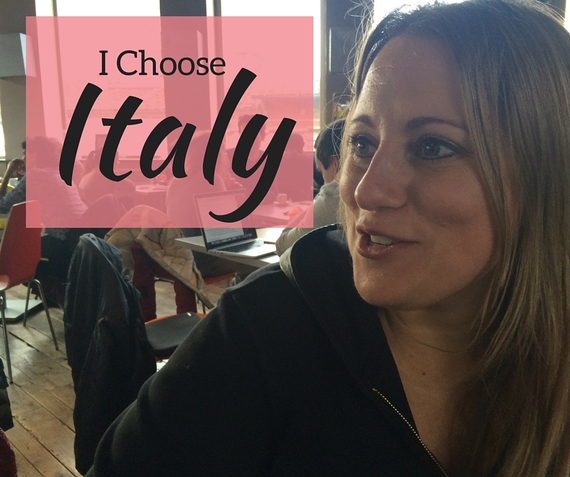 We're enjoying afternoon coffee, Jill to my left and our new friend Christina to my right. The top of the Duomo out the large picture windows looks so close I feel I could almost reach out and touch it.
Jill and I have known each other for over 15 years, and she just flew in to join me for a couple weeks during my two-month stay in Florence. Christina Mifsud is a friend Jill knows through Internet connections, and this is their first time to meet in person.
Christina has kept us captivated for the last few hours with stories of Florence, new and old. Born and raised in a small coastal town in California, she's now lived in Italy for over 20 years. She smoothly recounted the history of the Mercato Centrale in detail, how it was built and which vendors were on each floor -- meat and cheese on the first, fruits, vegetables and flowers on the second. The current controversy over the contemporary food court with its American flair and food trays. She has a delicate cultural understanding of the city.
As we left the Mercato and strolled past the Basilica di San Lorenzo, Christina quietly slipped out her official Tour Guide license while excitedly describing the works by Brunelleschi, Donatello and Michelangelo housed inside it's nondescript walls. The enthusiasm increased as we reached the Duomo and she started pointing out small details in the architecture that tell larger stories of style, culture and change.
Christina is one of the most learned tour guides in Florence. Coupled with her gregarious warmth, her infectious love for all things Italian Renaissance art, and her commitment to life long learning, she's a powerhouse of knowledge. She has become so sought after that almost all her business is referral: "Our friends just came back from Florence and insisted we HAD to book a tour with you on our trip."
All this came from a choice. She decided she wanted to live, and work, in Italy. She had no idea how it would unfold, but knew that was what she wanted. She was a college student at the time, working on her Master's thesis. She's now in her mid-40s and has provided Private Tours to such notables as Senator Edward Kennedy, Tom Brokaw and Arlen Specter.
She didn't know any of this would happen when she made the decision. And yet, the power was in the decision, because without that decision, none of this would have happened. With that one choice, everything else became possible and a life she couldn't have imagined became hers.
I realize as we're having our coffee, that all three of us are women with choices.
Christina has a successful career built on her passion and her choice to pursue it.
I'm in Italy for two months because I decided it sounded like fun and made the choice, the decision, to go. I'm now considering traveling for the next year or two. The first decision, Italy, has lead to the next thoughts about continued travel. One choice leads to the next choice, leads to the next.
Jill is laying the groundwork for her next career move. Sifting through ideas, considering options, chasing passions. Whatever choice she makes will move her closer to the next.
What's that one choice you've been putting off that could have the power to create a new beginning for you? Maybe now's the time.
Calling all HuffPost superfans!
Sign up for membership to become a founding member and help shape HuffPost's next chapter