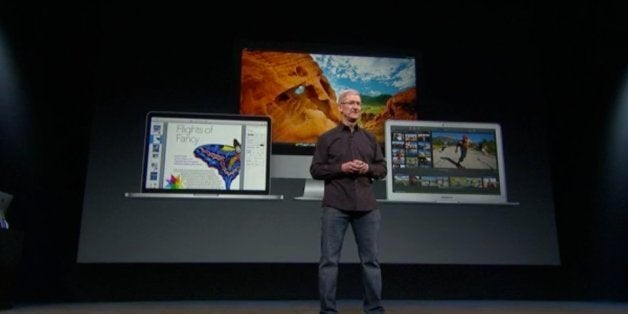 On Tuesday, Apple unveiled two new laptops in its Macbook Pro at an event in San Francisco, and as expected they are lighter and faster than their predecessors. What might be more surprising: The new Apple computers will also be less expensive.
Phil Schiller, Apple's senior vice president of worldwide marketing, introduced both the 13-inch and 15-inch versions of the new Apple laptops. The new 13-inch MacBook Pro weighs 3.46 lb and is 0.71 inches thick, slight reductions from the previous version, which weighed 3.57 lb and was 0.75 inches thick. Apple didn't provide those specs for the larger model on stage.
Battery life is boosted for both devices. The 13-inch Macbook Pro will have up to 9 hours of battery life, while the 15-inch version will run for up to 8 hours.
The graphics for both MacBooks will be 90 percent faster than before, and both will feature faster WiFi and Apple's new operating system, OS X Mavericks. Both are also "environmentally friendly" and highly recyclable, Schiller said.
The 13-inch costs $1,299 and the 15-inch will cost $1,999, representing a $400 and $200 price cut on their respective forerunners. Both will start shipping Tuesday.
The reveal of the Macbook Pro comes just a few months after Apple released new Macbook Airs in two sizes. The 11-inch Macbook Air costs $999 and the 13-inch costs $1,099.
More Apple coverage from HuffPost Tech: