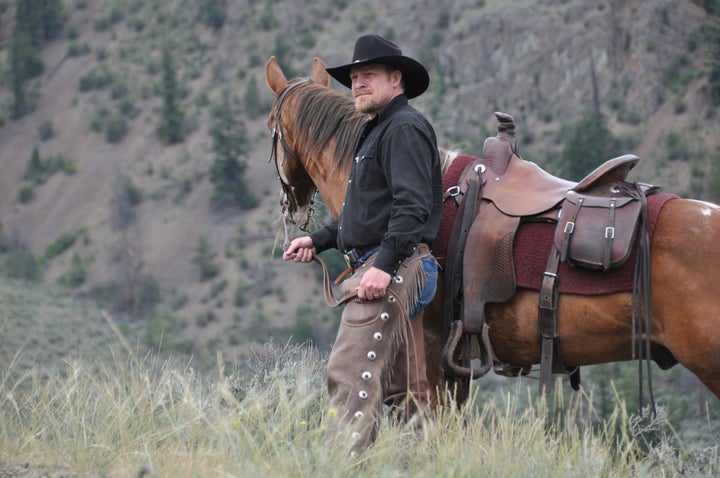 For most "Mantracker" fans, it was hard saying goodbye to Terry Grant, the rugged outdoorsman who spent six seasons hunting human prey around the world. But, there's a new cowboy in town, so fans had best make some room in their hearts for Chad Savage.
The veteran woodsman from the tiny town of Caroline, Alberta, beat out 11 other finalists to fill the formidable Mantracker boots. Savage, whose real last name is Lenz, has been a hunting guide since the early '90s, and honed his navigational skills with the Royal Canadian Air Cadets as a young man.
This season, we see him travel to places like Florida, Hawaii and Crowsnest Pass to hunt diverse prey ranging from Toronto Roller Derby girls to a wild boar trapper. We caught up with him to chat about everything from scare tactics and his "aggressive" tracking style to how he got that fierce nickname, Savage.
How did your family react when you were named the new Mantracker?
They're pretty excited. My sister's kid is a really big fan. My wife, of course, is probably my biggest fan. It's still pretty new. We'll see when the episodes start coming out. I'm sure everybody's going to like them. They're pretty good.
What initially made you want to travel and explore?
When I was 10, I started to do some trapping and started to explore. Even though it was my backyard, we lived in the country. I'd drive my mom kind of crazy, I'd take off all the time and she wouldn't know where I was and I'd be off in the woods a couple miles back just taking a look around. I've always really enjoyed the experience of travel and hunting out new adventures.
What was your first big hunting trip?
Some of the biggest hunts I went on earlier in my life were hunting bighorn sheep in the mountains close to my home. There were times when I would just get my girlfriend at the time or whoever to drop me off and I'd say, "OK, I'll see you in two weeks!" I'd take off with a backpack and come out of the bush two weeks later.
How did you get the nickname Savage?
I've had that nickname since I was in my early, early 20s. I used to work in the oilfield and guide. It was a pretty rough lifestyle back then and I used to probably drink a little bit too much. I'd get in a few rows every now and then. So I got the nickname from hard living. I did guide a lot, though, and when I took off in the bush for a couple of weeks at a time people were like holy cow, you're a savage. And it's kind of stuck with me!
How has the experience of actually being the Mantracker compared to what you were expecting?
It's been very good. It's been very similar to hunting, which is my passion. The only difference is now I get to hunt people and it's even more of a challenge than hunting animals. It'd be easier if I could shoot them, but laying my hands on them is an extreme adrenaline rush.
How does your tracking style differ the most from Terry's style?
I'd say the biggest difference is I'm a little younger, a little bit hardcore and definitely more aggressive.
More aggressive?
When people want to hide, I'm the kind of guy that might get off my horse and make sure they know the bushes aren't safe.
Who was your most challenging prey this season?
All the prey have been excellent. The first episode that's coming up has the most prepared and most trained military guys.
What about the Toronto Roller Derby girls? Did they give you a lot of trouble?
They were tough girls! If you're going to play roller derby you'd better be prepared for some bruises!
Do you find there's a difference tracking men versus women?
There are differences and similarities. For women, they're probably less predictable than men, so in some ways actually harder to track.
Interesting. How so?
Men are goal-oriented and focused, and sometimes women aren't. Most guys are a little better at navigational skills so their lines are going to be more direct whereas women seem to wander a little more, so it's really hard to read what they're going to do.
Are you still based in Caroline?
Yes. A little tiny town of 300 people. I'm definitely small town.
I read that Caroline is where Kurt Browning is from, is that true?
Yes, it is! We went to school together. He was a grade above me so we didn't spend too much time together. His dad is one of the best-known outfitters in the area.
Is there anything else you think fans would be interested in hearing about?
Hopefully they give me a chance. I was a big fan of Terry's too, so I can understand why some fans aren't so positive towards the new guy. But I tell you what: once they watch the show and see a little more action and get to know me, I think they'll like it.
You can catch Chad Savage on Season 7 of Mantracker on OLN Mondays at 9 p.m. ET/ 6 p.m. PT.

REAL LIFE. REAL NEWS. REAL VOICES.
Help us tell more of the stories that matter from voices that too often remain unheard.