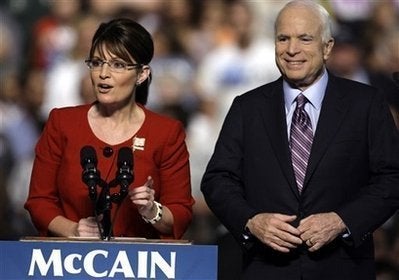 In response to the deepening economic crisis brought on by turmoil on Wall Street, the McCain campaign released a new ad this morning, "Crisis."
Amongst numerous other spurious claims in the ad (which I will just ignore for now), it includes the line "offshore drilling to reduce gas prices." This claim has been widely discredited. Even the Bush administration's own Energy Information Administration admits that offshore drilling will have an "insignificant" impact on the price of oil and gas--twenty years from now.
This comes after McCain claimed last week that Sarah Palin "knows more about energy than probably anyone else in the United States of America." Both McCain and Palin then went on to claim that she runs the state that supplies 20 percent of America's energy. I'll set aside the obviously untrue original claim by McCain and look at their second point.
Based on their comments, it would seem that Palin doesn't understand energy nearly so well as she or McCain claim. First of all, oil is not the only form of energy. In terms of America's total energy supply, Alaska accounts for a mere 3.5 percent of it according to an analysis of the claims by FactCheck.org.
Even a more generous assessment, just taking into account the percentage of our domestic oil supply that comes from Alaska, still shows that Palin and McCain were wrong. Alaska accounts for just 14.3 percent of our domestically produced oil and a mere 4.8 percent of all the oil used in the U.S (according to EIA figures). As all of these figures are a far cry from 20 percent, FactCheck concludes "either way, she was wrong."
Popular in the Community