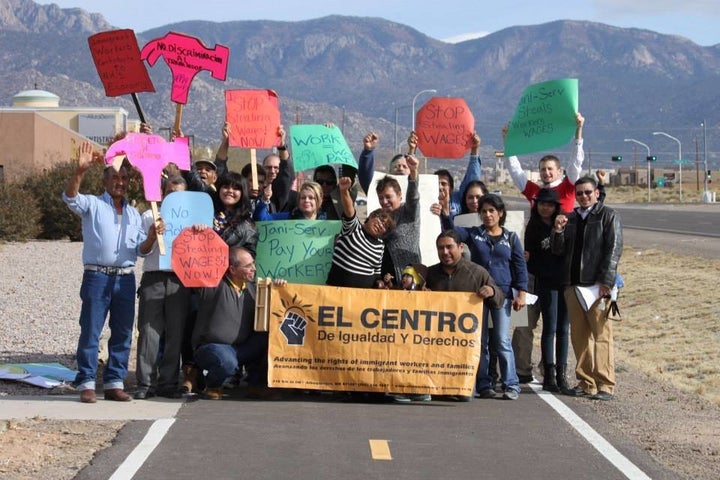 Sisters Sabina and Nirma worked for more than a year, along with Sabina's daughter, Cindy, at a child care center called Hope Head Start in Albuquerque. They were always paid late, often weeks at a time. In November 2015, they were forced to resign, because they had not been paid for more than three weeks and could not afford to work for free.
Wage theft is a very serious problem in New Mexico, and can destroy the financial solvency of working families like Sabina and Nirma's who live from paycheck to paycheck. Unfortunately, all too often, unscrupulous employers refuse to pay workers for all their hours, violate minimum wage laws, refuse to pay overtime and force people to work off the clock.
"Our government and its agencies must serve working families by ensuring that people are paid fairly for every hour worked."
Wage theft impacts workers of all socioeconomic backgrounds, but immigrant families like Sabina's and Nirma's are especially vulnerable to the crime. A 2013 study by Somos un Pueblo Unido on Mexican immigrant workers and wage theft in New Mexico found that "wage theft is not limited to undocumented immigrants. While the percentage of undocumented immigrants who acknowledged experiencing at least one instance of wage theft was particularly high (29.6 percent), 22 percent of immigrants with legal documentation acknowledged wage theft as well." According to the study, non-English speaking wage theft victims were less likely to report it to authorities, because they feared reprisals and had concerns about language access, among other issues.
Wage theft also damages New Mexico's already weak state and local economies. When employers do not pay workers their wages and corresponding payroll taxes, they diminish local, state and federal revenues. Wage theft also gives employers who break the law an unfair competitive advantage over law-abiding employers who comply with the minimum wage laws.
Sabina and Nirma are members of El CENTRO de Igualdad y Derechos, an Albuquerque-­based immigrants' rights and workers' justice organization that works with low-wage workers to combat wage theft. They, along with El CENTRO's organizers and members, demanded payment at a protest outside the preschool. However, their employer still refused to pay them.
The sisters went to the Department of Workforce Solutions (DWS) office in Albuquerque to file wage claims. However, they could not communicate with DWS because they only speak Spanish and the claim forms were only available in English. They could not read the form in English, and Sabina's daughter Cindy had to translate it for them. DWS did not offer any assistance to fill out the forms.
While low-wage immigrant workers successfully organized in New Mexico to pass some of the strongest wage enforcement laws in the country, the governmental departments responsible for enforcing these laws, under the leadership of Governor Susana Martinez, have for years failed to enforce them.
In addition to other systemic barriers, they also have refused to offer translation to Spanish speakers like Sabina and Nirma, sending a message to immigrant workers that they are not welcome to report violations. This emboldens bad apple employers.
Two years after having filed her claim, Nirma has yet to receive any compensation. She also struggled to obtain any information about her case from her investigator because of the language barrier. During the two months that Sabina was out of work, she struggled to pay rent, bills, her daughter's tuition and to buy food. The lack of salary and the injustice that Sabina experienced increased her stress, and caused her family many other related problems.
"Wage theft impacts workers of all socioeconomic backgrounds, but immigrant families are especially vulnerable to the crime."
Yet low-wage workers are more organized than ever, and are successfully fighting back against these challenges. On January 18, El CENTRO, along with workers who are victims of wage theft, New Mexico Comunidades en Acción y de Fé (CAFÉ), Organizers in the Land of Enchantment (OLÉ), and Somos Un Pueblo Unido, filed a lawsuit against the state agency responsible for enforcing New Mexico's wage protection laws, demanding that it do its job.
Soon afterwards, the legal team, led by the New Mexico Center on Law and Poverty and Somos Un Pueblo Unido, won a court order prohibiting the state government from enforcing certain illegal policies that prevented workers from filing claims. Later, in another hard-earned victory for our working families, we defeated DWS' attempt to throw out our lawsuit. After that, DWS conceded that many of its policies were unlawful and is now in the process of proposing new enforcement rules to comply with the law.
Our government and its agencies must serve working families by ensuring that people are paid fairly for every hour worked. Until then, we will continue organizing alongside New Mexican working families and continue to use everything at our disposal to fight for our workers' rights. We will build upon New Mexico's proud legacy of resistance and of passing local policies to improve conditions for low-wage workers.
El CENTRO de Igualdad y Derechos is a grassroots, immigrants' rights and workers' justice organization based in Albuquerque, NM that works with Latino immigrant communities and allies to defend, strengthen, and advance the rights of our community.
Popular in the Community