ALBUQUERQUE, N.M. (AP) — The homes or offices of five elected Democratic officials in New Mexico, including the new attorney general, have been hit by gunfire over the past month, and authorities are working to determine if the attacks are connected.
Nobody was injured in the shootings, which are being investigated by local and federal authorities, said Albuquerque Police Chief Harold Medina. He called the investigation a top priority.
Police initially reported four shooting incidents but then disclosed late Thursday that a shooting at the former campaign office of newly elected New Mexico Attorney General Raul Torrez is being reexamined.
In New Mexico, the attacks began on Dec. 4, when someone shot eight rounds at the Albuquerque home of Bernalillo County Commissioner Adriann Barboa, police said. Seven days later, someone fired more than a dozen times at the Albuquerque house of then-Bernalillo Commissioner Debbie O'Malley.
ShotSpotter technology detected several gunshots in the area of Torrez's former office on Dec. 10, police spokesman Gilbert Gallegos said. But he said the attorney general and his staff had already moved out following his November election.
Just this week, on Tuesday night and Thursday morning, respectively, multiple shots were fired at the home of state Sen. Linda Lopez and the office of state Sen. Moe Maestas.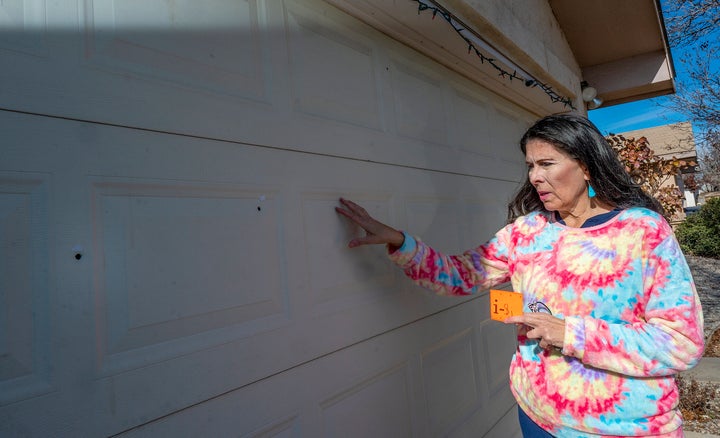 "It is traumatizing to have several bullets shot directly through my front door when my family and I were getting ready to celebrate Christmas," Barboa, who has been a county commissioner since January 2021, told Albuquerque TV station KRQE. "No one deserves threatening and dangerous attacks like this."
O'Malley, who left her position as commissioner after serving a maximum of two terms, said in an email that she and her husband were asleep before the gunfire struck the adobe wall surrounding their home.
"To say I am angry about this attack on my home—on my family, is the least of it," O'Malley said in an email. "I remember thinking how grateful I was that my grandchildren were not spending the night, and that those bullets did not go through my house."
Lopez, who has been a state senator since 1997, said three of the bullets shot at her home passed through her 10-year-old daughter's bedroom.
"I am asking the public to provide any information they may have that will assist the police in bringing about the arrest of the perpetrators," Lopez said in a statement.
Albuquerque Mayor Tim Keller called the shootings disturbing. He said they are serious crimes regardless of whether anyone was hurt.
Republican leaders in the New Mexico Senate expressed sympathy for their fellow lawmakers in a joint statement.
"We are incredibly grateful that our Senate colleagues, their families, and the other victims are uninjured," the statement said. "The Albuquerque Police Department, New Mexico State Police, and the FBI have launched an investigation and we eagerly await the arrest and prosecution of the perpetrator."
Federal officials have warned about the potential for violence and attacks on government officials and buildings, and the Department of Homeland Security has said domestic extremism remains a top terrorism threat in the U.S.
Local officials have also faced an increasing number of threats in recent years.
Across the U.S., election workers have been harassed and hounded, sending some into hiding. There have also been threats to judges, school board officials and armed protests at state capitols around the nation.
In June, a man was arrested outside Supreme Court Justice Brett Kavanaugh's home in Maryland and said he was there to kill the justice after a leaked court opinion suggested the court was likely to overturn Roe v. Wade.
But the escalation of threats and violence against lawmakers and other government officials isn't new. In 2017, Rep. Steve Scalise was shot in Virginia during a congressional baseball practice.
Lee reported from Santa Fe. Associated Press reporters Terry Tang in Phoenix and Alanna Durkin Richer in Boston contributed to this report.
Popular in the Community