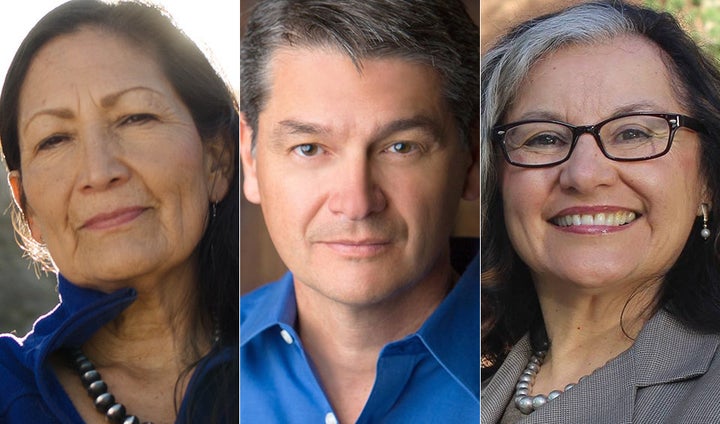 ALBUQUERQUE ― A wave of money from outside groups is transforming a Democratic primary in this historic mile-high city, making a former prosecutor and veteran the front-runner in a three-way battle with a Latina law professor and the potential first Native American woman in Congress.
Groups supporting veterans, Latino candidates, women and Native Americans are creating a fracas on the airwaves with nearly $3 million in spending. The big money battle highlights how the party's outside groups are clashing — not only over which candidates will battle Republicans in swing seats, but also over who will fill safely Democratic seats, where incumbents can play a role in shaping the party for decades to come and form a bench for statewide runs. (Congressional Hispanic Caucus Chairwoman Michelle Lujan Grisham, who won re-election by 30 percentage points, is leaving the seat to run for governor.)
Each of the leading candidates would be a star recruit in other districts: Damon Martinez, an Army veteran and former U.S. attorney, has the backing of veterans organizations VoteVets and With Honor; the Congressional Hispanic Caucus and Latino Victory Fund are supporting Antoinette Sedillo Lopez, the first Latina to become a tenured professor at the University of New Mexico; and Deb Haaland, a former state party chair, is emphasizing the historic nature of her candidacy, earning endorsements from unions, progressive groups and the Native American group 7Gen Leaders.
"We have an embarrassment of riches," said Diane Denish, who served as lieutenant governor under former Gov. Bill Richardson and is backing Haaland in the contest.
The ideological differences are few — while Sedillo Lopez and Haaland claim some territory to the left of Martinez, all three candidates support Medicare for all, promise to push for tougher gun laws and believe there's sufficient evidence to start writing articles of impeachment against President Donald Trump. But each candidate represents a different group striving for more influence in the Democratic party in the Trump era, spurring heavy outside spending and the controversy that comes with it.
Martinez has received the most outside support — raising fears groups with centrist or nonpartisan aims could hijack the primary, elevating a law-and-order candidate in a majority-minority seat.
With Honor supports both Democrats and Republicans, prompting the other campaigns to question Martinez's progressive credentials. And the group's heavy spending, along with mailers attacking Sedillo Lopez and Haaland from the No Labels-linked super PAC Forward Not Back, has prompted pro-abortion rights organization EMILY's List to attack Martinez — an unusual move in a race where they haven't endorsed a candidate.
"We need more problem-solvers and leaders."
The television ads backing Martinez are ubiquitous enough that when he knocked on a voter's door in Albuquerque's South Valley neighborhood, he was greeted by an image of himself on TV.
"It's time to send Trump a message: Our progressive values can't be fired," the narrator of the VoteVets ad said, referencing Martinez's forced resignation from the U.S. Attorney job when Trump took office. "That's why we're sending a progressive veteran, Damon Martinez, to Congress to fight Donald Trump."
Similar ads have helped him seize a slender lead in two recent polls from the Albuquerque Journal and an independent journalist. But it's also generated controversy. While VoteVets exclusively supports Democrats, other groups supporting him aren't as progressive.
With Honor backs veterans in both parties, including conservative candidates endorsed by Sen. Ted Cruz (R-Texas) and others. It requires candidates to sign a pledge promising to co-sponsor one major piece of bipartisan legislation every year as long as they are in Congress. And a super PAC that sent out mailers attacking Sedillo Lopez and Haaland has ties to the centrist group No Labels.
With Honor's super PAC is funded by big donors: L Brands CEO Les Wexner and his wife Abigail combined to donate $2.8 million, and Amazon CEO Jeff Bezos' parents chipped in another $1 million. Les Wexner has also donated $250,000 to the National Republican Congressional Committee this cycle, and other With Honor and Forward Not Back donors have given to Trump and former GOP presidential candidate Mitt Romney in the past.
"If you look at where we are as a country, we need more problem-solvers and leaders like Damon Martinez," said Ellen Zeng, the group's political director and a former official at the Democratic Senatorial Campaign Committee.
Martinez, a 10th generation New Mexican whose family received a land grant from the Spanish monarchy, emphasizes "serious leadership" in his campaign. He talks about Albuquerque's high crime rate and his work to secure the state's two national laboratories — two issues the other candidates avoid almost entirely.
He argues his history of forcing change on institutions — pushing the University of New Mexico to revamp its handling of sexual assault cases, holding Chevron Mining accountable for pollution — shows he can check Trump in a way the other candidates can't.
"I understand the system and know how to hold people accountable," he said. "It's not just rhetoric on my part. I'm not afraid to make people mad."
The places where Haaland and Sedillo Lopez outflank Martinez on the left are mostly related to law enforcement. While both women support abolishing Immigration and Customs Enforcement, Martinez will only commit to supporting a reorganization of the Department of Homeland Security. Haaland says Martinez "can't be a progressive" because he doesn't support legalizing marijuana. Martinez says he does support legalizing the drug, as long as the legislation "considers the impact it has on developing minds."
"The Martinez record won't add up to a Democrat who represents us."
Last week, as polls revealed Martinez surging, the Haaland campaign sent up a signal.
Under the heading "New Mexico Voter Alert," the campaign asked for outside groups to attack "Damon Martinez's true record as former U.S. attorney — using racial profiling in sting operations while failing to prosecute policy brutality." Women Vote!, EMILY's List's independent expenditure arm, responded with nearly $200,000 worth of television ads slamming Martinez for failing to prosecute police officers involved in deadly shootings in Albuquerque.
"For Congress, the Martinez record won't add up to a Democrat who represents us," a gravel-voiced female narrator says.
The step of attacking a male candidate without endorsing a female contender is nearly unprecedented for EMILY's List — the only other instance Democratic operatives can recall is in a 2014 Pennsylvania congressional race.
For his part, Martinez bristled when told the other candidates in the race view him as a moderate. He describes himself as a "progressive prosecutor," and notes he eventually crafted a consent agreement reining in the Albuquerque police department. The shootings mentioned in the ad took place before his tenure as U.S. attorney began. He notes he can't control which outside groups decided to spend cash on his behalf.
"I would put my progressive record up against anybody's," Martinez said.
"I really don't think that our electoral system was designed for Native American women to hold positions of power."
"An opportunity to make history," one of her mailers reads. "Deb Haaland would be the first Native American woman elected to the United States Congress."
"A lot of people recognize disparity in our elected offices," Haaland said in an interview. "And when you stop to think about how women like me have never seen ourselves in our U.S. Congress, it makes them pause."
But Haaland's other major strength as a candidate may be more traditional. As a former state party chair and longtime activist, she's been able to build ties to key interest groups. She has the endorsements of the National Educational Association, the American Federation of Teachers and Planned Parenthood, plus backing from high-profile national Democrats like former Senate Majority Leader Harry Reid and Valerie Jarrett, a top aide to former President Barack Obama.
"I've attended every single rally, every single protest," Haaland said. "Everything they've ever asked me to come to, I show up. And a lot of people are voting for me because I show up."
But those longtime ties haven't turned into advertising dollars. While there are established groups backing both Latinos and veterans running for office, the Native American community doesn't have the same political infrastructure. 7Gen Leaders — named after a Native American concept that your decisions impact the next seven generations — is new. So far it's spent $175,000, far less than its counterparts backing Martinez and Sedillo Lopez.
Haaland's team is trying to turn the money gap to their advantage. "I really don't think that our electoral system was designed for Native American woman to hold positions of power," a script for volunteers making phone calls on her behalf reads. "Outside spending has poured into this race to stop Deb's momentum and to stop her from making history."
"The first time someone asked me to run, I laughed."
Sedillo Lopez's story is typical of a Democrat in 2018. A woman who has never held office before is asked to run, and brushes it off.
"The very first time someone asked me to run, I started laughing," she said in an interview.
But that "someone" wasn't just a friend. It was Lujan Grisham, the incumbent congresswoman and a former law student of Sedillo Lopez's. At the time, Sedillo Lopez was running a nonprofit helping immigrant victims of domestic abuse and was winning attention for her work to keep ICE out of courthouses in the state. (While Lujan Grisham asked Sedillo Lopez to run, she is officially neutral in the race.)
She soon entered the race, and won the endorsement of the Congressional Hispanic Caucus and Latino Victory Fund, with both choosing to endorse her over Martinez out of a desire to see more Latinas in Congress. (There are just eight Hispanic women in Congress, compared to 24 men.) Latino Victory Fund has since spent $325,000 on television ads backing her.
Her supporters bill her as a natural successor to Lujan Grisham, a spark plug congresswoman who has drawn national attention for sparring with the president, and they argue her background as a law professor makes her uniquely suited to battle an administration they believe is violating the Constitution on a near-daily basis.
"Voters will ask me: What can we do about Trump?" Sedillo Lopez said. "Checks and balances aren't a Constitutional issue, they're a political one. And right now we have a Congress where Republicans are either complicit or they're quitting, or in Paul Ryan's case, both."
As Sedillo Lopez walked around Albuquerque's Civic Square during a weekday lunch hour, talking to voters buying burritos and crafts from local vendors, most seemed receptive to her pitch.
"We need to see more women in there," one craft vendor said as she took one of Sedillo Lopez's last pieces of literature.
Popular in the Community