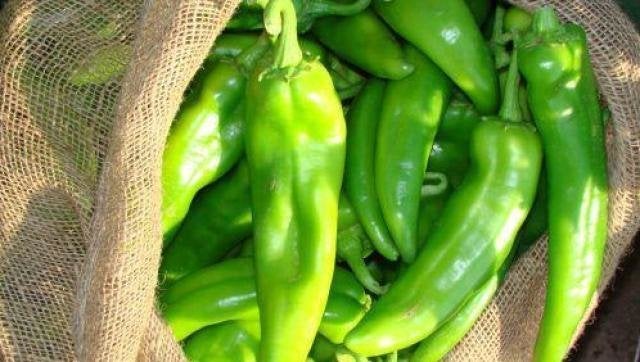 If you're from New Mexico, you already know what I'm about to say. If you've been to New Mexico, you've probably eaten green chile on something. If you've met a New Mexican somewhere outside New Mexico, they've probably talked about green chile. If none of these things apply to you, you've come to the right place. Let's talk about Hatch green chile.
Why do we evangelize, obsess over and consume green chile with abandon? Early fall is green chile roasting season, which means that in grocery store parking lots, backyards and roadside stands around the whole state, chile roasters set up their huge, rotating drums over flames. New Mexico green chile packs a thick skin that has to be roasted off, not to mention the flavor that an open fire affords these peppers. I'm from Albuquerque, and I have vivid memories of the smell of roasting chiles creeping in through air conditioning vents, clinging to your clothes -- literally the whole city smells like roasting chiles from August to October. Even people (and yes, a few of them exist) who live in NM and don't love chile, will usually cop to appreciating this aroma of fall.
This creates sort of a Pavlovian response. When you smell chiles roasting, you know it's time to unpack your sweaters, to go apple-picking and clear out space in your freezer for that year's chile crop. I have no idea whether this is coincidence or some kind of evolutionary miracle, but when fall and winter colds arrive, any New Mexican's response is to eat a bowl of green chile stew. Is this because it's warming, comforting and delicious? Yes, but it's also because a single, fresh green chile pod can contain six times as much Vitamin C as an orange.
A few things that will help you sound like a chile expert:
It's "chile" with an "e" on the end when it's a pepper. "Chili" is that delicious stew of beans and meat that you enjoy with a football game.
Green chiles are also red chiles -- they're just picked before they've fully ripened.
Green chiles are usually hotter than red chiles.
Nearly all the green chile we're talking about today comes from Hatch, NM (or very nearby). These green chiles are not Poblanos, nor are they Anaheims -- NM green chiles are a special breed that have their own names and range of flavors. My favorite, Big Jims, are usually large, medium-heat peppers. Next time Bobby Flay tries to sell you a "green chile cheeseburger" made with Poblanos, ask him to pack his things and kindly leave.
Like all highly specific regional foods, green chile has a bit of a cult following. When I feed someone green chile for the first time, I feel like I'm sharing a secret. Some spicy treasure buried in my freezer. If you want to be in on the secret (and, I mean, why wouldn't you?) you can order yourself some roasted, frozen green chile from New Mexico. Just be sure to share, especially during cold season (get yourself some from Biad, New Mexican Connection or Hatch Chile Express).
Green chile stew, green chile rellenos, green chile pizzas and even green chile apple pies can be found and enjoyed just about everywhere back home, but for me, the bright, citrusy, smoky heat of green chiles is always best represented in enchiladas.
Albuquerqueans tend to like their enchiladas rolled. I've discovered that in a home kitchen, this is unnecessarily messy, time consuming, and compromises the amount of cheese you're able to shove into your own face (I know, so predictable).
2 cooked chicken breasts (or the equivalent amount of thigh meat, if you know what's good for you), shredded
1 lb. roasted green chile, peeled, seeded and roughly chopped
1 14oz. can diced tomatoes
2 onions
3-4 big garlic cloves
pinch cumin
pinch oregano
1 tablespoon flour
1 quart chicken stock
corn tortillas
8oz. (one brick) sharp cheddar cheese, coarsely grated
8oz. (one brick) jack cheese, coarsely grated
2 tablespoons olive oil
salt and pepper to taste, obviously
iceberg lettuce, diced tomato, sour cream and beans (re-fried if you're feeling really saucy) to serve alongside
Preheat oven to 350 degrees.
Heat olive oil in a heavy bottomed stockpot or dutch oven. Add onion, garlic, cumin, oregano, salt and pepper and sweat until soft. Add flour, let cook until it starts to turn golden brown and the moisture is gone from the pan. Add chiles, all but 1 cup of the stock and drained tomatoes (reserve juice for Bloody Marys, obviously) and stir to combine. Bring to a boil, then simmer as long as you have time for, letting it reduce a bit, until the broth has some of the chile flavor.
With an immersion blender, blend the sauce as much as you like. I like mine to have a little texture left. Santa Feans seem to like it smooth as soup. Add the chicken to the sauce and continue to simmer while you grate your seemingly excessive amount of cheese.
Spread the bottom of a baking dish with a bit of the green chile. Make a layer of tortillas on top of that. Because one of life's great unfairnesses is that tortillas are round and baking pans are rectangular, I like to tear one into quarters to make corners for the edge that line up with the edges. Pour some sauce on top, making sure to get some chicken spread evenly throughout. Add a layer of cheese. Then more tortillas, sauce and chicken, cheese, until you reach the top of the dish. Pour a bit more sauce on top and cover that mother with cheese. (*Note: You will probably have some sauce left over. Do not panic. Make huevos tomorrow morning.) Pour a cup or so of the stock over the whole dish, this helps the cheese get extra sloppy.
Bake 30 minutes-ish, or until the whole thing is bubbling and the cheese on top has completely melted. Let rest for 5 minutes or so to prevent liquid cheese burns, then serve in heaping piles with shredded iceberg lettuce, diced tomato, sour cream and beans on the side.
Before You Go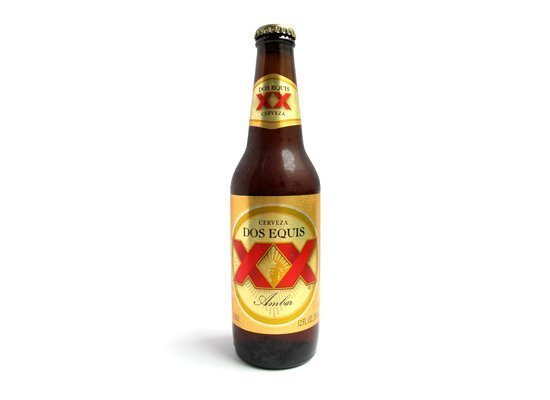 Mexican Beer Taste Test
Popular in the Community