Exclusively for Huffington Post by Ada Polla
The early days of January always bring with them a slew of goals, resolutions, action items, plans. If yours include decluttering, cleaning out closets, spending less on stuff, reducing your carbon footprint, and simplifying your life, New Minimalism, Decluttering and Design for Sustainable, Intentional Living, by Cary Telander Fortin and Kyle Louise Quilici, is a must read (preorder now, it is officially available on January 2nd).
Kyle is a friend of a friend, and I had the pleasure of getting to know her, her minimalist philosophy, and the impetus behind the book.
AP: Tell me a little bit about yourself and how you got to where you are today.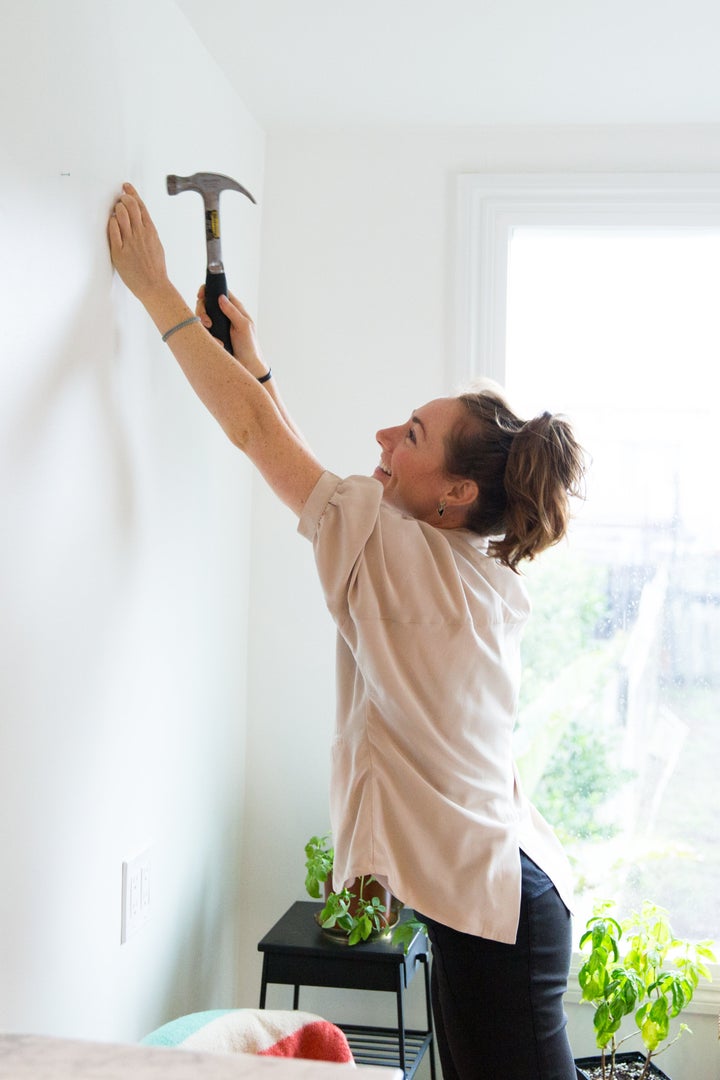 KLQ: I started my journey with concurrent interests in yoga and interior design. After initial inquiries into both fields (completing a 200-hr yoga Teacher Training Program and an interior design program at Parsons, both in New York City), I wasn't fully convinced of either of these paths were right for me. Interior design was too wasteful for me to get behind, and yoga was more of a personal practice of spirituality for me. I decided to pivot to sustainability once I moved back to the west coast in 2011. Taking night classes, I completed a certificate in Sustainable Design at UC Berkeley Extension and then earned my LEED Certification for Green Building practices. During a short stint working at the architecture firm, Gensler, Cary and I had met and eventually decided to start our own company. Cary and I met while carpooling to a yoga retreat and had this unique, shared passion for sustainable living. After a few coffee dates, a desire to work for ourselves and to carve out something new in the world, we decided to start practicing a methodology for helping people achieve a beautiful space while at the same time reducing their consumption behaviors.
AP: How would you best describe New Minimalism?
KLQ: It fills the gap between ascetic minimalism and the typical American consumption habit, to find a warm and inviting balance of minimalism, catered to the person at hand. There are general principles to adhere to (slow down, buy fewer, better things, cultivate mindfulness in your days) but we pride ourselves in not having a prescriptive approach.
AP: What made you want to write a book? Why now?
KLQ: The beauty of having a passion for something and a business partner to talk about it with means that Cary and I spent a lot of time discussing our clients and our work and tweaking our approach. From the beginning It forced us to articulate our philosophy. Cary had started a blog called New Minimalism in 2011 as a personal record of her journey into a simpler life. In 2013, we started our service and kept the name. So we already had a commitment to writing about our experience. A book was always a dream of ours from the beginning (it's written down somewhere in an early notebook), and we were beside ourselves when an editor from Sasquatch Books in Seattle reached out to us after having been introduced to New Minimalism from an article in a magazine. Two years, several drafts, and 12 photo shoots later we are excited the book is finally coming out into the world!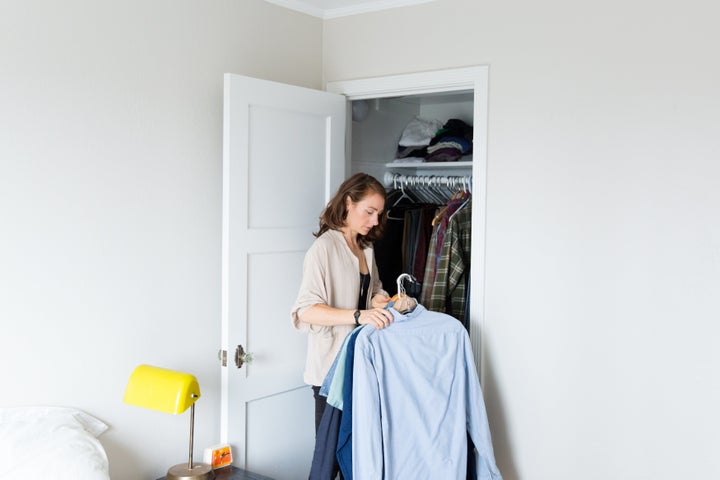 AP: Of course you know I have to ask about how your book compares to Marie Kondo's…
KLQ: Our book differs in that it digs deeper into the psychology behind why it's hard to declutter, where the struggles come from and how to step out of habitual behavior. In simpler terms, it's minimalism for the Westerner. We also have color photos depicting how to make your space beautiful after you've decluttered, something Marie Kondo doesn't dive into. I must also add that we were very pleased to witness the widespread popularity of Marie Kondo's book. It proved to us that the we were onto something with New Minimalism. Before that time, when we explained to people that we "declutter homes" for a living, we were met with quizzical looks. After The Life-Changing Magic of Tidying Up, "decluttering" became a household word.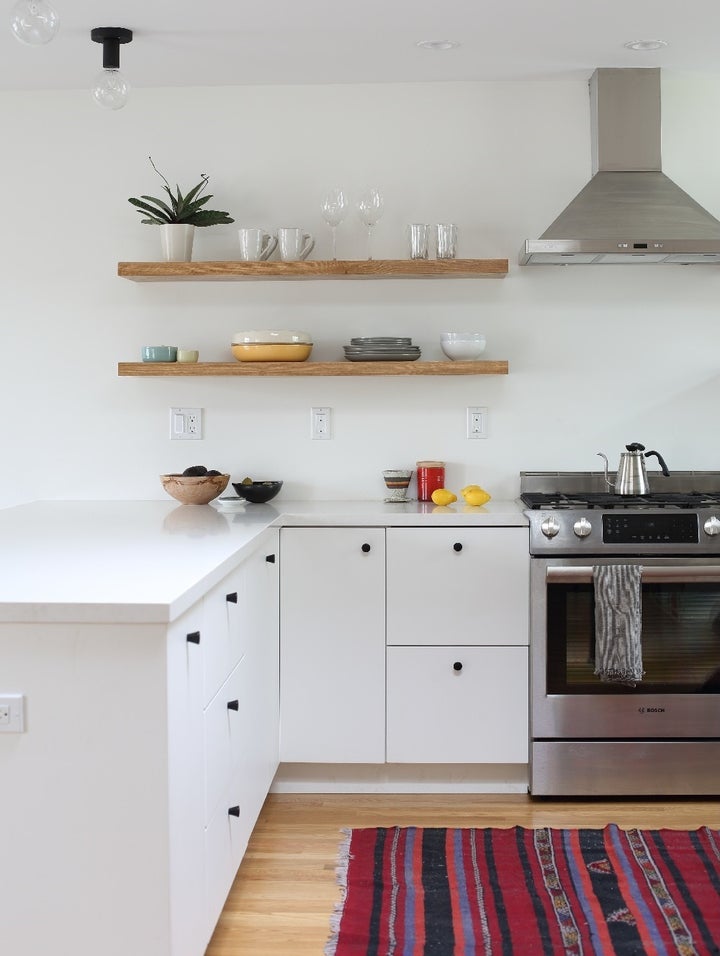 AP: Define a "clean space" or "minimalist space".
KLQ: A minimalist space can have a variety of looks or styles, but there are a few standards that apply throughout the home. We have 12 design philosophies in the book. Here are three of them:
Everything has a place. Everything, including small things like keys, wallet, sunglasses - has a designated place where it lives in the home. For everything to have a place, everything needs to fit. Which brings us to our next point.
Redefine "full". Our definition of "full" is different from the typical version of full. We describe drawers as full when they are actually at 50% total capacity. When your storage is only 50% full you can easily see what is inside and easily access items at the back.
Allow one item to stand for many. Ex. If you value travel and are a world traveler, challenge yourself to select one statement piece of decor to represent your overall worldliness, rather than a million tchotchkes from every single trip you've ever taken.
AP: Define "space clearing".
KLQ: Space-clearing is used interchangeably with "decluttering", but "space clearing" is also a Feng-Shui term that I first learned while reading Karen Kingston's book Space Clearing with Feng Shui. It involves clearing past "energetic" fields by ringing special bells, as well as the decluttering the space. It must take place before adding Feng Shui elements to the home.
AP: What drives your philosophy of sustainability and conscious consumerism?
KLQ: Our love of the planet! That adoration and respect for mother earth hands down fuels our passion for sustainability and conscious consumerism. There are so many benefits to the practices of New Minimalism (slowing down, cultivating mindfulness, having more focus and time for the important things), but it is our shared love of the environment that gets us out of bed before the sun comes up.
AP: What are your favorite charities to give things away to?
KLQ: First, it's important to note all of these donation partnerships we cultivated by simply walking in the front door and speaking to the relevant people. Anyone can easily finding places to donate within their own community by doing the same. The local San Francisco library is a great resource to donate books. We give paper and art supplies to a San Francisco preschool. Bloom in Marin (formally Dress for Success) provides professional clothing to the unemployed who are seeking work. Glide Church will take unopened toiletries and unexpired pantry goods. Also, the SF Homeless Prenatal Center accepts baby-related and maternity donations. The SPCA (pet adoption) takes towels that are too worn to be donated.
About New Year's resolutions
AP: Your book is perfectly timed with New Year's resolutions, which often have to do with minimizing, downsizing, cleaning. Can you please help us with:
- Top 3 resources for anyone who wants to start today (your book of course is one!).
Yes! Our book, New Minimalism! We also offer in-home decluttering within the San Francisco Bay Area, and phone consultations for those who are outside of the region.
Books are a favorite way to dive deeply into a topic. New Minimalism's top recommendations: Zero-Waste Home (Johnson), Soul Space (Balbes), Essentialism (McKeown), A New Earth (Tolle), Untethered Soul (Singer), and Simplicity Parenting (Brooking-Payne).
Blogs for interior inspiration: Coco Lapine Design, Nowness In-Residence series, and Design Sponge's Sneak Peeks.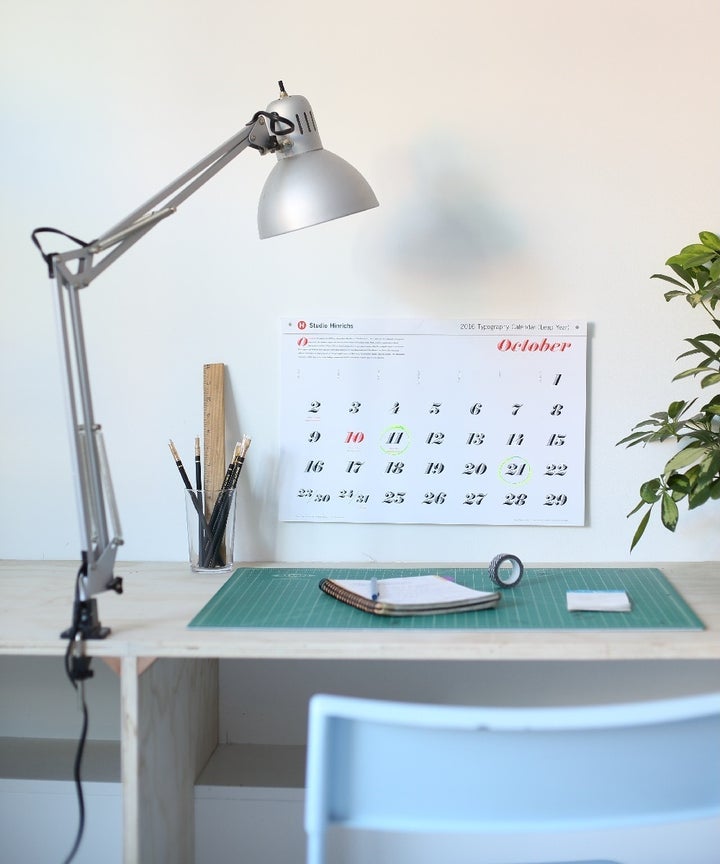 - Top 3 tips to make this process fun and easy.
Get clear. Clarifying your top 3 priorities (yes, in life!) will provide an unobstructed view of how you want to spend your time and subsequently how you want to fill your space. When you know what you value, it becomes easy to let go of the outliers. For example, you used to be obsessed with scrapbooking (and bought all the accoutrements) but now you prefer to make digital photo albums. Embrace your personal evolution and donate your old scrapbooking supplies rather holding onto a past value.
Set a decluttering date. To fully declutter an entire category of things (ex. your wardrobe), you'll need to set aside a day on the calendar. So schedule it in! If you wrap up early then you have a free afternoon to do whatever your little decluttered heart desires! Don't forget to build in the time it takes to drop off donations the same day.
Enlist the help of a friend. An official decluttering partner makes the process more fun and keeps you focused. Have lunch ready for you and your friend so that you avoid getting hangry in the process. Note, there are more tips than there is space to write! We outline the entire New Minimalism process in our new book.
Popular in the Community