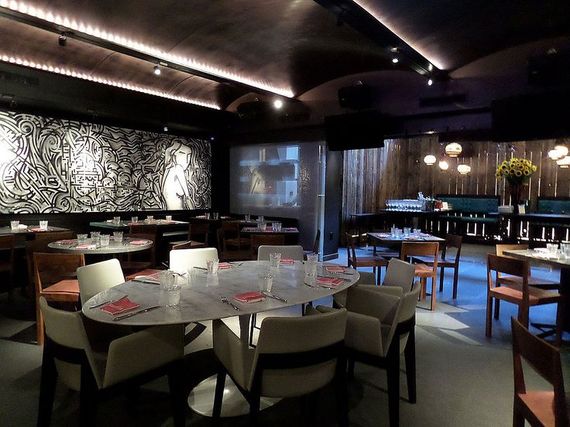 Brazilian restaurants outside of Brazil generally fall into two kinds: those that serve a narrow range of Rio-based dishes that focus on the rich black bean and offal stew called feijoada, and those that feature churrascaria items, usually in a show of waiters carving sizzling meats from a long skewer and accompanied by ample salad bar items. The best of the first type are found in New York's outer boroughs, the latter in Manhattan at vast churrascarias, where the cachaça flows freely.
Botequim shares the best aspects of both of these kinds of Brazilian restaurants, but it brings to the table a wider range of regional dishes done with a good deal more care, flair and refinement than you find elsewhere. It is also much smaller than most Brazilian restaurants, set downstairs in a windowless space of 100 seats composed of two rooms, one set with three communal wooden farmhouse tables, the other with individual tables. The open kitchen throws much-needed light into the rooms, which are painted mostly in black--not the most convivial color for a restaurant--and decorated with a graffiti-like mural by artist Marc Mazurkiewicz. Aqua blue leather banquettes provide another splash of much-needed color.
Early on during my mid-week visit, the Brazilian music being piped in was of the bombastic Techno style that in a crowded room adds a great deal of sheer noise. I asked a waitress if they played softer bossa nova and samba music, and she very kindly flipped the dial and out came the wondrous, lilting sounds of Elis Regina, Antȏnio Carlos Jobim, Stan Getz and Gilberto Gil, which was perfect for an evening's meal.
Botequim owner Marco Moreiro is a native of São Paolo, though, with his wife and patner Jo-Ann Makovitzky, he made his reputation at the fine dining New York restaurant called Toqueville. Their One Five Hospitality group also runs the very fine 15 East, The Fourth, and a Scotch lounge named SingL.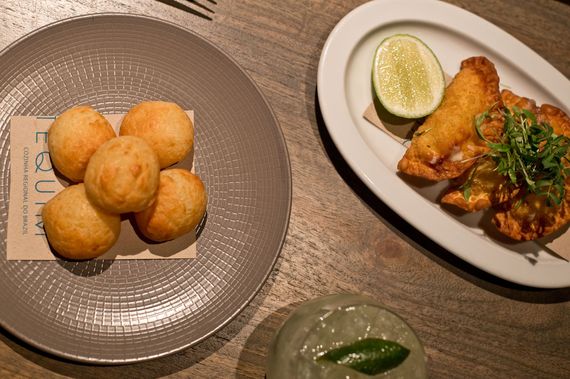 The best way to appreciate Botequim is to share plates, especially the first snack courses called salgadinhos, which include assorted pastelzinhos, flaky small pies (above) filled with ground beef, cheese or braised hearts of palm ($9). The croquettes filled with bacalhau (house-cured cod fish) with sliced hardboiled egg ($12) are terrific, and everyone at our table loved the grilled Brazilian sausages called calabresa acebolada served with sizzling onions ($11).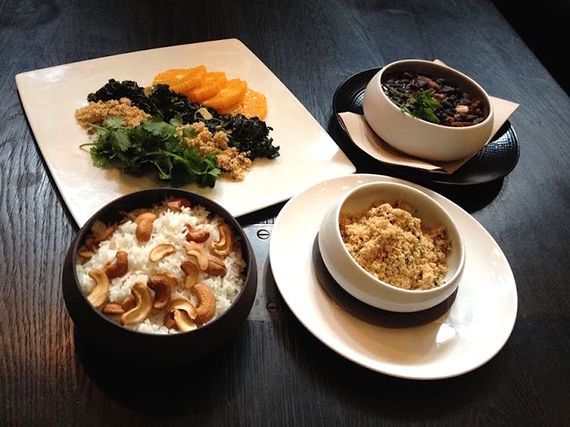 The traditional cheesebread called pão de queijo ($7) is addictive, soft but pliable, rich with cheese and wonderful aromas. "Grilled Shrimp on the Beach" ($14) were plump and sweet, and we found the salad of summer tomatoes and hearts of palm with red wine ($15) both refreshing and quite satisfying.
The chicken with okra and polenta ($24) went beyond expectations because the bird itself, from Violet Hill Farm, packed real flavor all on its own, and the burnished roast suckling pig with red beans and farofa made from manioc flour ($26) was as glorious a rendering as I've had of this dish, perfectly seasoned, basted and kept succulent beneath a crackling skin. There is, of course, feijoada ($26) and while I claim scant experience with the dish on its home soil, this hearty, long-braised stew was better at Botequim than any I remember in Rio de Janeiro, rich with collards, farofa, cashews, and a rice and orange salad (above).
The beef options, not carried around on skewers, include picanha ($34), a prime cut of superb top sirloin roasted on the hearth with garlic and oil (below), and costela ($28)--easily one of the most delicious short ribs dishes I've ever encountered in a city blanketed with them these days. The prices are exceptionally reasonable. We took some home.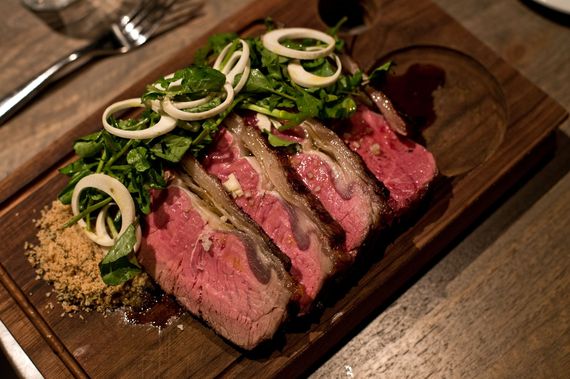 Delicacy is not a word that leaps to mind when it comes to overly sweet Brazilian desserts, but at Botequim the emphasis is on the fruit flavors and the acid they provide, starting with the excellent sorbets and ice creams at just the right textures ($9); rice pudding with coconut tapioca ($10); an irresistible coconut cake with pineapple cachaca sorbet ($12); and sonhos ("dreams"), a fried dough traditional at Christmas, here with doce de leite, chocolate and guava ($10).
Master Sommelier Roger Dagorn oversees all the company's wine lists, and the bottlings on Botequim's list offer examples of some of the best reds coming out of South America right now. He is also in charge of the cocktails program, and I urge you to try any of the caipirinhas, which go very well with the appetizers here.
I hesitate to comment on the overall service at Botequim on the basis of one fairly slow night--restaurants almost always have better service on busy nights--but, although the staff was well meaning and friendly, they weren't often in the dining room that evening, and some dishes were slow to come out of the kitchen.
Botequim proves that while the flavors of gutsy Brazilian food have their obvious appeal, it is the re-thinking and improvement on traditional regional dishes that makes an extraordinary difference in the quality of the food here. Botequim is a little treasure in Manhattan.
Open Tues.-Sat for dinner. Brunch on Saturday.