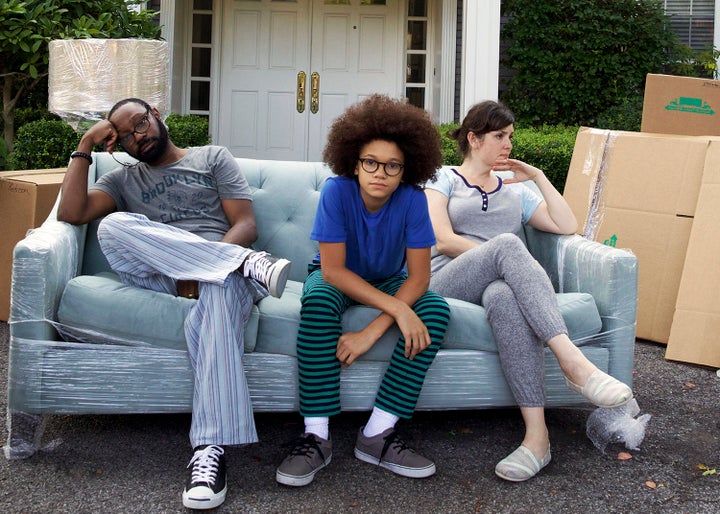 "Little Boxes," a  compelling new film, tackles the complex ways mixed-race families handle issues of race.
Written by Annie Howell and directed by Rob Meyer, the film premiered at Tribeca Film Festival on April 15. The story follows Mack, Gina and Clark (a black husband, white wife and biracial child played by Nelsan Ellis, Melanie Lynskey and Armani Jackson, respectively) as they adjust to life after a big move from their diverse Brooklyn neighborhood to the all-white suburb of Rome, Washington.
Upon moving at the start of the summer, the family deals with problems with their new house, spending less quality time together and adjusting to new, and sometimes small-minded, attitudes of their neighbors. Clark, who will enter the sixth grade at the end of the summer, has the biggest challenges adapting. As he's racially objectified by his new "friends," he begins to abandon his love of reading and his amicable demeanor for traits his white peers associate with blackness -- like cursing and listening to music with sexually suggestive lyrics -- leading him to trouble more than once.
Although race is explicitly addressed only a few times throughout the film, racial tension is seen in the microaggressions the family endures. In one scene, a white neighbor suspiciously asks Mack if he needs help while he is walking to his home in the same way a cashier would question someone they believed to be a shoplifter. The filmmakers also explore the intersection of class, privilege and sexism throughout the plot.
This subtle approach of addressing social issues was intentional, Howell told The Huffington Post.
"It's sort of a gentle race story," Howell, who has two biracial sons, said. "It doesn't have monumental life or death stakes, but it has the kind of stakes that I saw and I lived and the kinds of people that I know and love. For me it was just an incredible opportunity to create characters that I don't feel are as common on screen."
In addition to being a story about a multicultural family, "Little Boxes" refreshingly shows the beautiful relationship Ellis' character has with his son as a black dad. 
"Black fatherhood isn't portrayed that often in this light on the big screen," Ellis told HuffPost. "[Mack] wants his son to become a strong, proud, biracial man, black man… and deal with these issues and not be derailed and have a strong sense of identity."
"Little Boxes" focuses an honest lens on some of the issues interracial families may face when dealing with their own identities and countering the world's misperceptions about who they are. Though this film doesn't have an official release date, audiences everywhere could stand to see more films that bring the stories of these families to life.
REAL LIFE. REAL NEWS. REAL VOICES.
Help us tell more of the stories that matter from voices that too often remain unheard.
BEFORE YOU GO
PHOTO GALLERY
Tribeca Film Festival 2016 Preview