Great news for "Black Mirror" fans. Four years after the last season premiered, we're finally getting another installment!
Netflix is due to add more than 100 titles in June, including a new five-episode season of the eerie anthology series. The exact "Black Mirror" rerelease date has yet to be announced, but fans should prepare for a star-studded viewing experience with appearances from Salma Hayek, Aaron Paul, Michael Cera, Kate Mara, Zazie Beetz, Rory Culkin, Rob Delaney, Josh Hartnett, Annie Murphy and more.
Another sci-fi drama with a new season debuting next month is "Manifest," which Netflix took over from NBC after the network canceled the show at the end of Season 3. The first half of the fourth and final season premiered in November, and now the second half will be released on June 2.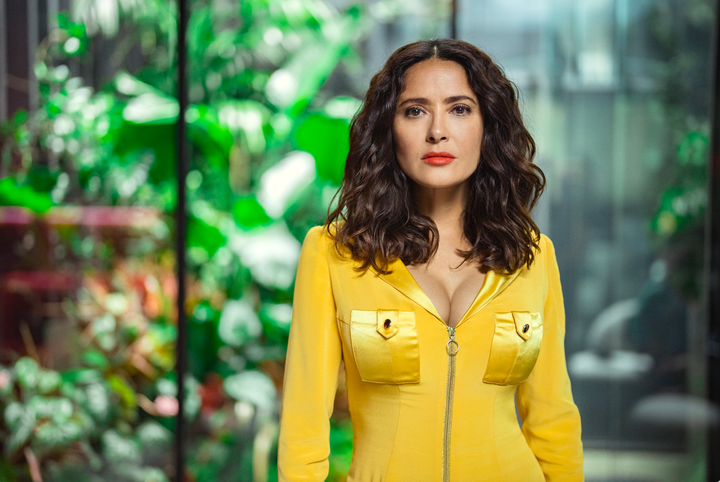 The fourth and final season of Mindy Kaling's teen comedy-drama "Never Have I Ever" will also premiere next month on June 8. On that same date, the USA legal drama "Suits" is also set to join the streaming service.
Looking at films, perhaps the most anticipated title from Netflix is "Extraction 2," a sequel to the 2020 action thriller starring Chris Hemsworth. The series is based on the graphic novel "Ciudad" by Ande Parks, Joe Russo, Anthony Russo, Fernando León González and Eric Skillman ― with Russo writing the film adaptations.
As for buzzy movies that weren't produced by Netflix, the 2022 drama "To Leslie" ― which became the subject of controversy surrounding star Andrea Riseborough's Academy Award nomination ― will join the streaming service on June 1.
Check out the full list of April movies and shows below.
And if you want to stay informed about everything joining Netflix every week, subscribe to the Streamline newsletter.

June 1
"THE DAYS" (Netflix Series)
"A Beautiful Life" (Netflix Film)
"LEGO Ninjago: Dragons Rising" (Netflix Family)
"Jimmy Neutron: Boy Genius"
"Nanny McPhee and the Big Bang
"Terminator 2: Judgment Day"
June 2
"Manifest" (Season 4, Part 2, Netflix Series)
"Missed Connections" (Netflix Film)
"Rich in Love 2" (Netflix Film)
"Valeria" (Season 3, Netflix Series)
June 5
"Barracuda Queens" (Netflix Series)
June 6
"My Little Pony: Make Your Mark" (Chapter 4, Netflix Family)
June 7
"Arnold" (Netflix Documentary)
"Love Is Blind: Brazil" (Season 3, Netflix Series)
June 8
"Never Have I Ever" (Season 4, Netflix Series)
"Tour de France: Unchained" (Netflix Documentary)
June 9
"Bloodhounds" (Netflix Series)
"Human Resources" (Season 2, Netflix Series)
"The Playing Card Killer" (Netflix Documentary)
"Tex Mex Motors" (Netflix Series)
"This World Can't Tear Me Down" (Netflix Series)
"The Wonder Weeks" (Netflix Film)
"You Do You" (Netflix Film)
June 12
"Tom and Jerry Tales" (Seasons 1-2)
June 13
"Amy Schumer: Emergency Contact" (Netflix Comedy)
June 14
"Forged in Fire" (Season 8)
"Married at First Sight" (Season 13)
"Our Planet II" (Netflix Documentary)
"The Surrogacy" (Netflix Series)
June 15
"Cold Case Files" (Season 2)
June 16
"Black Clover: Sword of the Wizard King" (Netflix Anime)
"Extraction 2" (Netflix Film)
June 17
"Grey's Anatomy" (Season 19)
"King the Land" (Netflix Series)
"See You in My 19th Life" (Netflix Series)
June 19
"My Little Pony: The Movie"
"Not Quite Narwhal" (Netflix Family)
"Take Care of Maya" (Netflix Documentary)
June 20
"85 South: Ghetto Legends" (Netflix Comedy)
June 21
"Break Point" (Part 2, Netflix Documentary)
"The UnXplained with William Shatner" (Season 2)
June 22
"Devil's Advocate" (Netflix Series)
"Glamorous" (Netflix Series)
"Let's Get Divorced" (Netflix Series)
"Skull Island" (Netflix Series)
"Sleeping Dog" (Netflix Series)
June 23
"Catching Killers" (Season 3, Netflix Documentary)
"iNumber Number: Jozi Gold" (Netflix Film)
"King of Clones" (Netflix Documentary)
"Make Me Believe" (Netflix Film)
"On the Line: The Richard Williams Story"
"The Perfect Find" (Netflix Film)
"Pokémon Ultimate Journeys: The Series" (Part 3, Netflix Family)
June 26
June 28
"Eldorado: Everything the Nazis Hate" (Netflix Documentary)
"Muscles & Mayhem: An Unauthorized Story of American Gladiators" (Netflix Documentary)
"Run Rabbit Run" (Netflix Film)
June 29
″Ōoku: The Inner Chambers" (Netflix Anime)
"The Witcher" (Season 3, Volume 1, Netflix Series)
June 30
"Is It Cake, Too?!" (Netflix Series)
"Tayo The Little Bus" (Season 5)
Date TBA
"Black Mirror" (Season 6, Netflix Series)
"Celebrity" (Netflix Series)
"Delete" (Netflix Series)