The exterior of Los Angeles's new Broad Museum
I'VE JUST RETURNED from an exhilarating four-day art tour of Los Angeles with leading art collectors Zoë and Joel Dictrow, during which we visited four museums, six artist studios, and more than twenty galleries. One of the high points was visiting The Broad, Los Angeles's newest museum, created by one of this country's most dynamic collecting couples, Eli and Edythe Broad.
Located in downtown Los Angeles next to MoCA and the Walt Disney Concert Hall,The Broad's dramatically bright-white, cheese-grater structure was designed by Diller Scofidio + Renfro, in collaboration with the architecture firm Gensler, and houses Eli and Edythe Broad's 2,000-work collection, which ranges from Andy Warhol, Cy Twombly, Jean-Michel Basquiat, and Roy Lichtenstein to Barbara Kruger, Jeff Koons, Mark Bradford, and scores more. The museum's main exhibition floor is accessed via a moving staircase that takes you from the lobby, through a long grey tube, into an enormous exhibition space with a celestial lattice-work ceiling. The show is chock-a-block with masterworks of the past fifty years, and the crowded inaugural installation clearly expresses the collectors' passion to see and enjoy as many of the works in their collection as possible, while sharing them with the public.
And it is the Broads' life-long passion for collecting that now affords a crowning legacy for the city of Los Angeles. Another delight of the museum: returning to the ground floor by way of a corkscrew staircase from which several window porthole windows give views into The Broad's art storage. Inside are hundreds more works by the masters with works on exhibition upstairs.
Works by Christopher Wool, Roy Lichtenstein, and other artists on view through a "peephole" into a storage area, at The Broad Museum
On the flight back to New York, I reflected on the Whitney Museum's grand new digs in Chelsea's Meatpacking District and was struck by how fortunate we are to have two extraordinary new museum buildings on both coasts.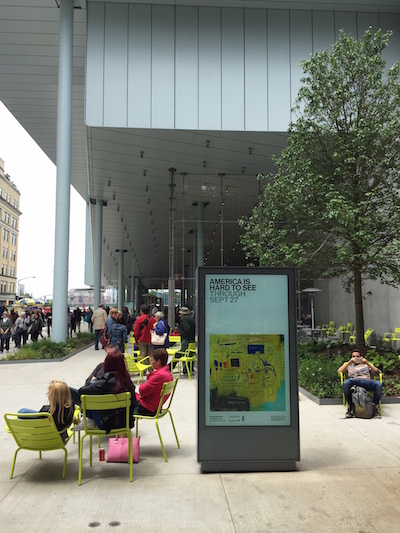 The welcoming entry plaza at New York's Whitney Museum
This weekend marks the closing of the Whitney's inaugural exhibition "America Is Hard To See," which in many ways, I'm sure, will prove to be a landmark exhibition in its insightful connections and interwoven themes, and the synthesis it makes of a century of American art, politics, and society. Having participated in the careers of many groundbreaking New York artists over the past thirty years, I was delighted to see the historical connections made in such a graceful, illuminating way between the present and prior generations.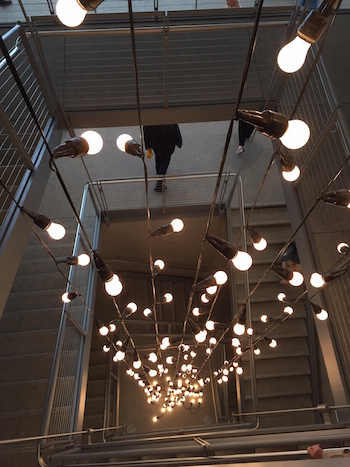 Untitled (America), 1994, a lightbulb piece by Felix Gonzalez-Torres, installed in the main stairwell of the new Whitney Museum
On a personal note, while viewing those museum shows and coming upon particular works -- such as Barbara Kruger's Untitled (Your body Is a battleground), now at the Broad, and Jimmie Durham's Self-Portrait, now at the Whitney, both of which I'd shown in the 1992-'93 traveling museum exhibition entitled "Dissent, Difference, and the Body Politic" -- I couldn't help but marvel at how much has changed with time. These works and many of their ilk were early harbingers of a strong and visceral political discourse that thirty years ago began to address unprecedented loss and rage at societal wrongs--a discourse that became centrally important in American art history and social consciousness.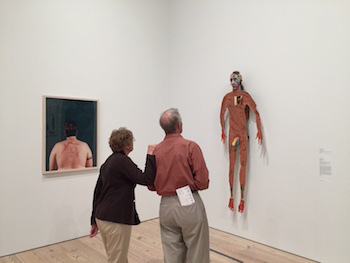 A 1987 self-portrait sculpture by Jimmie Durham and Catherine Opie's 1993 Self-Portrait/Cutting, on view in the Whitney Museum's show "America is Hard to See"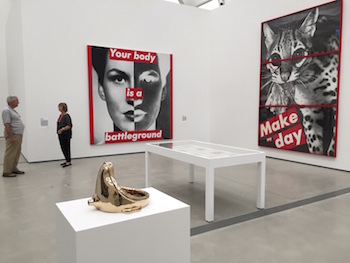 Barbara Kruger's Untitled (Your body is a battleground), 1989, and Roy Toy (Make my day), 1986, at The Broad Museum
REAL LIFE. REAL NEWS. REAL VOICES.
Help us tell more of the stories that matter from voices that too often remain unheard.