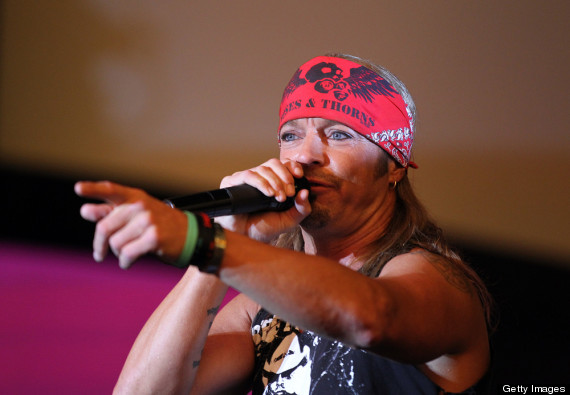 Bret Michaels is 2013's comeback kid. Between kicking off his brand-new reality show, Rock My RV, and releasing his first album in three years, the legendary rocker is back. Michaels' latest musical effort, Jammin' With Friends, is a career-spanning mix of new songs and old favorites, featuring a host of collaborators from the logical (Joe Perry) to the slightly surreal (Miley Cyrus, Lil Jon).
I had the chance to talk with Bret over email about his new album, his Travel Channel reality show, and parenting approaches in the Michaels household.
This album was your life for over two years. What was the best part about working on this new album?
No doubt. It was working with my friends to put a new spin on my solo material, the Poison hits and three of my favorite songs that I covered. "Sweet Home Alabama" with some of the guys from Lynyrd Skynyrd, "Margarittaville" with Jimmy Buffett and Sublime's "What I Got" with some of the guys from Bowling for Soup & Phil Collen.
Sounds like you've been busy. What was the hardest part of making this new album?
The hardest part was finding the time to record with all of us being in different parts of the world at different times. Scheduling everyone to perform on the record when one person was in Russia, one in Los Angeles, one in Nashville and the list goes on. So, between their touring and mine, truly the hardest part was simply scheduling it all.
A lot of Poison fans are excited to hear the old hits again. What was it like going back to that time in your life?
It was awesome. Let me break it down a little:
"Nothing but a Good Time": It was awesome to combine working with Ace Frehley (Kiss), Michael Anthony (Van Halen) and Lil Jon.
"Every Rose": Singing this song with the one and only coal miner's daughter, Loretta Lynn was amazing and then add Joe Perry (Aerosmith) and Hugh McDonald (Bon Jovi) to that list and it was really amazing.
"Unskinny Bop": Frank Hannon (Tesla) played on this track and he has to be one of the best slide and blues guitar players I have ever heard. Robert Mason (Warrant) sang and his voice is incredible and really added to the harmonies.
"Talk Dirty to Me": Mark McGrath from Sugar Ray sang on this tune. Not only is he a friend but he has great energy and helped to add a true pop punk feel to the track.
"Something to Believe In": Edwin McCain really added a flair to this song.
So, you worked with some very different voices on this album. What was it like collaborating on material with such a wide array of singers?
As soon as you bring in musicians who didn't work on the original tracks they end up taking some awesome twists and turns and really adding some unique sounds.
Is there anyone you'd really love to work with who you haven't collaborated with yet?
Yes, there are lots of artists both dead and alive that I would like to work with, but Keith Richards is one that comes straight to mind.
You also have a new show, Rock My RV on the Travel Channel. What made you want to do the more reality TV?
They don't call me Bret 'Road Dog' Michaels for nothing.... that is why I did it. In my personal life I have been rv'ing and camping since birth. In my professional life I have logged well over three million miles in an RV and am one of the only musicians to use an RV Australia. The show, which is a passion project for me, is a great mixture of the human story mixed with the mechanical element, which showcases how to get an RV road-ready and functional with some of the creature comforts of home.
Sounds very different from your last reality show Rock of Love. Do you still talk to any of the girls?
Yes, occasionally I see some of them at the shows while on the road. They were awesome and really made Rock of Love great.
How much time would you say you've spent in tour buses in your life? What do you have to have in every bus?
A lot, a lot, a lot of time. Although hotels are nice I rarely stay in them as I live off of my bus. Must haves include: a great coffee machine, a good mattress, a shower, modern technology like flat screen tv's, wireless internet and satellite and a kick ass sound system and of course a road-ready bar. But one of the most important things is a comfortable seat for driving, regardless of if it is me or another driver in the seat.
Seems like you know how to make it like a home. Is it hard being away from your two daughters while on tour and during filming?
Yes. It is hard to be away from them anytime but I am in constant contact while traveling, even doing their homework with them on the phone. The one thing I vowed I would excel at is being a good father. Hopefully they think I am doing a good job so far and I have been really blessed that Kristi is a fantastic mom.
You recently said you're worried for your daughter Raine, 13, to start dating. How are you going to handle that?
I am not going to lie, it is going to be tough and the worst part is she is boy crazy. Life is funny how it comes full circle because I know what guys at that age or at any age are thinking. These are my come up'ins, but to be totally honest I unconditionally love my daughters and just want them to be happy and hopefully whoever they find as a significant other in their life treats them great.
You're a big bike enthusiast. If a boy shows up on a motorcycle for your daughter, will you let her hop on?
First off, when she is 32 she is welcome to do anything she wants [Laughs]. Second of all, she has her own motorcycle & third having a motocross and go-cart track on my property will allow me to put him through a rigorous set of test to make sure he is skilled enough before taking her on the road.
And as long as I build a large partition that can go between the two of them on the bike so she can't hold on to him she should have a blast.
Looks like you have it all figured out. Hopefully you have a few years before you have to perfect that road test. Thanks again for talking to me, Bret.
Michaels' new album, Jammin' With Friends is due out June 25th.
PHOTO GALLERY
Celebrity News & Photos
Calling all HuffPost superfans!
Sign up for membership to become a founding member and help shape HuffPost's next chapter