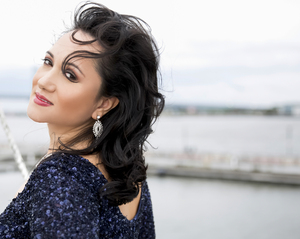 Artist: Delilah
Record EP: Sarah +1: A Tribute to Sarah Vaughan
Genre: American Standards, Jazz
Release Date: February 2015
Reviewer: Brandi Andres
The problem with reviewing a set of songs recorded by an unknown vocalist, especially when the majority of songs were made popular by one of the greatest jazz singers of all time, is it's simply too easy to pick the songs apart and find fault in the smallest details. The initial saving grace for this four-track EP is the present singer's choice to make it a tribute record, aptly titled, Sarah +1: A Tribute to Sarah Vaughan.
According to the Canadian recording artist, Delilah, Vaughan's career has a certain synergy that's not far off from her own -- Delilah's music career had its humble beginnings in jazz and has evolved to include American Standards, whereas Vaughan sang American Standards with Earl Hines' big band before she became the jazz sensation known and loved by so many. Aside from this synergistic connection, the question is whether or not the music stands on its own, and out of the shadow of "The Divine One."
This query seems to be answered ever so nicely with the introduction of the first track, a cover of "September in the Rain." The arrangement begins with a soothing, classic swing that makes you want to watch the first season of Mad Men all over again while sipping on a nice, dry sherry. The instrumentals are well shaped and unique enough to capture the listener's attention. When Delilah's sultry, breathy voice enters, a slight reassurance sets in, and as the song goes on and she starts scatting with her vocals, a la Ella Fitzgerald, the answer is apparent: Delilah's got talent.
"Just Friends," the EP's second track, is beautifully done, too, although it has a bit more of that smoky lounge vibe that suits the music's era. Arriving at the third track, and last Vaughan tribute of the record, "Whatever Lola Wants" is somewhat disappointing. There's just something so karaoke-esque about the accompanying music, and Delilah's rich, warm vocals take on an entirely different character — almost caricature — than the one presented in the first two songs on the EP.
I get that the song has more attitude and zeal than the others, but to be fair, Sarah Vaughan didn't try to overpower the mood of the song by forcing her voice onto it. But, again, this is part of the difficulty in covering songs that have been mastered so perfectly by one of the greats. Truth is, I'm a tough critic on this one because I, too, am a huge Vaughan fan, especially when it comes to this song.
Moving on. The last song, Charlie Chaplin's "Smile," brings the record to a full-circle end, offering a pleasant, optimistic finish to an overall heart-warming EP. Delilah has a lovely voice that seems suited for the big band sound. It would be nice to hear original music from her, in this genre, to fully grasp who Delilah is as an artist.
Related
Popular in the Community