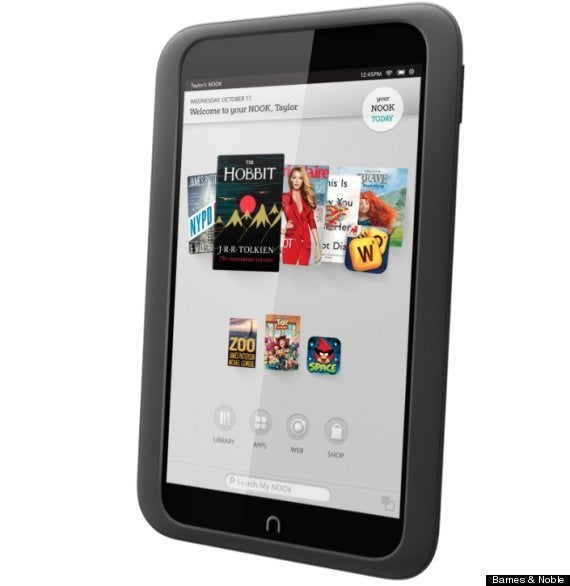 You didn't think Barnes & Noble was just going to let Amazon release a flashy set of breathlessly-hyped Kindle Fires without returning a punch, did you?
At a private media event on Monday, Barnes & Noble fired (sorry) back at Amazon by debuting to reporters a pair of new NOOK tablets: the 7-inch Nook HD and the 9-inch Nook HD+. These two tablets are clearly aimed at Amazon's Kindle Fire. In early September, Amazon CEO Jeff Bezos introduced the 7-inch Kindle Fire HD and 8.9-inch Kindle Fire HD 8.9, two tablets with high-definition screens at low prices. And lo, before the month has even ended, Barnes & Noble has responded with two similarly-sized tablets, both with high-definition screens and both with low prices.
Yes, B&N is attacking Amazon head-on, claiming in charts and in talks with reporters that, compared with the Kindle Fire, the Nook HD and Nook HD+ offer better screens, lighter weights, and a better reading and shopping experience. When showing off the Nook HD and Nook HD+ to reporters, Barnes & Noble staffers made sure to always have a Kindle Fire on hand so that we could see how the Nook HD displayed content differently than the Fire. (Surprise: In comparisons set up by Barnes & Noble, the Barnes & Noble tablet performed better!)
The gloves, as they say, are off. Just as they did last year with the Nook Tablet and first-generation Kindle Fire, Amazon and Barnes & Noble are scuffling again.
We already know what the Kindle Fire HDs are bringing; now, here's what Barnes & Noble has unveiled, along with a few of my thoughts.
First up is the Nook HD, a 7-inch tablet whose name Barnes & Noble insists on capitalizing but which for the sanity of the reader we refer to as "Nook." B&N claims that its Nook HD has the highest display resolution ever for a 7-inch tablet at 1,440 x 900, besting the 1,280 x 800 display of the Kindle Fire HD. (To my eyes, both displays looked incredibly sharp, with the Nook's, indeed, appearing slightly more crisp). The Nook HD is a bit lighter in the hand than the Kindle Fire HD, too, and it comes in an attractive shell casing so that when you hold it, you don't get fingerprints on the front of the glass. The touchscreen was rather balky in my tests, but Barnes & Noble reps assured me that what I was using was not the final release software, and that when the Nook HD is released, the experience will be much smoother. (Let's hope so.)
The Nook HD will cost $199 for an 8GB model and $229 for a 16GB model. Both come with expandable storage options, so you can stick an SD card with up to 64GB of content into the device. The Nook HD goes on sale now and will ship in late October.
Barnes & Noble also has a larger, 9-inch Nook Tablet, called the Nook HD+, which the company is comparing with the Kindle Fire HD 8.9 and the iPad 3 new iPad. The Nook HD+ boasts an excellent 1920 x 1,280 display and can play movies in 1,080p HD. It's also nice and light, at 515 grams. For reference, the new iPad, which has a larger screen and bigger battery, weighs 652 grams and is noticeably heftier. (Barnes & Noble, in a dazzling PR flourish, said the Nook HD+ is the "lightest full HD tablet ever invented"). The Nook HD+ also features a 1.5 GHz dual-core processor with 1GB RAM, though again the touchscreen was quite glitchy.
Impressively, the Nook HD+ will cost $269 for a 16GB model and $299 for a 32GB model. Both also come with the option to expand your storage with a microSD card. Again, pre-orders start now and shipments begin in late October.
Since releasing the Nook tablet last year, Barnes & Noble has also completely redesigned the operating system that both of its tablets run. The result is much cleaner and more attractive. Thanks to a partnership with Microsoft, the Nook HD also handles email much better than the Nook tablet and can now (mercifully) open all kinds of attachments, including documents and spreadsheets, within the email app.


The new homescreen on the Nook HD and Nook HD+.
The new Nook tablets are impressive. They're light, they're cheap and the screens are beautifully crisp for the price. The same is essentially true of the new Kindle Fires, too, and Amazon has a much larger content store than does Barnes & Noble, especially for video. (Barnes & Noble announced Tuesday morning that it was opening a video section, though its selection still lags that in the Google Play Store and Amazon library.)
The bottom line: If you are looking for a 7-inch e-Reader with an LCD screen, the new Nook HD certainly appears a safe, solid option (provided the team can fix the balky touchscreen in a month). Hold off on your pre-orders for now, however, until B&N proves that the touchscreen really zips.
Both the Nook HD and Nook HD+ are available for pre-order now at Nook.com.
Calling all HuffPost superfans!
Sign up for membership to become a founding member and help shape HuffPost's next chapter