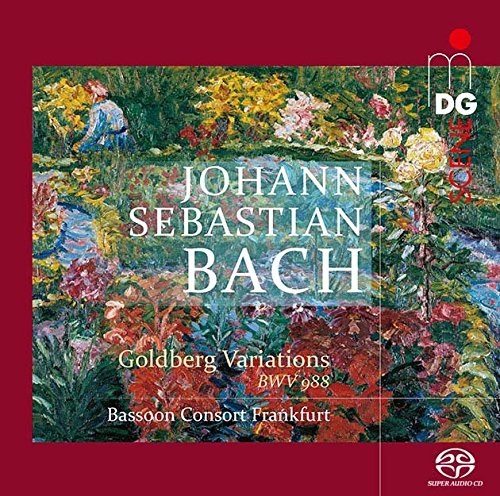 This week's pièce de resistance is Bach's Goldberg Variations in perhaps its best performance ever. On the MDG audiophile label. Played by the Bassoon Consort Frankfurt. Really.
Since it was first written, Bach's music has been rewritten. First it was by Bach himself in numerable re-uses, elaborations and updatings. Then followed an endless string of musicians and composers fascinated by how brilliantly it was constructed to hold the listener's attention and the sheer amount of it he wrote. So we have wound up with such things as Art of Fugue on saxophones and the current craze, the Goldberg Variations for string trio or even string orchestra. And many, many others besides. All of it fanciful, of course, and often highly entertaining.
For something that's all of that, but also actually more authentic than anything that could be imagined, comes a definitive updating by eight bassoonists and one contrabassoon of the Goldberg Variations from Detmold's audiophile label, Musikproduktion Dabringhaus und Grimm (MDG). The bassoonists en masse call themselves Bassoon Consort Frankfurt, their leader and founder is Henrik Rabien, who made the arrangement and plays first bassoon, and who kept the music's original key and just transposed the instruments down an octave.
Four saxophones could probably make the Goldbergs sound pretty swell too, but bassoonists in general, and certainly Rabien's crew proves again the old adage that you don't play the bassoon and not love Baroque bassoon music; the Baroque, you see, was the never-to-be-equalled heyday of the instrument, and it has not enjoyed such splendid notoriety or much celebrity since, aside from Peter and the Wolf.
Like the other famous double-reed players, the oboists, bassoonists know everything about Baroque music. How to sound it, voice it, phrase it, and go to its heart with unerring accuracy. Their return to the final statement of the "Aria," for example, is an unforgettably magic moment out of Shakespeare. And since bassoonists lag far behind the oboe, and even the English horn, in being able to lead solo lives in the 21st century, Baroque is where they tend to specialize.
The players, made up of teachers, students and former members of Rabien's class at the Frankfurt College of Music and Arts, all have lovely, woody, expressive tones, and a whole lot of virtuosic dexterity. Rabien, as you would expect from the master, produces some exquisite crooning notes up high and contributes other extraordinary, totally unexpected lyric licks, and leads a thoroughly seamless, ultimately deeply moving performance. Special praise is due to contrabassoonist Stephan Krings for successfully negotiating some of Bach's fastest low bass passages with equanimitous, nimble clarity. The sound, recorded in the Marienmünster Abbey near Detmold, is exquisite in two channels with a touch more ambient information and welcome warmth in SACD.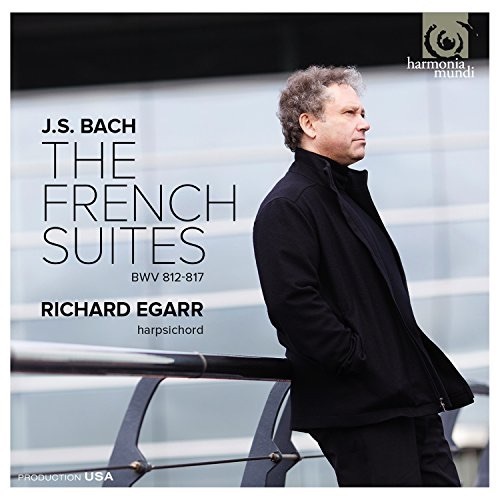 Bach The French Suites. Richard Egarr (Harmonia Mundi)
The harpsichordist is Richard Egarr and the label is Harmonia Mundi so you know the quality of the playing, the sound, the instrument and the presentation are all deluxe. Egarr has outdone himself this time: It's as if he were playing just to have fun, throwing ornaments in whenever he pleases as long as they fit - and contribute to the flow of the narrative. It's so clear, that anyone can follow how much Bach put into every bar, whether you're one of the family members or students who were his inspiration, a music lover, or even a critic.
In my book any CD that begins with Lully's Armide and ends with Handel's Radamisto, with Allegri, Uccellini, Monteverdi, Campra, Sartorio, Corelli, Cesti and Alessandro Scarlatti in between, is a good thing. Which is what Carneval Oriental on the Capriccio label is, played with gusto and delight by L'arte del mondo, a leading HIP (Historically-Informed Players) ensemble, and the Pera Ensemble, a Turkish early music group specializing in music of the Ottoman Empire, conducted by Werner Ehrhardt.
After the final siege of Vienna and the Turkish defeat, when suddenly the Ottoman Empire was no longer a threat, Turkish things became the rage. Pantaloons, caftans and turbans were now worn at the smartest parties, Turkish drinks were appreciated and hookahs smoked. Musically, the Alla Turca fashion found expression in "Turkish" operas like Mozart's Abduction from the Seraglio. Since the early 17th century there were dozens of operas, arias and instrumental compositions on the subject. This CD, which celebrates an idealized musical carnival as it may have been held in the 16th and 17th centuries, combines the talents of the Pera Ensemble, which has been rediscovering these encounters between the Orient and the Occident as well as the turqueries and Alla Turca music for years, with those of l'arte del mondo; the result is Baroque music refined with Ottoman spice.
REAL LIFE. REAL NEWS. REAL VOICES.
Help us tell more of the stories that matter from voices that too often remain unheard.