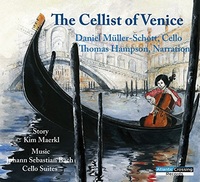 The Cellist of Venice: Story by Kim Maerkl, Music by Bach
Daniel Müller-Schott, Thomas Hampson
Atlantic Crossing Records
This curiously affecting work combines a very sad story by composer, writer and clarinetist Kim Maerkl about a boy and his cello with a lovely ending, illustrated by movements from Bach's six Cello Suites, read by Thomas Hampson. The story takes place in 1725 Venice, about when Bach was writing the Suites, but has no other connection; instead, the story follows the life of a foundling who grows up in an orphanage slash music school, and one day is given the opportunity to perform in a Venetian Palace. Strongly suggested for listening to with the children at whom this aimed, for many of whom it could well be a game-changer in terms of getting them hooked on the cello or Bach or classical music. Beware, however, of the strong emotional impact Bach's music could have in this sentimental tale, on children and adults.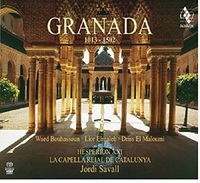 Granada 1013-1526
Hespérion XXI, La Capella Reial de Catalunya, Jordi Savall
Alia Vox 2 CDs and deluxe hardbound book
500 years before Agustin Lara's 1932 song immortalized the Spanish city of Granada, the city and its extraordinary musical life was already immortal on its own. It is all here to read about, and see in Technicolor coffee-table splendor and listen, a sumptuous exploration of Granada illustrated by 500 years of Spanish music played by Jordi Savall and his fabulous Barcelona crew. Underlying all has been Granada's abundant but conflicted encounters between its three monotheistic religions: The succession of the Zirid, Almoravid, Almohad and Nasrid dynasties, Savall points out, their relationship with the neighboring Christian kingdoms and the often precarious situation of the Jews (the first inhabitants of this area) are reflected in this wide musical fresco, in which each culture displays its own characteristic refinements. Very close and very remote simultaneously.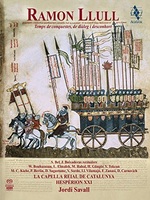 Ramon Llull: Era of Conquest, Dialogue, and Exhortation
Hespérion XXI, La Capella Reial de Catalunya, Jordi Savall
Alia Vox 2 CDs and deluxe hardbound book
Earlier this year, Savall and forces recreated the time and performance art of Ramon Llull, a 13th Century Catalan philosopher, logician, author and Catholic missionary. A member of the Third Order of Saint Francis, Llull was stoned in Tunis, and died a martyr at sea before reaching Majorca, where he was buried. Charges of confusing faith with reason led to the condemnation of Llull's teaching by Pope Gregory XI in 1376. In the 19th century, however, the Roman Catholic church showed more sympathetic interest and approved of his veneration. while attempting to convert Muslims in North Africa and he was later beatified for his work by Pope Pius IX. He is also credited with writing the first major work of Catalan literature. This similarly sumptuous double SACD and hard-bound book documents Llull's travels, musically speaking, across the Mediterranean Sea. No one knows if Ramon Llull was himself a musician, but he wrote poems about the meaning of life in mystical, non-verbal, magical way that deserved then, and now, to be sung as only Savall can so fantastically conjecture.
Concurrently, Verve (formerly Universal) Classics has re-issued Savall's only recording for Archiv: from 1982, it presented a splendid panoply of the usual battle (tremendous heroic) and lament (second thoughts) music by known (Giovanni Gabrieli, Barbara Strozzi, Jacopo Peri and Anon) and unknown (Padovano, Usper, Chilese and Fontei). It's spectacular raw playing, exulting in the first thrills of recreation; it features, in addition to all the superb instrumentalists, Savall's wife, the soprano Montserrat Figueras, at the height of her vocal glory. It's all here, exultant to mournful, and in between. You also get a very browsable 92-page Archiv catalog in a faux coffee-table slipcase.
Extraordinary stuff here, achingly personal and exquisitely lyrical, selected from the music and poetry of numerous persecuted and exiled minority cultures that flourished throughout the Mediterranean and South America during the 17th century; and while the various musical influences are entertaining with their evocations of a broad swath of world musics from three centuries past, the performers are using the music to express experiences of displaced communities that are relevant today. On a purely artistic level, what makes these ancient reflections on beauty, love, joy and sorrow so profoundly expressive of basic human feelings and needs is Yaniv d'Or's haunting, vulnerable countertenor, backed by a folkish Baroque instrumental backdrop that suggests a Fellini fantasy.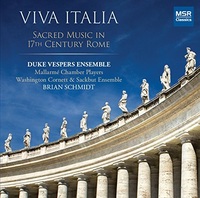 Viva Italia - Sacred Music in 17th Century Rome
Dukes Vespers Ensemble, Mallarmé Chamber Players, Washington Cornett & Sackbut Ensemble
MSR Classics CD
Durham's very excellent Duke Vespers Ensemble, with the help of equally accomplished colleagues, show a healthy bright-eyed enthusiasm and world-class skills in music by 17th century Roman composers Giacomo Carissimi, Marc-Antoine Charpentier, Tomás Luis de Victoria, Giovanni Pierluigi da Palestrina and Giovanni Felice Sances, including one world premiere. The Ensemble consists of members from the Duke and Triangle communities, presenting primarily early music concerts, although they have ranged as far as the Boston Early Music Festival in 2013 and 2015. The colleagues are more than collegial. Both the Washington Cornett and Sackbut Ensemble, a collective of historic brass instrument specialists based in the nation's capital, and the Durham-based Mallarmé Chamber Players are both distinctively American, world-class. Recorded at the Duke University Chapel where the Vespers Ensemble is based, the sound is healthy, clear and bright.
Related
Popular in the Community