Live and unplugged is the closest way to describe the sound of the newly released CD, As Long As There Are Songs by Stephanie Blythe and pianist Craig Terry. Recorded in the Pearson Theatre at the Berkeley headquarters of Meyer Sound and using its much-acclaimed digital system, Constellation, the CD provides an "In Person" experience that is virtually miraculous. As a fan of non-amplified solo recitals, the sound environment of this recording is like sitting in down-center Orchestra in a world class concert hall and having eye-to-eye contact with an artist whose big guns vocals penetrate clear to the soul.
The CD's fifteen tracks consist of popular standards and titles from what is now being termed the Great American Songbook. Generally referring to popular standards of the early 20th Century and including composers from the latter half who wrote in a similar vein, Stephanie Blythe's song list includes enduring hits by Harold Arlen, Irving Berlin, Jerome Kern, Harry Warren and more. Says Stephanie, "I love singing this music because it connects me to the audience in an immediate way. I think, as a culture, there is always the need for nostalgia."
Far from notions of unrequited longing for the "Old Days" -- Stephanie Blythe and Craig Terry direct the term nostalgia over to popular singers with powerful, sizzling vocal chops who never really needed a microphone -- Then or Now -- in order to be effective and present, even to the last person in the last row of the last balcony in the standard size theaters where the songs were introduced.
I recently visited Meyer Sound and had a first-hand experience of Constellation's electro-acoustic technology in the company's 60-seat Pearson Theatre, essentially a multi-purpose room with raked seating. As Long As There Are Songs was recorded in here. John McMahon, the company's Executive Director of Digital Products, demonstrated samples of the system's sound environments -- all of which are based on a formula that calculates desired reverberation time in relation to the cubic space of a specific room or theater and the absorption factors of its architecture and interior embellishments. Because our focus was on Stephanie Blythe, I recalled my experiences of her at San Francisco's War Memorial Opera House.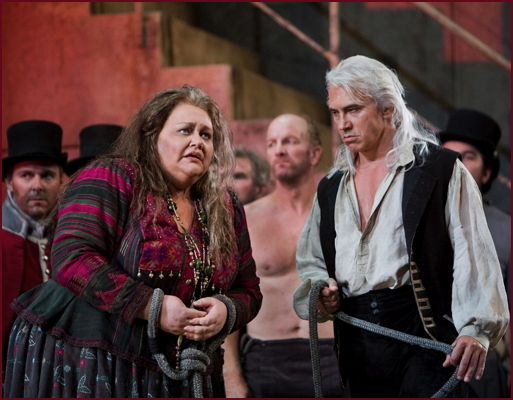 Stephanie Blythe (Azucena) and Dmitri Hvorostovsky (Count di Luna) in Verdi's Il Trovatore. San Francisco Opera. Photo, Cory Weaver
I sat in the orchestra section when she sang in Verdi's Requiem and then the following season as the crazed gypsy, "Azucena" in the spectacular Gala Opening of Il Trovatore. Stephanie Blythe is truly unforgettable. The War Memorial has an enormous proscenium arch, three balconies, carpeted floors, velvet-covered seats, and a sell-out capacity for 3,346 including 200 standees. The house has its acoustical challenges and not everyone hears the same thing the same way. Still, a vocalist of Stephanie Blythe's caliber registers throughout, even when the orchestra is enlarged for the operas of Wagner. I asked Mr. McMahon if I could get on the Pearson stage and croon with Constellation myself.
So I called up a few of my own vintage favorites -- titles from the late '30s made famous by the Ink Spots and tenor Allan Jones. Constellation's flexible acoustics include Cinema which has a reverberation factor of 0.4 seconds; Jazz Band with 1.2 seconds; Pipe Organ or Chorus, 2.5+ seconds, etc. What mode would work best for me?
"You need very dry acoustics for Cinema," said John, "because you just need to hear what the sound designer for the particular movie is providing you. For Amplified Theatre & Music, the room needs a little life, but not too much because it gets in the way. But if you are doing music for Pipe Organ or Chorus you'll want a longer reverberation time - greater than two and one-half seconds. So, it's a very wide range. The Pearson Theatre is designed to be about .6 seconds reverberation time. When I'm speaking in a dry room I feel like I have to try really hard and that my voice just falls to the floor. So we actually have this spoken Q&A mode which adds some reflections and brings a sense of presence."
With my past history of being a cantor, I asked for the mode that would replicate the sense of distance I experienced in large churches and cathedrals with vaulted ceilings. With Constellation, that mode is appropriately named Sacred Space which has a reverberation factor of 2.8 seconds. I took a deep breath and burst into song. The sound was totally familiar, but the effect was too lofty, too detached for a popular tune and my intimate audience of five. John then turned Constellation off so I could experience the inherent sound of the room. His description of "dry" is absolutely correct. It is a singer's worst nightmare. The sound seemed to travel no further than the end of my nose. We finally settled on a reverberation factor of 1.8 seconds. The resonance in my head was in-sync with its acoustical reflection in the room. The experience suddenly clarified all of John's technical lingo. Turns out, Stephanie and Craig had chosen a similar setting.
"I could not believe how personal and intimate it felt," said Stephanie about her own experience of making the recording and then listening to the finished product. "That is the most exciting thing. The sound of the disc is a perfect reflection of what we experienced -- in the moment, in the room."
Among my favorite tracks is the very familiar classic, "Bei mir bist du schön." Composed by Sholom Secunda in 1932, its original Yiddish lyrics were re-worked by Sammy Cahn and Saul Chaplin after they acquired the rights to the piece in 1937. The team then engaged the Andrews Sisters to record the revised version which turned into an overnight sensation, went gold, and has proven to be one of the group's signature tunes. Stephanie and Craig's rendition of "Bei mir bist du schön" (pronounced "shayn") is fresh, red-hot, in your face, with a soft left on the kinky side of the street. This girl is on fire! She's got your number and her bump 'n grind is for your eyes only. "I've wracked my brain," she sings, "I've tried to explain" -- that being, how to define / how to reveal the smoldering undercurrents within the title. But out here -- in the acoustical wonderland of Meyer Sound -- the meaning is crystal clear. As lyricist Sammy Cahn puts it: "You're the fairest in the land!"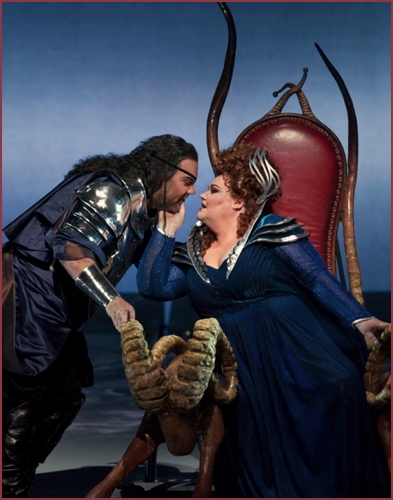 Bryn Terfel as Wotan and Stephanie Blythe as Fricka in Wagner's Die Walküre. Photo, Ken Howard/Metropolitan Opera
Additional tracks include: Please Be Kind (Sammy Cahn) • Serenade In Blue (Harry Warren) • The White Cliffs Of Dover (Walter Kent) • Look For The Silver Lining (Jerome Kern) • Always (Irving Berlin) • Love (Hugh Martin) • Any Place I Hang My Hat Is Home (Harold Arlen) • How Deep Is The Ocean (Irving Berlin) • The Man That Got Away (Harold Arlen) • The Thrill Is Gone (Lew Brown) • Wrap Your Troubles In Dreams (Harry Barris) • When You Wish Upon A Star (Leigh Harline) • This Is All I Ask by (Gordon Hill Jenkins). Click here to order on-line.
Popular in the Community