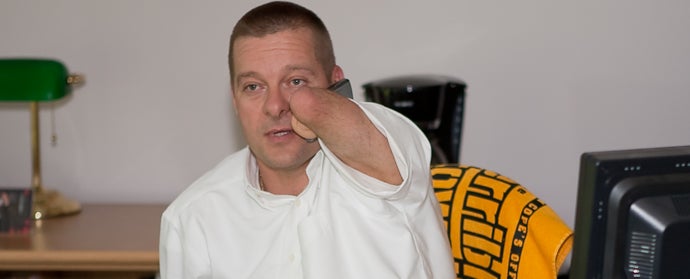 Yet our electorate accepted this, validating what many of us already feared—that we are a truly divisive country. Behind the curtain of 'group-think,' we find it easier to hate those of us that are different. Different in culture, look, appearance, race and sex. It's easy to hate.
But when you meet with an individual one-on-one you see the person inside, despite what may be some obvious differences. You see the spark and the shine of loving one's country, family and self. Whether or not you are male or female, gay or straight, able or not, you see individuals strive and support one another.
Do we accept the Lord of the Flies mentality? Or do we challenge others to see the humanity within all of us? I choose the latter. It's time to fight. It's not time to bitterly complain or, worse, quit. And that fight begins within our own community of people with disabilities.
I don't see doom and despair. I see an amazing opportunity before all of us. At this transformative time for People with Disabilities, we can get angry at an electorate that nominates a President who openly shows disdain for people with disabilities; or, we can take this opportunity to grow. All too often in this country, we have hidden our disabilities, shunned and shut out individuals with disabilities from employment, education and elected politics. All too often in advocating people with disabilities, different groups among us show their true nature by disagreeing with one another. My disability is different than yours, so my group is more important. Nonsense. That is the same mindset that gets us disagreeing and arguing rather than working together.
What does leadership look like? It is working together as advocates for people with disabilities around this country to show that we will succeed. We will promote the ability within all of us to become more educated, find meaningful careers, and families. We build up the dreams within others with disabilities and support the fulfillment of those dreams. We will support the leadership of people like Senator-Elect Tammy Duckworth and other People with Disabilities who want to lead this nation (Duckworth 2020 is trending on Google) We must open the doors of group homes and sheltered workshops to include people with disabilities in mainstream life, inclusive of education, employment and politics.
We can look at this as a step back. Some of us in the community of people with disabilities may feel that there will be less opportunities under a Trump-led government. Maybe programs will be cut in the next four years. I choose to look at this as an opportunity. What should we do?
Here are three things that immediately come to mind:
2. Work with other like-minded groups. We are stronger together and by working with other advocacy groups, especially in the disability community, we will have a louder voice. One of six people in this country have a disability—that is strength in numbers! Let's show it.
3. Demand from our political leaders protection of our civil rights. Republican and, especially, Democratic leaders need to receive our phone calls, emails and tweets. I say especially Democrats because it will be very easy for them to throw their hands in the air and say "not me." Yes, they are elected and need to be our strongest advocates. One of six constituents for any given political leader is a person with a disability. We must remind politicians of this fact.
People with disabilities are harder working, more loyal and dedicated and provide a higher return on our investment in us. President-Elect Trump says he wants to create jobs in America. Then what better way to support employment outcomes for people with disabilities by building upon the Employment First initiative.
There is not one of us in the advocacy of people with disabilities who should disagree with building employment opportunities. For it is employment that drives our educational growth and in turn provides us with the opportunity for leadership in society, our economy and our political structure.
Often, I have talked about the obstacles I face as a quadruple amputee. I have always decided to look at my difference as an opportunity. I implore us today to look at this election as an opportunity to see the humanity within ourselves individually; to understand how divisive our country feels at this time and to embrace the opportunity to educate all of the United States— and the world—that we need to come together to support one another.
Calling all HuffPost superfans!
Sign up for membership to become a founding member and help shape HuffPost's next chapter
This post was published on the now-closed HuffPost Contributor platform. Contributors control their own work and posted freely to our site. If you need to flag this entry as abusive,
send us an email
.