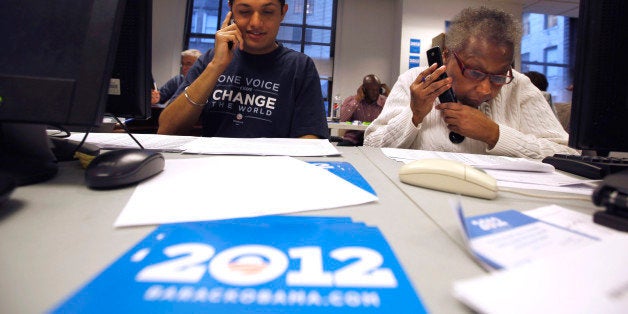 WASHINGTON -- The embattled head of a major progressive grassroots organization is being eased out of his position, amid major financial and organizational restructuring and repeated calls for his resignation.
Ethan Roeder, executive director of the New Organizing Institute, will leave his post by this summer. His departure was announced Monday by the organization's co-founder and board chair, Judith Freeman, in an email to supporters that was shared with The Huffington Post.
Roeder served as data director for both of President Barack Obama's presidential campaigns, and NOI has been at the forefront of data and digital operations for many Democratic campaigns and progressive groups. But under Roeder's leadership, NOI has faced significant financial hurdles, and many staffers have expressed frustration with his management style.
Tensions came to a head in February, when eight senior staffers and several other employees left the organization, citing deep concerns about Roeder's decision-making and fears that NOI was moving away from its core mission. They had issued an ultimatum to the board of directors: If the board didn't fire Roeder quickly, they would leave.
"I know that all the people who left really love NOI and they were doing what they thought would help NOI," Freeman told HuffPost in an interview Sunday evening.
"The departures of a large number of our staff in February was a painful and public failure for myself and the organization. I regret that I didn't take swifter and bolder action to avert the financial and management crisis that precipitated it," Roeder told HuffPost in an email. (Read his full note below.)
To address the problems in the wake of the mass staff departures, the NOI's board brought in The Management Center, a management consultancy, to assess the state of the organization and recommend changes. At the time TMC was hired, the board publicly stood by Roeder's leadership, but the firm's assessment concluded that many of the organization's shortcomings were directly linked to Roeder.
Following the report's recommendations, "the board has accepted Ethan Roeder's decision to transition out of his current role as Executive Director," Freeman wrote in her email.
Freeman said Sunday that a collapse in the organization's finances coincided precisely with increasing staff unease. "We could've handled part of it, but handling both under this ultimatum was difficult. We just had to make very unpleasant decisions that were unpleasant for everybody involved," she said.
In addition to parting ways with Roeder, NOI plans to focus its efforts on restoring the financial stability of the organization, including attracting more donors, according to Freeman's email. Internally, it will expand its board of directors to include members who are experienced with financial planning and strategy, and will also set aside an emergency fund.
Roeder has been at the helm of the NOI since 2013. He previously served as the organization's director of data and technology during the years between Obama's two presidential campaigns.
The NOI's reach extends to numerous Democratic campaigns and left-leaning organizations: Alumni of NOI programs and trainings have gone on to lead digital operations at groups like Planned Parenthood, the AFL-CIO and Greenpeace. NOI is also famous for hosting RootsCamp, an annual gathering of progressive organizers and activists. Sen. Elizabeth Warren (D-Mass.) delivered the keynote address in 2013.
Read Roeder's full email:

My time with NOI has been a wild and wonderful journey that began in 2009. Many of the core programs that now power the progressive movement were born in the petri dish of NOI: RootsCamp, Data and Digital bootcamps, biennial voter registration research, free and comprehensive election data that is used by tens of millions of voters each cycle. For all of the successes of NOI, there have been just as many false starts and blind alleys. Such is the nature of a cutting-edge organization willing to take risks in the pursuit of innovation.

I'm so proud to have been able to take part in many of NOI's successes; I'm humbled and wiser because of the failures, too. The departures of a large number of our staff in February was a painful and public failure for myself and the organization. I regret that I didn't take swifter and bolder action to avert the financial and management crisis that precipitated it.

As of today, NOI is on stable footing and well-positioned to continue to deliver the technically-focused trainings and community-building programs that are at the core of our mission. This turnaround is thanks largely to the sustained confidence and support of our funders, the incredible hard work of NOI's staff and board of directors, and the countless hours of volunteered time from members of the NOI community who never stopped believing in the purpose of the organization. NOI's community is our lifeblood, and this supply is pumping strong.

Finally, on a more personal note, I owe a great debt of gratitude to NOI's co-founder and Board Chair, Judith Freeman, who set aside all of her affairs at the drop of a hat and traveled clear across the country in order to work by my side for two full months, here in DC, to help settle the organization's finances and stabilize our programs. Were it not for her extraordinary commitment both to my success and to the success of the organization, I surely would not have been able to right the ship as quickly or with as much success as we have achieved. Judith, along with our entire board of directors, remain committed on a daily basis to leaning into any challenge that the organization faces. I have complete confidence in their oversight, and am very excited to work with them in the coming months to conduct an open search for our next Executive Director.
Sign up below to get my quasi-newsletter in your inbox. I send it a few times a week. You can read back issues of it here to see what you're getting yourself into.
Calling all HuffPost superfans!
Sign up for membership to become a founding member and help shape HuffPost's next chapter
BEFORE YOU GO
PHOTO GALLERY
Inauguration 2013