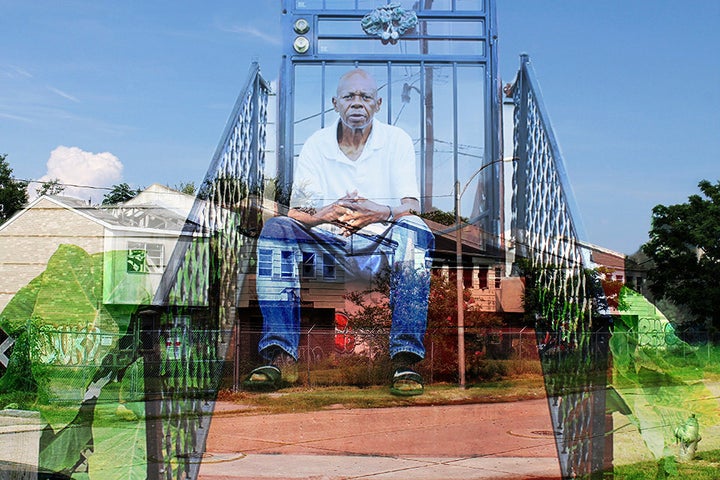 NEW ORLEANS — Eleven years after Hurricane Katrina, abandoned, flood-damaged homes with shattered windows, buckled walls and crumbling rooftops can still be found throughout New Orleans' 9th Ward.
The blighted houses are constant reminders of the storm that claimed nearly 2,000 lives. And they're an eyesore to residents of the predominantly African-American neighborhood near the heart of the historic French Quarter.
And now, long after these fetid structures were abandoned, they're threatening the health of nearby residents, with disease-carrying vermin that have taken up residence and air that spreads toxic mold, mildew and the stink of decay.
"We're getting sick from inhaling all this stuff," resident Roger Lewis Sr. told The Huffington Post.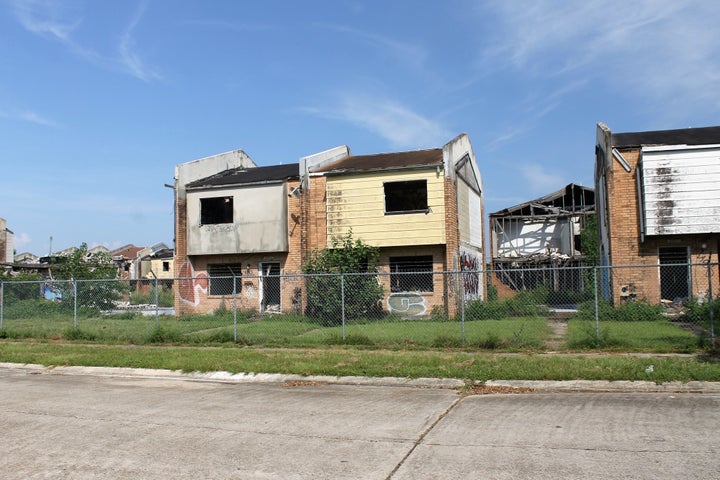 Lewis' home is in Gordon Plaza, a subdivision developed by the city in 1981. It's a suburban swath of neat, single-family brick homes surrounded by well-manicured lawns.
Just across the street is Press Park, a 237-unit housing complex built in the 1970s. The streets of Press Park are pockmarked with the remains of flood-damaged homes, which look much as they did after Katrina's floodwaters engulfed the area more than a decade ago.
Loveice Stewart, who grew up in the Upper 9th Ward and now rents a home there, said he's dismayed by the blighted houses and the overgrown streets littered with garbage and discarded tires.
"This area in the 9th Ward has been totally neglected and no one seems to really care," Stewart said.
Stewart, a 63-year-old retired trucker, blames that disregard for strokes, seizures, breathing difficulties and other ailments he and his neighbors say they've suffered.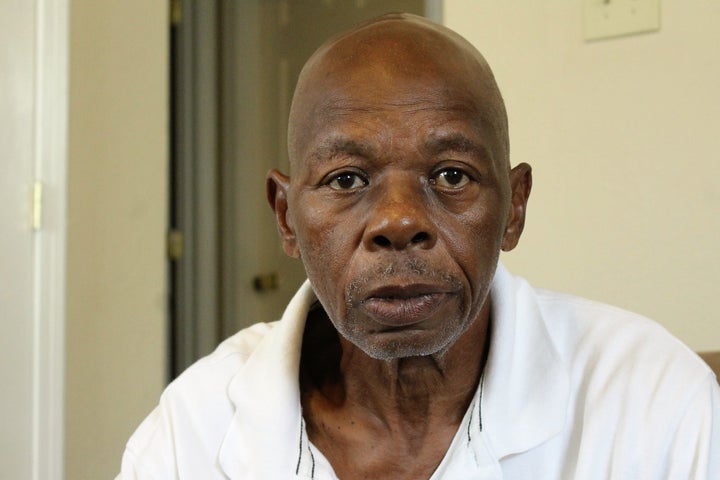 "The mold and stuff, it's still here, trust me," Stewart said. "You can smell it in the air. It bothers me. If I had the money, I'd get the hell out of here and take my family with me. It's affecting our bodies."
Jesse Perkins, a city Sewage and Water Board employee, lives down the block from Lewis. His house is cater-cornered from what was once the Gordon Plaza Apartments, a 128-unit, low-income complex that housed mostly elderly residents. Shut down after Katrina, a vast majority of the apartment buildings look as they did after the floodwaters receded.
Perkins, who moved into the neighborhood in the 1980s, evacuated before Katrina made landfall. He returned two months later.
"We came back because the city urged us and encouraged people to come back and help rebuild," Perkins said. "But I don't think the city has done all that it can do to help accommodate all those people that actually came back. Especially in this neighborhood.
"We are the forgotten people."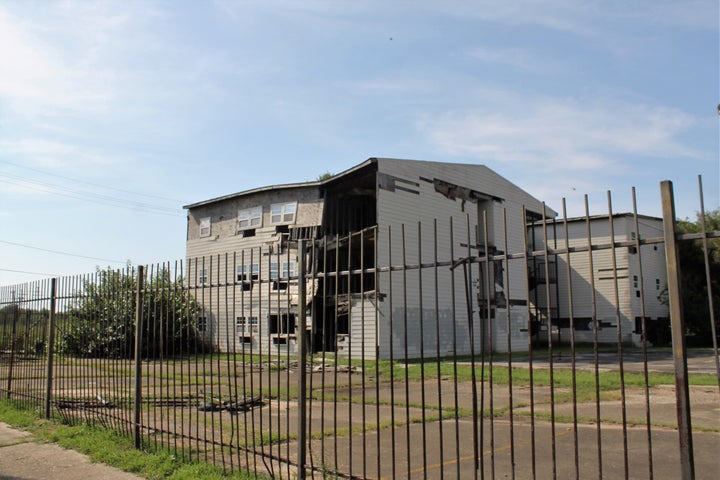 Visitors notice the stench of mold and decay in the air around the Gordon Plaza Apartments right away. Residents like Perkins say they're so accustomed to the smell that it doesn't register anymore.
"Though we cannot see it with the naked eye, those houses have mold spores constantly circulating into the air," Perkins said. "I have major concerns, because we don't know how it's affecting our health. We really don't."
A U.S. Environmental Protection Agency spokesperson said breathing mold spores "can be a trigger for asthma attacks." Beyond that, there are no known concerns, according to the EPA. The agency is not monitoring mold levels in the area.
Jack Dwayne Thrasher, an immunotoxicologist and former professor at the University of California, Los Angeles, said he disagrees with the government's assessment and said the problem could be serious.
"The bacteria and mold produced inside of these damaged homes and buildings produce nanoparticles," said Thrasher, who has been an expert witness in court cases involving toxic exposures.
According to Thrasher, nanoparticles contain dangerous toxins that prevailing winds can carry out of the flood-damaged structures. There's "no doubt" nearby residents are exposed, he said.
"Everybody is missing what role the innate immune system is playing in this," Thrasher said. People exposed to the toxins "can have chronic health problems from chronic stimulation of the innate immune system, which will continue to produce what we call pro-inflammatory cytokines. So you can develop a number of health problems related to systemic inflammation."
Those health problems, Thrasher said, may include headaches, respiratory disease, kidney disease, liver disease and possible neurological damage.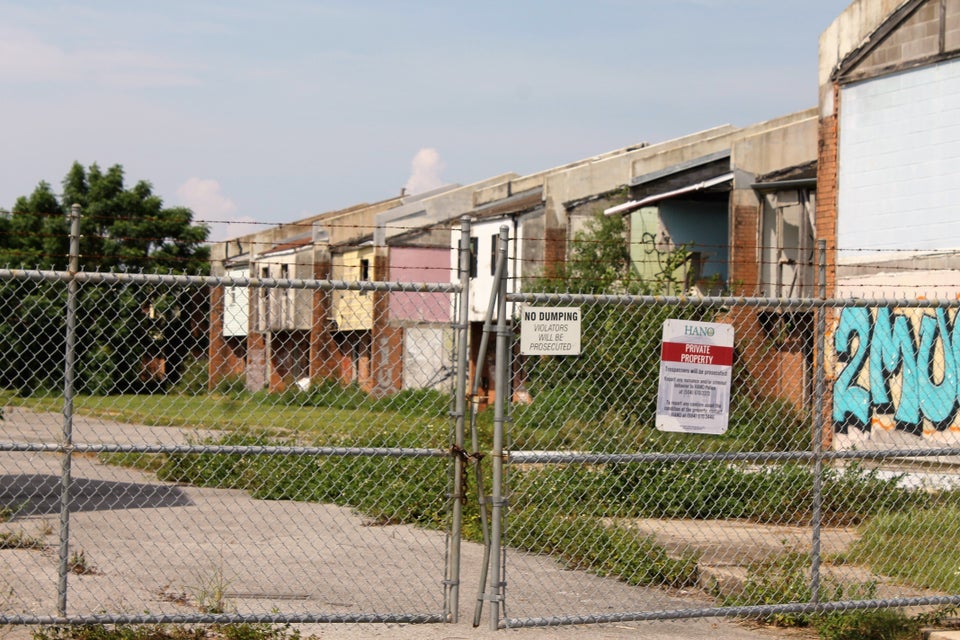 The 'Forgotten' 9th Ward
Nanoparticles, he explained, contain allergens and mycotoxins that can attach to parts of the nose and lungs and eventually infiltrate the bloodstream.
As scary as these potential problems are, they are not the only concern for residents of the 9th Ward.
Years before Katrina, residents learned that Gordon Plaza, a portion of Press Park, and nearby Moton Elementary School were built atop an old, 95-acre landfill. The EPA found that a 20-foot-deep underground layer was filled with industrial waste, including 49 cancer-causing chemicals. In 1994, the federal government declared the area a Superfund site.
"My parents had bought one of those homes because they thought it was a good deal," Stewart said. "We played on that dump not knowing there was stuff there that was affecting our bodies. I have a sister, she's 59 years old and she has lung cancer. I have an older brother who passed in 2005 and he had lung cancer."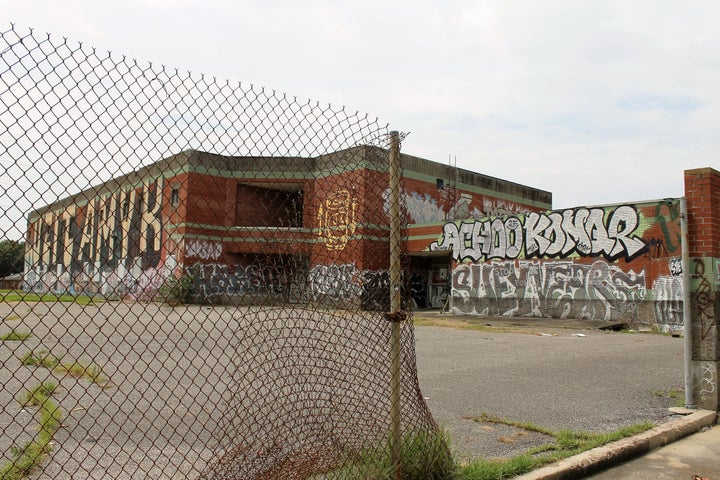 The elementary school was ordered closed in 1994, but the building remains standing. While the EPA took steps to partially excavate contaminated soil — a $42.8 million undertaking — homeowners petitioned for the government to buy them out so they could move. A class-action lawsuit was filed against the city, the housing authority and the school board.
Some residents received minor reparations from insurance companies, but litigation is ongoing. The site remains on the federal government's Superfund list.
"We've been double duped," Perkins said. "We got the screws from the landfill — they're still cautioning us not to dig or grow vegetables — and we got the screws from Hurricane Katrina and the spore-filled air we're all forced to breathe in because the city won't tear these places down."
In the years since Katrina, the New Orleans Housing Authority has demolished 154 townhouses in Press Park and erected fences around dozens of abandoned units still standing.
Louisiana's conservative property laws have made it difficult to tear down blighted structures ― in the Upper 9th Ward as well as in other parts of New Orleans, said Jeff Hebert, the city chief resilience officer. He said state law tangles city officials in red tape by requiring them to deal with each blighted property individually.
"There is a [lengthy legal] process we have to go through to either demolish or put them up for sale," Hebert said.
As for potential demolition of Press Park, Hebert said, "We can't comment on any of that. It's in open litigation with our city attorney."
The Rev. Willie Calhoun Jr., a community activist, said he's not satisfied with the city's explanation.
"For 11 years we've been given multiple excuses why these buildings still stand," Calhoun said. "Simply put, this area is not a priority to them and it's unfortunate. There's no reason kids should be out here breathing in the toxins of this area. Without any type of remediation in this area, those mold spores are going to constantly stay in the air. People should not have to live like this."
Johnny Jackson, a former city council member and lifelong 9th Ward resident, said Katrina's 11th anniversary spotlights the failure.
"Hurricane Katrina was a natural disaster, but what is happening to us in the aftermath of the storm is a man-made disaster," Jackson said. "It is unexplainable and inexcusable."
CORRECTION: An earlier version of this report mistakenly identified Moton Elementary School as Morton Elementary School.
Popular in the Community