Upon booking my first trip to New Orleans, Vogue promptly landed on my doorstep. There, before my very eyes, was a whole page dedicated to the style of New Orleans, or in my case: What To Pack. (Cue angels singing from above.) Vogue inspired colorful dress and vibrant prints suitable for the warm weather and bright street culture.
Packing list:
Vintage Albert Nippon floral sundress, for day strolling
Sunglasses
Neutrogena Dry Touch SPF 80
Marni sun hat
H+M (Balenciaga knock-off) chintzy mini dress
Alexander Wang cropped leather jacket
House of Lavande diamante cuffs (take that, mardis gras beads!)
Shanghai Tang multi-colored sequin cocktail dress
Martine Sitbon turquoise mesh stiletto sandals
Neon beaded Lulu Frost necklace
Cecelia stingray clutch
Camera (Leica point + shoot)
Black Louboutin ballets
Sergio Rossi strappy flat sandals
A Man in Full by Tom Wolfe to read on the plane (takes place in the South)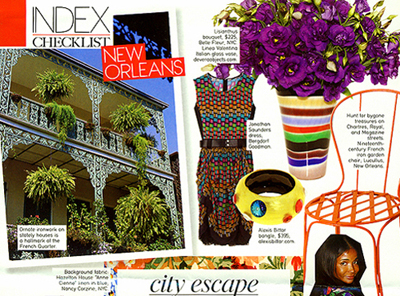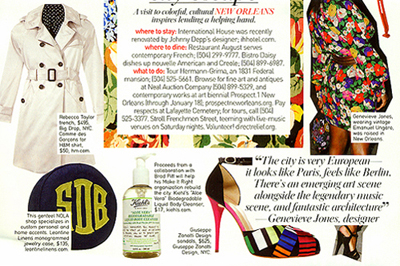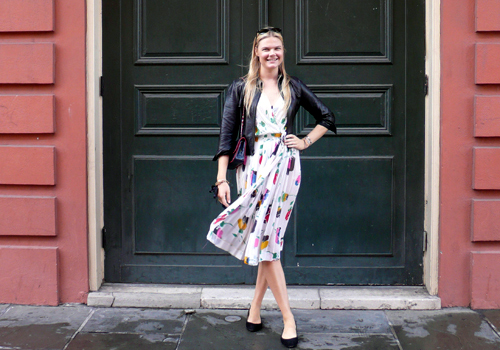 Upon landing, my driver fetched me with his soft Southern drawl and chivalrous grace (gladly). What I found was a lovely finally! feeling for wearing color and a bit of shimmer in The Big Easy. I love to wear brights (and even unexpected neons) but even I can get discouraged sometimes in the cool blue of winter. It fits right in with the bright yellows, red and blues of the fabulous architecture, intricate balcony ironwork (and the ferns and flora over which they drape) and easygoing yet spirited lifestyle. I worried less of being overdressed or wearing too much color, than I do the grey cement gardens of NYC. A relevant fashion metaphor might be drawn to their culinary culture: seasoned, saucy, and spicy.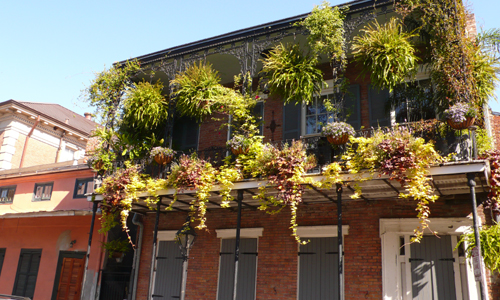 In 2005, I had witnessed, along with the rest of the world, as much of the city flooded in Hurricane Katrina, sucking down the cultural spirit along with it. But this was not the New Orleans I saw today. The New Orleans I experienced was a city rebuilt, and more radiant than ever, full of hope, passion and bustling with artistic energy (Prospect.1) It was fashionable, lively, boozy, woozy, fun and colorful! I hope this inspires you to visit because New Orleans needs you more than ever. NOLA welcomes you!
The Best Places to Visit When You're There:
Prospect.1 New Orleans
http://www.prospectneworleans.org/
[P.1] is the largest biennial of international contemporary art ever organized in the United States, in museums, historic buildings, and found sites throughout New Orleans.
Café du Monde
1039 Decatur Street New Orleans, LA 70116
1-800-772-2927 Monday - Friday 8:30am - 5:00pm
http://www.cafedumonde.com/
Breakfast - dine on their famous beignets, coffee and orange juice.
Situated at the head of Jackson Square as hoarse drawn carriages trot by.
The Big Easy is about indulgent excess, and going all the way, even with breakfast.
Soniat House
1133 Chartres Street, New Orleans, LA 70116
Phone 504 522 0570
Phone (Toll Free) 800 544 8808
http://www.soniathouse.com/
Photo-op heaven! Quiet coutyard feel like Europe. New Orleans' smallest luxury hotel in the romantic French Quarter...it's the hotel you dream of discovering and New Orleans's answer to a Relais & Châteaux. The Soniat House is comprised of three historic townhouses, with balconies and secluded courtyards. Unique, charmingly furnished guest rooms with period antiques in rich colors and luxury fabrics, Egyptian cotton bedsheets and goosedown pillows. The Chateau Marmont of Nola.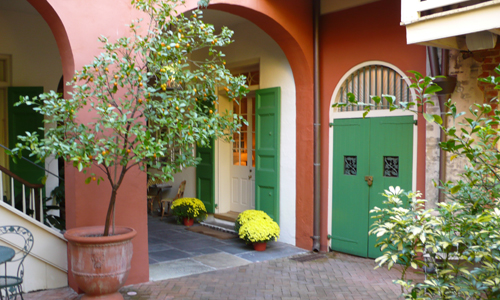 Lower Ninth Ward, Prospect.1
http://www.prospectneworleans.org/
The site specific artwork from P.1 is amazing on it's own, but what makes it most spectacular is the fact that it literally draws you into parts of the city that were the most catastrophically devastated by Katrina. This was the most flooded and destroyed area in Katrina. Today it feels like a vast, overgrown, urban field. Some houses have been rebuilt (we saw some of Brad Pitt's), but mostly there are earily quiet, abandoned lots, dilapidated homes destroyed by the hurricane, and a few cars and people. Prospect.1 made this a hub of site-specific artwork, drawing thousands of visitors. Los Angeles artists Mark Bradford built a giant wood ark made of salvaged plywood from local homes [PHOTO P1000754.JPG]. A Diamond Is Forever had generously sponsored this, along with many of the artists and sculptures for Prospect.1. We also saw a public restroom that was turned into a fountain by artist Robin Rhodes. An installation by Wangechi Mutu began as a housing lot decorated with strung Christmas tree lights that mimicked the structure of the owner's would-be home. The work was hanging directly above a shoddy foundation where builders had actually absconded with the insurance money to rebuild a real house. Devastating.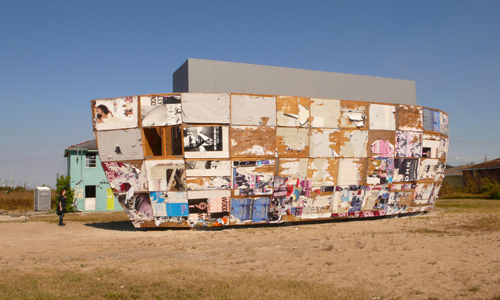 New Orleans Mint
1123 La Salle St
New Orleans, LA 70113
(504) 522-3048
The Old U.S. Mint features art work from across the world as a key venue in the largest biennale in the United States.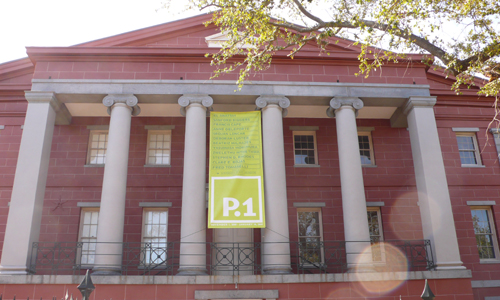 What Remains: Photographs by Sally Mann
Ogden Museum of Southern Art
925 Camp St., 539.9600; www.ogdenmuseum.org
Internationally acclaimed photographer Sally Mann's What Remains expo features subjects that range from human skeletal relics and the death of her beloved pet greyhound, Eva, to a series dealing with the suicide of an escaped convict on the grounds of her family home. She is a favorite photographer of mine and this is a rare and wonderful chance to see her work. Through December.
Antoine's Restaurant
http://www.antoines.com/
RESERVATIONS: 504-581-4422
Antoine's Restaurant • 713 Rue Saint Louis • New Orleans, Louisiana 70130
This place is an old-school favorite, where we were served a 16-course tasting menu of southern Creole Cajun food, gumbo, a local drink called a "Hurricane," and Sazerac punch. Very creamy, spicy, and seafood-heavy. So saucy, all you need is a spoon;You barely use your knife and fork.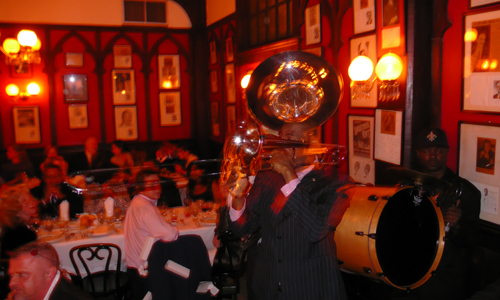 Garden District
Stroll down sunny Coliseum Street, lined with gorgeous Georgian mansions, each one grander and more eccentric than the next. The architecture combined with the installed art, the ornate gold chandeliers, and aristocratic oil paintings was just divine in a patina-ed, bit-of-rusting-grandeur kind of way. What is perfection about this neighborhood is how un-perfect and beautifully rambling it truly is. Mark Twain lived in this house.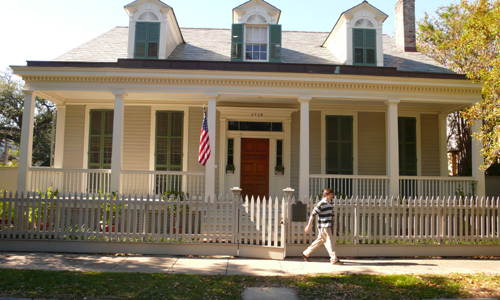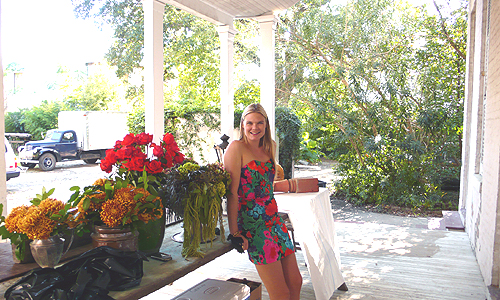 Commander's Palace
1403 Washington Avenue
New Orleans, Louisiana 70130
at the corner of Coliseum Street in the Garden District
1-504-899-8221
Consistently ranked as one of the best in the country, I fed on the biggest raw bar I'd ever seen: a small boat filled with crabs, shrimp, oysters. There was also a suckling pig, fish with candied pecans, truffle-infused eggs over buttered biscuits, and corn cakes with caviar. Oh la la! Every southern delicacy you could imagine.

Popular in the Community