Yes New Orleans, Louisiana is steeped in history, culture, fine arts and friendly gregarious people. And all those ingredients seem to peak every April when the New Orleans Jazz & Heritage Festival takes center stage. Thousands of music lovers sojourn to a city that already has a rhythm all its on. Wine flows, tasty food is served, the sidewalks are crowded, nightclubs jump and music fills the air.
The Big Easy Has Big Music
Music is New Orleans magic elixir. It's everywhere. Musicians serenade you on sidewalks, street corners, in restaurants, at hotels ... It is no wonder that the city has created arguably the nation's most celebrated musical soiree, the New Orleans Jazz & Heritage Festival. Started in 1970 with Mahalia Jackson and Duke Ellington at Congo Square near the French Quarter, it now has relocated to Fair Grounds Race Course, the third-oldest racetrack in America (circa 1872).
The fest runs the last weekend in April and the first weekend of May and features local bands, international artists and music legends who perform on so many stages you can barely count them. The Acura stage presents pop music greats and legends: Maroon 5, John Mayer, Billy Joel, Dr. John, and Allen Toussaint. Gentilly hosts rock acts: Ben Harper, Gary Clark Jr., and Patti Smith. Congo Square presents soul acts: George Benson, Earth Wind & Fire, and Jill Scott. There's a Gospel Tent, Blues Tent, Jazz Tent, Kids Tent, a Pavilion for Native American Music ... The liveliest venue is the Sheraton's Fais Do Do stage, which features French Canadian Roots music and other Americana styles (Le Vent du Nord of Canada, Terrence Simien & the Zydeco Experience with special guest Queen Ida). It's the one place where people dance all day.
Crowds also flock here for the food. You'll find collards greens, fried chicken livers and chicken wings at Praline Connection's stand. Kajun Kettle's famous Crawfish Monica dish has been a festival staple for 30 years. Chef Pierre Hilzim created a spicy cream sauce, tossed it with pasta and crawfish tails and named it for his wife, Monica.
Eat Till You Can' Lift Your Fork!
If music is the city's elixir, food is its aphrodisiac. Brennan's Restaurant, a near 70-year-old grand dame eatery, is famed for its elaborate brunches and inventing the pyrotechnic dessert Bananas Foster. Start breakfast with a sublime Brandy Milk Punch, followed by New Orleans Turtle Soup, Eggs Hussarde (Poached eggs atop Holland rusks, Canadian bacon and Marchand de Vin sauce. Topped with Hollandaise sauce). Finish with Bananas Foster, bananas sautéed in butter, brown sugar, cinnamon and banana liqueur, and then flamed in rum. Served over vanilla ice cream. Dickie Brennan's Steakhouse, headed by master chef Alfred Singleton, serves the city's best beef (iron skillet-seared strip steak, oven-baked prime rib, grilled Ribeye), but that's only the beginning: For appetizers Seared Crawfish Cakes; then hearty Seafood Gumbo; move on to the Creole Seasoned Sirloin Strip; end the night with the signature Coconut Cake.
Arnauds favors Creole and traditional New Orleans cuisine. Taste the Alligator Sausage, then the Veal Wohl, it's a sampler main course of Veal Chantal, Arnaud's Crab Cake and Crawfish O'Connor. Perhaps the most visually stunning restaurant in New Orleans is Palace Café on Canal Street, which looks like a large two-story French bistro with a dramatic spiral staircase and murals of musicians that evoke a jazzy spirit: The house specialty is the fluffy starter Crabmeat Cheesecake. For the main event go for the delectable Andouille Crusted Fish and dessert must be the White Chocolate Bread Pudding. The newest addition to NOLA's top tier restaurants is Tableau. Their unique balcony dining space has coveted views of Jackson Square. Try the Crabmeat Ravigote to start and end with the Strawberry Shortcake for dessert.
Native American settlements in this region, that is set between the Mississippi river and Lake Pontchartrain, date back to 400 A.D. The French (fur trappers, traders--a swarthy bunch) came next, establishing the city of Nouvelle-Orléans in 1718. Spain gained New Orleans and Louisiana as a concession from their defeat in the Seven Years War in 1763, only to give New Orleans back to the French in 1800. Then Napoleon sold it to the U.S. in 1803 in the historic Louisiana Purchase. Whites, Free Blacks, and Slaves inhabited the city. Two centuries later, New Orleans has become a multicultural, international commerce center with the largest seaport in the world and a tourist mecca.
When you view Mardi Gras on TV, you see revelers standing on second-story verandas, throwing beaded necklaces down to pedestrians on the street. That mayhem is on Bourbon Street, in the French Quarter, on a week that leads up to Fat Tuesday. People on Bourbon St. let lose. The lane is lined with bars, strip clubs, and lively music joints (Pazzoo) with barkers outside beckoning patrons. It's quite the scene, and that laissez faire attitude includes being able to legally walk around NOLA with a cocktail in your hand. It's as normal as rain.
Speaking of normal, New Orleans is a slow-paced, friendly city. That's the vibe. There is no such thing as fast. Slow down. Slow your roll. Locals say, "Hello," "Good Afternoon," "Thank You." You should too, it's part of the culture.
Venture away from tourist-heavy Bourbon Street. Take in a show at the House of Blues on Decatur Street. Walk down Royal Street and go shopping for antiques (Keil's Antiques) or paintings (Galerie d'art Francais). Head to Jackson Square where a statue of Andrew Jackson on his steed anchors the sculpted lawns and flowers. St. Louis Cathedral (oldest still operating cathedral in the U.S.), Cabildo (site of the Louisiana Purchase signing) and The Presbytère (a museum) sit like majestic sentries. This open space is bordered by upscale boutiques and cafes and its old world flavor mixes well with the new city charms.
Head down the hotel-lined Canal Street, which is divided by palm trees and streetcar car tracks, to the Mississippi River where there's a harbor, a ferry building and Harrah's Casino, in case you're determined to lose your rent money. Take a two-hour cruise on the NATCHEZ, the last authentic Mississippi steamboat. Enjoy Golden Fried Pangasius Fish for lunch as you get a detailed narrative profile of the sights: The 9th Ward neighborhood which was badly flooded during Hurricane Katrina; the battlefield for the War of 1812's Battle of New Orleans; the Crescent City Connection Bridge.
Ride a streetcar down St. Charles Street where the Mardi Gras parade runs and you'll pass Loyola and Tulane Universities and the stately mansions of the Uptown neighborhood. Go to the Contemporary Arts Center which hosts exhibits like Beyond "Beasts": The Art of Court 13; new work and early films by Oscar-nominated Beasts of the Southern Wild director Benh Zeitlin and his New Orleans-based Court 13 film collective. Or visit the Faubourg Treme neighborhood. It's considered to be the oldest black neighborhood in America, the origin of the Southern Civil Rights Movement and the birthplace of jazz
You can hit some tennis balls with tennis pro Gerald Davis or head pro Corey Clarke at the City Park/Pepsi Tennis Center in the 1,300 acre City Park. There are golf courses, an equestrian center, the New Orleans Museum of Art & Sculpture Garden...
The New Orleans Haunted History Tour, guided by Ernest Sylvester, starts at the Rev. Zombie's Voodoo Shop, 723 St. Peter Street and ends at the Saint Louis Cemetery Number One, where Homer Plessy of the famous Supreme Court case "Plessy VS Ferguson" is buried.
The stately, 48-story, 1,100-room Sheraton New Orleans at 500 Canal Street is centrally located and just steps away from Bourbon Street and the riverfront. All the streetcars pass by their front door. Roux Bistro, on the second floor, features traditional and innovative New Orleans-inspired cuisine and serves a very savory Grilled New York Sirloin Steak with mushroom and fries. Follow it with their Big Apple pie topped with crisp granola and caramel sauce. After dinner, go down to the lobby-floor Pelican Bar; it's great for people watching long into the night. And during the festival don't be surprised if you find musicians like the guys from Earth Wind & Fire riding alongside you in the elevator.
The hotel's vast health club features Sheraton Fitness Programmed by Core Performance®. With tips on nutrition, strength-training machines, weight benches & free-weights, Life Fitness Signature Series cardio equipment pieces and an outdoor pool the club has plenty of ways to help you fight off the pounds you'll gain by eating all the great food in NOLA.
You'll Want To Come Back. You'll Want To Stay!
Local folklore has it that if you find a lover or spouse in New Orleans you will never leave. Why would you?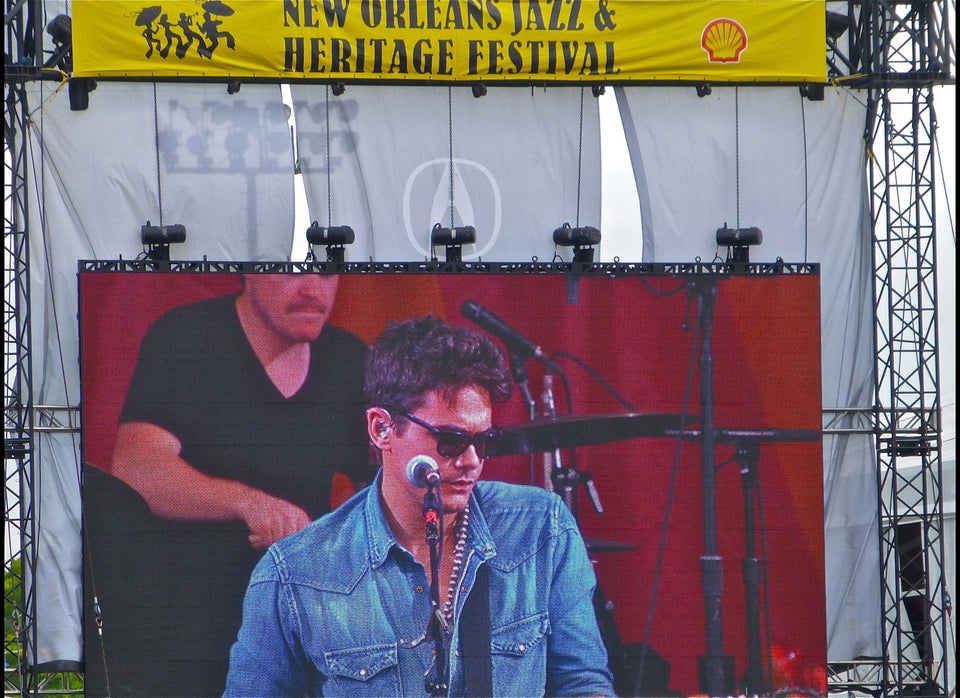 New Orleans and All Its Jazz
Related