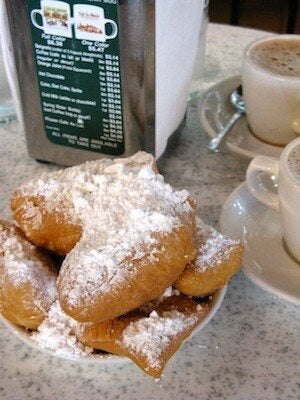 Everyone, it seems, is jumping on the food blogging bandwagon: famous chefs and tv personalities, professional food writers, stylists and photographers. But most food bloggers are just plain, ordinary folk simply passionate about cooking, baking and eating. It begins small, posting the special, homey recipes passed down from generation to generation, from grandma to mom to son or daughter, recipes made to feed a hungry family, create the perfect dinner party or celebrate a special occasion among friends. A food blog, at its heart, normally starts as a place to share the food we love. But like any American phenomena, food blogging quickly took on a life of its own and that old American can-do spirit kicked in. Those blogging quickly saw the potential to turn a simple hobby into a moneymaking enterprise, a vehicle to fame and fortune, or something close to it. It seemed that companies were offering products, appliances and junkets, pouring money into this new, unique marketing trend, which was the food blogger.
And food bloggers were being published, memoirs and cookbooks, finding their way in front of television cameras, writing for food publications and finding themselves shoulder to shoulder with professionals who had been trained and who had worked their way up the career ladder the old fashioned way. The line between amateur and professional began to thin and grow hazy, creating a formidable dilemma: what role do food bloggers play? Are they the new journalists? On equal footing with chefs? And as the food blogosphere became more and more saturated, the world of food blogging began to close in upon itself, creating its own community, its own rules and ethical standards, its own hierarchy and ruling class. There even seemed to develop an accepted list of how-to's when it came to writing, styling, photography, even choice of recipes. Yes, food blogging has taken the culinary world by storm, bringing so many talented people into the limelight and giving them a much-deserved platform and audience, but can they stand up to professionals? Are the two worlds compatible? This was, for me, the first question that gave me pause.
As an expat living in Europe, I have experienced the American food blogging scene as through a glass darkly: watching from some hazy distance, a tiny peephole my only access, the activity on the other side of the door confusing and distorted, voices muffled. I have been mystified by those seemingly paradoxical extremes of positive and negative: the closeness and the cliques, the camaraderie and the competition, the honesty and the artifice. I have longed for the familiarity and passion of a world at once so close to my heart yet so far, yearned for the kinship and the support of a culture that I know so well, that fits me like a well-worn sweater shrugged on in the chill of a strange land. Yet the pandering and the falseness I have heard about have inspired me with caution, the desperation and jealousy, the mean-girl snideness, the acceptance of mediocrity over quality I have witnessed from afar has turned many a friend from their creative purpose and they have bowed their heads in shame and sadness. It has left me confused as to the heart and soul of the food blogging world, and I so needed to find myself on their shores, in their midst to discover for myself the truth of the matter.
So I set out to find just the right event to attend to discover the burning truth, to judge for myself. Sifting through the multitude of conferences aimed at the food blogging community going these days, I needed to find one that fit me well, that focused more on the creative and culinary side of blogging, promoted a true professionalism and one where I felt that I would indeed find the inspiration and the camaraderie I so craved. A conference where I would experience the dynamics of this most particular world as well as have my questions answered.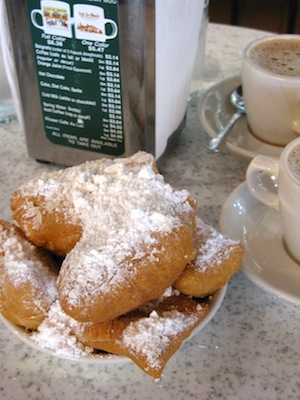 Beignets at Café du Monde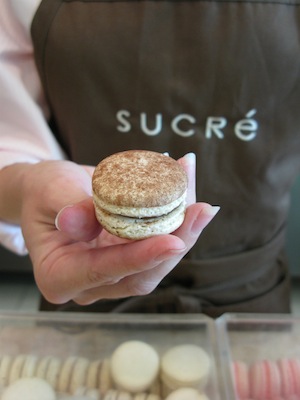 A side trip to Chef Tariq Hanna's Sucré
I finally decided to attend the International Food Blogger Conference in New Orleans and soon found myself surrounded by a hundred or more passionate food bloggers, professional writers, photographers and chefs. I was swept up in the excitement that being in such a breathtaking, sensational city inspired in each of us, the frenzy to discover such a culinary tradition and partake of the edible wonders of this fabled city. The enthusiasm and passion for this extraordinary thing that brought us together: food, writing, photography and cooking was intense and infectious and we shared, laughed and chattered non-stop. No ordinary food blogging event, this was a healthy and balanced mix of amateurs and professionals; there was no hierarchy, these cliques and the snubbing I had heard so much about simply did not exist; we all stood in that hotel as equals, thrilled at the chance to share our zeal, fulfill our hunger and feed our curiosity, meeting others with whom we share such passion and interest. This conference proved the interconnectedness of blogging with the professional food world and showed how we could merge into one rather than standing separately. Histories as well as advice and information were shared in an ambiance of light-hearted fun and the array of speakers brought to the conference an abundant source of knowledge and wisdom and allowed for the best networking opportunity I could have wished for.
The IFBC was organized by Andie Mitchell, Sheri Wetherell and Barnaby Dorfman of the Foodista food blogger community website, in partnership with Zephyr Adventures. The conference went like clockwork with fabulous, star-studded sessions covering such topics as Ethics of Food Blogging led by author, food and wine critic and New York Times blogger Robin Goldstein and Gwen Pratesi of Bunky Cooks known for her On the Road Culinary Adventures; Food & Culture, my own session where I shared the floor with Dianne Jacob of Will Write for Food and Jay Ducote of Bite & Booze; Food Styling & Photography with fascinating New York Times photographer Andrew Scrivani; Sustainable Eating with tv chef and local radio personality Poppy Tooker; Marketing Your Brand with PR and food branding expert Brona Cosgrave, Video with cooking video hero Chef John Mitzewich and even a Cooking Demonstration with Chef John Folse. Some of New Orleans most famous chefs came to the conference and served up the best of the local culinary traditions such as po'boys, alligator sausage gumbo and shrimp and jambalaya. For any food lover, this was certainly the conference to attend! And for anyone passionate about a serious career in food, well, this was the conference to attend.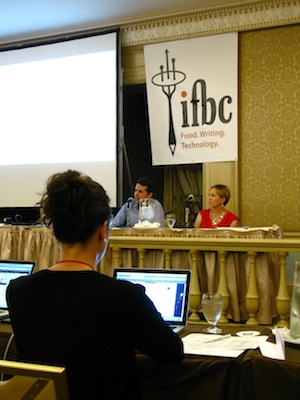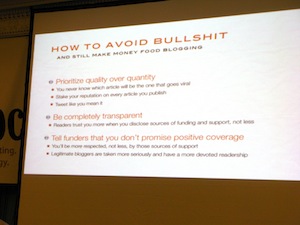 Ethics in Food Blogging? Yes, indeed! Too many forget...
Our final night brought us two amazing speakers: Keith Donato, part of the event management team at the wonderful Monteleone Hotel, kicked off the evening with a fascinating history of the hotel and read a proclamation from New Orleans' mayor Mitch Landrieu who was so pleased that IFBC brought foodies and attention to post-Katrina New Orleans. But the treat of the evening was the keynote speaker, acclaimed chef, author, and restaurateur, John Besh, a chef dedicated to the culinary riches of his native southern Louisiana and a devoted promoter of this magical city of New Orleans. One rarely has the chance to bask in the passion of such a one as he, or experience his love of food, cooking, family and his own city, New Orleans. It poured out of his every word, his body bouncing from one end of the stage to the other in his excitement to share this love and his story. He is truly a rock star of the culinary world and an inspiration!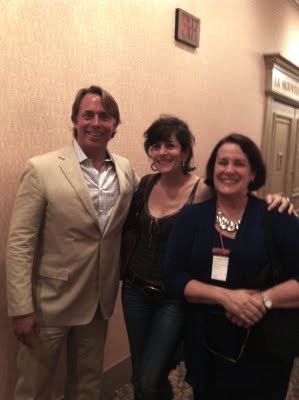 The author with Chef John Besh and cookbook author Nancie McDermott (photo courtesy of Nancie McDermott)
The IFBC was animated, informative, intense and, for lack of a more perfect word and at the risk of repeating myself once too often, inspiring. I felt exhilarated and my faith in the community redeemed. This conference was more than a social event; it was a learning experience, each professional attending the IFBC inspiring us to reach beyond the food blog as commercial venture and towards something more creative, more noble and honest, something that we bloggers, as a new class of professionals, can be truly proud of.
Jamie Schler lives, eats and writes in France. To read more of her work visit Life's a Feast.
Related