Global Green and 35 other green organization in New Orleans hosted a candidate forum, and the recurring theme was A) an environmental campaign is crucial and B) if coastal restoration isn't addressed, the City of New Orleans as we know it will eventually cease to exist.
Mayoral candidate Nadine Ramsey said, "This is such an exciting platform and I'm very committed to it. It takes very strong leadership to be committed to something that is different and new to us, and I offer that leadership to you. I have proposed in my platform that my administration will conduct a national search for a director of environmental affairs"
The other mayoral candidate in attendance, James Perry, began speaking as the lights went out and joked, "To turn the lights off is a green thing to do." Once the lights came back on, Perry said, "Our environment is directly linked to our health, and directly linked to our safety. How we treat our land and our air and our water has everything to do with health outcomes in our city. On the safety front, if we can't defend our coastline, then there's no way to have a city to worry about." He said that "We have to defend it like it is the only thing that is important to this city, because ultimately we do not have a city if we don't defend our coastline and stop coastal erosion from affecting the city of New Orleans. As Mayor, I'll lead that effort."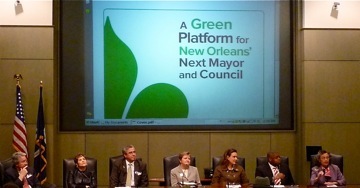 Perry's platform also included a recycling program, and he has signed on to the NOLA recycling plan. "We'll have bike paths in every neighborhood so that people can ride instead of driving." He described a 20-year plan for public transportation via rail, a green City Hall, and working to replace the car fleet with hybrid cars. "We're going to work to make it the the greenest city hall in the nation." The applause line of the event touched on the racial coverage of the Mayoral race so far. "I think that you've all seen in this mayor's race that there's been a lot of controversy about the issue of race. There's been the question of whether we should have a black mayor or a white mayor. I think it's really clear that we need a green mayor. So I'd love the opportunity to serve as your green mayor," Perry concluded.
Arnie Fielkow, running for reelection to Councilman at Large said he supported the Green economic platform and, in particular, "The other part that jumps off the page is coastal erosion. We can do everything right in New Orleans, we can build our economy, we can solve crime, we can have more honest government, etcetera but if it happens again in this city like we saw 4 /2 years ago, this city's probably over. We'll still have people live here but we'll not have the level of investment ever, here." Part of that, to have a flood protection system that works is an integrated system with, levees, secondary levees and coastal restoration.
Cynthia Willard Lewis, also running for Council at Large said, "Green is indeed economic development. Green is not just energy efficiency but it's also affordable." She added that "Green is the color of restoration, it's the color of rebirth" and thanked Global Green, Make it Right and Common Ground for encouraging sustainability now that 5,600 are families back into the 9th Ward. She lauded the Green Corps for had records and no options. Now they've got tools and they've got careers and they're the future small business men and women and You pulled them in. The Whodat nation is celebrating the Superbowl, but you guys are helping us rebuild our neighborhoods so it's not just a parade along the street, it's a parade of houses that say the most devastating storm to ever hit american soil is being used to rebuild our community so that we are a model of a sustainability, and we are a showcase of turning tragedy into triumph."
Jackie Clarkston running for Council at Large noted that she helped write the original Sustainable master plan for the City including bike paths, walking paths and open access to the river. We have not allowed people to do that except on the West Bank where I grew up. I hope I help bring that to the East Bank. She advocated for recycling, coastal restoration and green building, noting her history in real estate and efforts for sustainability. Clarkston advocated for "Bringing the entirety of South Louisiana together in a multi-Parish effort" for bringing coastal protection in the maritime industry."
Candidate for Councilman in District A Jay Batt said that when it comes to 70 acres of deconstruction in Midcity for an LSU medical center, that he favors rebuilding Charity Hospital and reusing its facade. As far as coastal restoration, he stated that, "If we don't have it, we're not going to be here. It's over. So that should be everyone's top priority."
Susan Guidry, also running in District A said, "This is exactly what the Green Industry in New Orleans needs to do, you need to unite with one voice so we cannot help but hear you, and we cannot help but respond."
Kristin Palmer, running for City Council District C was the former director of Rebuilding Together New Orleans, a sustainable housing nonprofit. Palmer said that when she told her family she was going to run, her 11 year old said, "Fine mom, but you've got to bring back recycling." She added that Katrina and RIta generated 37 years of landfill with two storms, "So if we don't focus on existing housing and how we rebuild it creatively then we're doing a disservice to everyone." She added that her clients with average salaries of $14,500 often had to choose between food or utilities, so "If we don't focusing on green and weatherization we're doing a disservice to their quality of life and the quality of life in our city."
Related
Popular in the Community